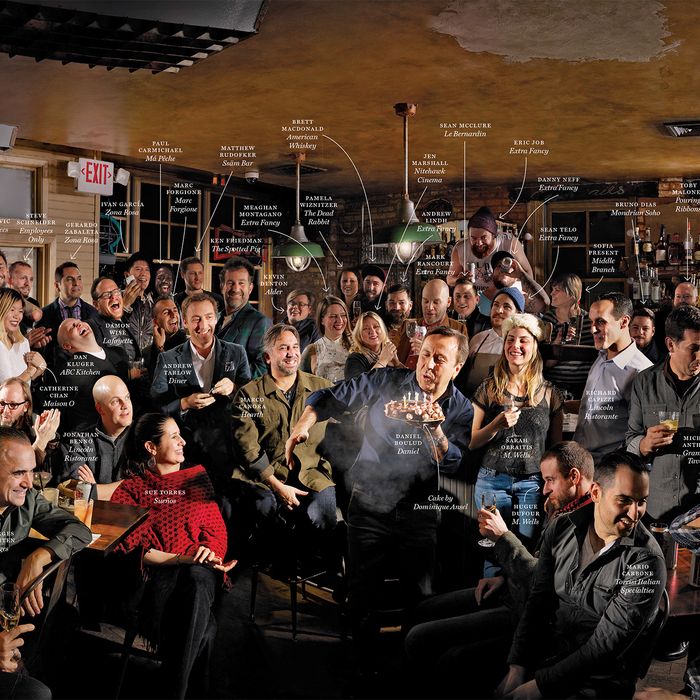 Not long ago, a group of cooks, bartenders, and restaurant execs gathered at Williamsburg's Extra Fancy (an industry favorite for post-shift late nights) on the evening of Daniel Boulud's birthday. Some stayed until sunrise the next morning. The family-tree lines represented here are complex and many: Paul Carmichael was a tournant at wd~50, and in turn Wylie Dufresne was a cook for Alfred Portale; much of the room worked at Gramercy Tavern.

One major thread: a reverence for Boulud. The chef — who was celebrating his 59th that night — is as well-known in the industry for his revelry as he is for his cooking. Anyone who's been working in New York restaurants long enough has a story to share about a debaucherous night out with the man.
The stories go back decades: In the early 1980s, Alfred Portale, now the executive chef and co-owner of Gotham Bar and Grill, was selected as a replacement for Boulud when the French chef was planning to leave his post as executive sous-chef at the Westbury Hotel's Polo Bar. "He was living in the hotel at the time, if you can believe it," said Portale, "so after service we would head up to his room and have these late-night parties."

Not all the Boulud-goes-drinking stories are high-end. Sam Mason, who worked for the late, celebrated chef Jean-Louis Palladin (who also once employed Boulud), tells stories of Boulud visiting Palladin's Vegas restaurant. "We'd take Eric Ripert and Daniel and Jean-Georges, whoever, to these shitty dive bars just to play pool. No one in the house knew that there was this A-list of chefs, which back then was just becoming a list — now they're goddamn superstars," said Mason.

On the night this photo was taken, Roudy Leath, the chef de cuisine at the Meatball Shop's Upper East Side location, mooned the room. Some worried Boulud would be offended—but Daniel Holzman, the co-owner of the Meatball Shop, said he merely suggested that the man consider spray tan next time he was planning such a stunt: "Your ass is very white," Holzman said Boulud told Leath.

About the cake in the photo: It was baked by Boulud's former pastry chef Dominique Ansel, who skipped the fête; Cronut lines form early. That was no excuse for Boulud: "When I was his age," he declared, "I did not sleep."
Click the top image to see the full photo of all the birthday revelers.
*This is an extended version of an article that appeared in the May 5, 2014 issue of New York Magazine.