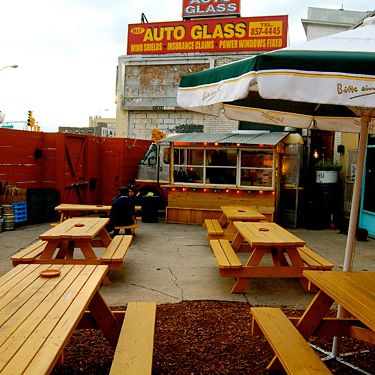 Hot Bird.
Photo: Patrick Siggins
Brooklyn's stroller mafia–bar owner turf war has hit a merciful if eerie lull recently, but reminding everyone it's still around, Hot Bird in Clinton Hill, near but not in the Park Slope rug-rat epicenter, has instituted an all-hours ban on children that includes the patio previously thronged by kids. A note painted on the entrance reads: "Please note children … are not allowed inside." Hot Bird's ban by conspicuous signage is seemingly bolder than other establishments, which have for the most part erred on the side of diplomacy.
Of course, suds-seekers who'll now need a sitter for Junior are bristling on forums, with one explaining that a badgering staff told her she and her tyke "weren't leaving fast enough." It's highly unlikely, but should the stroller forces lose the battle for the heart of Brooklyn, there's always the consolation of Manhattan's new world of bottle service at children's glow-stick raves.
Brooklyn Pub Bans Kids After Being Swamped by Families [NYP]