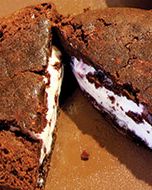 The double-fudge brownie with black-currant-raspberry chocolate snap.
Photo: Cassandra Rose Tannenbaum/New York Magazine
After working for a craft brewery in California, Stef Ferrari was poised to open her own in Brooklyn. Instead, she gravitated to ice cream but retained her original business model: build a manufacturing plant and open it on weekends as a tasting room. Ferrari graduated from her home Cuisinart to a tabletop commercial batch freezer, then enrolled in Penn State's ice-cream program. At Hay Rosie, she makes her bases from scratch—a relative rarity—as well as all her mix-ins and toppings. Of special note are her Barnburners, hot ice-cream sandwiches made from "shells" that are stuffed with ice cream and toppings and pressed to heat and seal (pictured).
Hay Rosie Craft Ice Cream Co., 204 Sackett St., nr. Henry St., Carroll Gardens; 347-987-4983
*This article appears in the June 2, 2014 issue of New York Magazine.