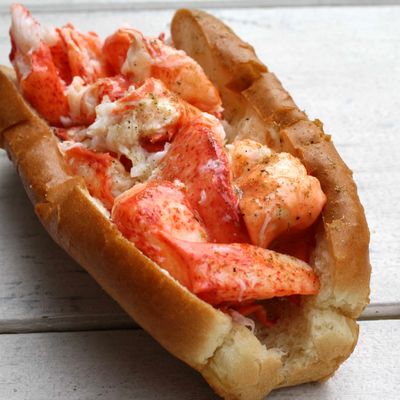 Luke's Lobster will be there.
Photo: Luke's Lobster
The Governors Ball Music Festival, which runs from June 6 to 8 this year in Randall's Island Park, is, of course, mainly about the music. But you may have heard that all summer festivals are now legally required to offer outstanding food lineups, and Governors Ball is no exception. 2014 attendees will have access to over 50 vendors, including Pok Pok Ny, Mile End Deli, and Momofuku Milk Bar. So if you've ever wanted to grab a Reuben while you listen to Jack White or Kurt Vile, you're in luck. Some vendors, like Hill Country and Calexico, are only serving to VIP ticket-holders, but when it's all said and done, the food lineup will bring everything from southern Italian to Laotian to the festival.
Arancini Bros.
Asiadog
Bareburger
Beecher's Handmade Cheese
Beekman's Burgers
The Brindle Room
Brooklyn Soda Works
Café Habana
Calexico (VIP only)
Candy Rox
Carl's Steaks
Cemita's Mexican Specialties
Circles Cafe
Coolhaus
Crif Dogs
The Crooked Tree
Flaming Wok
Four Boys Ice Cream
Go Burger (VIP only)
Handsome Hank's
Hebros Kitchen
Hill Country BBQ (VIP only)
Hippie Dips
Hometown Bar-B-Que
Jack's Sliders and Sushi
Jalapeno Corndog Concessions
Khe-Yo
King of Pops
Korilla BBQ
L'Artusi
Little Muenster
Luke's Lobster
Mayhem & Stout
Melt Bakery
Mexicue
Mile End Deli
Momofuku Milk Bar
The Morris Truck
The Nugget Spot
Phil's Steaks
Pie for the People
Pizza Vita
Pok Pok Ny (VIP only)
Pommes Frites
Porchetta
Ports Coffee & Tea Co.
Rita's Water Ice
Southernmost Falafel
Sticky's Finger Joint
The Taco Tent
The Taco Truck
Toum