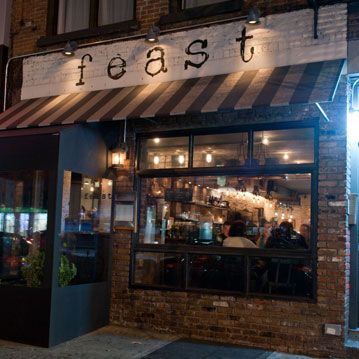 A feast for the senses, just not for the search engine.
Photo: Liz Clayman
Feast, which opened last March on Third Avenue with a large-format, nose-to-tail menu concept, has been plugging away with an exhaustive amount of greenmarket vegetables and various cuts of whole-roasted animals ever since. It's a small operation, but people tend to like the place. After management asked a Google Glass-wearing customer to remove the device one fateful brunch a few weeks back, however, the restaurant was hit with thirteen retaliatory one-star reviews posted in rapid succession, which of course now come up among the first results anytime someone looks up the business online.
Management tells EV Grieve it all started with a Glass-wearing customer who came in for brunch. After an earlier incident with a different patron, Feast had gotten "several comments about privacy" from customers, upon which the Glass-wearing customer consented to removing his glasses. When they approached the second Google Glass-wearing customer to remove her hardware before tucking into brunch, however, she said no, left the restaurant, then filed a short report on the situation on — of course — Google Plus, which quickly elicited several pointers on Glass etiquette in public spaces like dining rooms and private ones like restaurant bathrooms, as well as a bunch of angry comments. ("Of course I'll remove my Glass. And check please.")
This all went down less than two months after a Google Glass wearer who was attacked at a San Francisco bar boldly declared she was the victim of a "hate crime," so the Silcon Valley-esque equivalent of the old Charlton Heston-ism about how you can only get his gun when you pry it from his cold and dead hands was also in full effect, and it clearly spilled over to Feast's reviews. Here's some what the Glass contingent is saying about the restaurant they've never visited:
"They discriminate against people who are into new technology. Do not eat here."
"Ignorant bigots and hateful. Perhaps being illegally discriminate too. The food is irrelevant as the service is less than poor."
"Do not go here. They are very biased towards new technology. They allow patrons to use mobile phones to take photos or videos of other patrons. And they ask patrons to leave without fully understanding what a product does."
"Troglodytes with poor attitudes."
So, serious and somewhat hilarious stuff. But interestingly, the restaurant is clearly unhappy about the recent turn of events, but its proprietors seem to realize they may not have much of a choice on the matter, given the ineluctable nature of things like starred, online reviews, and, of course, Google itself. "It's not a policy set in stone, so it could very well change," a manager says.
A Google Glass Feast [EV Grieve]
Related: Google Glass User Who Railed Against East Village Restaurant Invited Back In