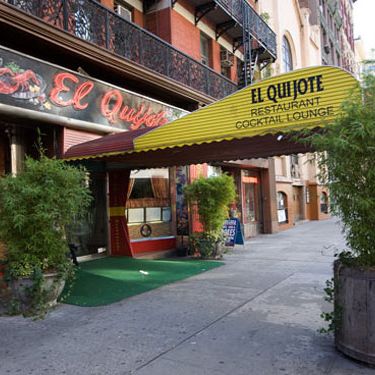 "Changes are coming," the preservationist blog warns.
Photo: Elliot Black
In addition to the news today of Defonte's Manhattan branch and the West Village Fatty 'Cue shutting down, Jeremiah's Vanishing New York hears from a "reliable source" that the over-the-top festive and decidedly old-school Spanish restaurant at the base of the Hotel Chelsea will soon undergo a change of operators, possibly becoming an upscale restaurant along the lines of John DeLucie's Bill's Gay Nineties reboot. "If you'd like to experience it as it's always been, go have a good, affordable meal while you still can," the blogger warns.
The 84-year-old El Quijote has up until this point eluded the scope of developer Joseph Chetrit's plans for the iconic hotel, and a 2011 Post report quoted Joseph Ramirez, son of El Quijote owner Manuel Ramirez, as saying the restaurant had a full twenty years left on its lease. But Ramirez was also asked if there had been any offers to buy out the moderately priced restaurant's remaining time. "That's a question for my father. Probably they don't like us being there," he said.
Update: Artie Nash, a tenant at the Hotel Chelsea, writes to say that management denies the rumor as "completely untrue," adding that the report is "1000% incorrect." In any case, it's still a good time to go and get a meal at El Quijote.
El Quijote [JVNY]