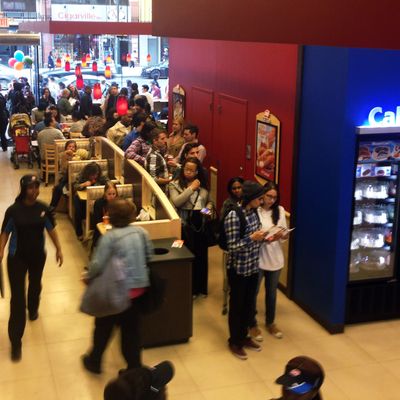 As of 6 p.m., the wait topped out at half an hour.
Photo: Jen Kirby
Despite Grub Street's pleas, plenty of people turned out to yesterday's grand opening of Manhattan's first Dairy Queen DQ Grill & Chill. At its max, the line stretched to the end of block, but even later in the day, around 6 p.m., the wait to order was less than 30 minutes, a relief for people in line who had mentally prepared for longer, Cronut-like times.
As you might guess, many people came because of a long-held fondness for Dairy Queen. "There's nothing like a DQ banana split Blizzard," said one person in line, Barbara Williams, with a little fist-pump. Williams grew up in Astoria, which had a DQ that has long-since closed.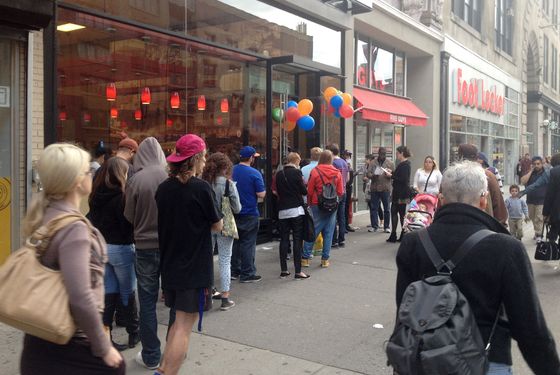 The scene outside.Photo: Jen Kirby
The line had its fair share of DQ virgins, too. Stu Shum, who had never tried a Blizzard before the Manhattan opening, thought it good enough, calorie counts aside, to come back for Round 2 and wait again. He held up a free giveaway T-shirt, passed out that morning, as proof. "I'll be back," he said.
Elsewhere in line, there were a few strollers, some solo DQ fans, and large groups of friends, including plenty of college kids. NYU student Lara Blackman told us that DQ reminded her of summers in New Jersey. "People move to New York from other places — they get cut off," she said. "But then it's brought back to you, and it's very exciting."
Related: Please Don't Actually Go to Manhattan's First Dairy Queen