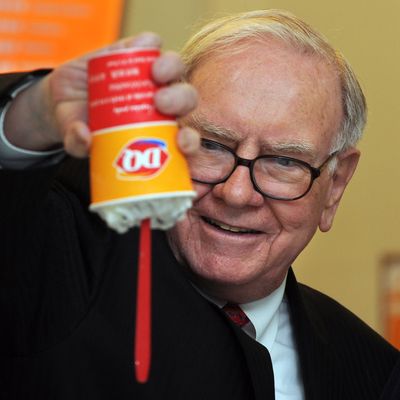 Warren can take the financial hit if DQ bombs in New York.
Photo: Frederic J. Brown/AFP/Getty Images
There is a good reason people put up with the cost and hassle of living in New York City: This glorious metropolis is a cultural hotbed, filled with captivating individuals doing and creating an uncountable number of trailblazing, mind-enriching things. It's a fact that's as true in the worlds of fashion and the fine arts as it is in theater and business. And it's especially true of our roster of independent, world-class ice cream shops, establishments that manage to tribute and honor everything awesome about frozen milk products. And that's what makes it impossible to understand why anyone would get excited about Dairy Queen opening a location in Manhattan.
Here on Grub, it's been fun to chart the progress of the shop, and the simple appeal of Dairy Queen isn't difficult to figure out: Either you grew up with it and it's nostalgic, or you didn't grow up with it and now you'll finally get a chance to experience some piece of wholesome Midwestern Americana that somehow seems both timeless and new.
But have you been paying attention to what Dairy Queen's really been up to lately? It's not like they're opening some idyllic roadside soft-serve shop: This is a 21st century fast-food chain with 21st century fast-food values. They don't even call themselves "Dairy Queen" anymore. Like KFC, the brand has done away with actual words and unnecessarily co-opted the abbreviation everyone always used anyway. So it's "DQ" now and, more specifically, the full name of the store opening in Manhattan — on 14th Street in a space that used to be a discount shoe store — is DQ Grill & Chill.
Then there's the "ice cream," an industrial mix of sweetened emusifiers and gelling agents:
Delicious.Photo: DQ
Why would anyone in New York City in the year 2014 feel compelled to eat this? Why would you pay any amount of money for that when you head to Rivington Street and eat this?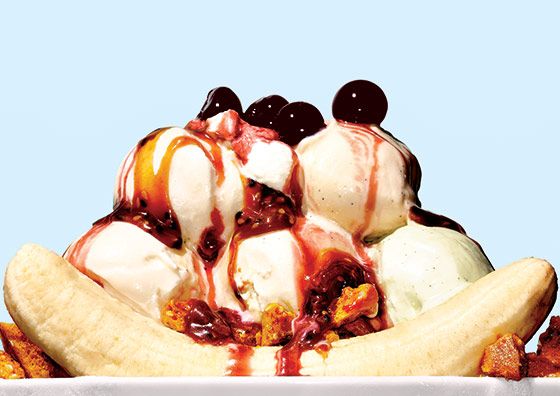 Get a friend and get on it.Photo: Bobby Doherty/New York Magazine
What you see above is the King Kong Banana Split from Morgenstern's, the brand-new shop from Nick Morgenstern that also happens to sell five different varieties of vanilla ice cream (bourbon, Madagascar, burnt honey vanilla, peppermint vanilla, and mascarpone vanilla), a raw milk flavor, and even a Brazilian Bourbon option.
In fact, Morgenstern's is just one of many excellent places you should go while completely ignoring the DQ Grill & Chill the same way you've learned to ignore Taco Bells and Blimpie sub shops. Go to the new Oddfellows in the East Village, where Sam Mason has genre-expanding scoops in flavors like burnt marshmallow and miso butterscotch cherry. Or you could go to Davey's and get their homemade cookies and cream flavor. How about some goat milk soft-serve from Victory Garden? How about some lemon meringue custard from the world's very first Shake Shack? We've got the Big Gay Ice Cream guys and they're a pair of goddamn national treasures. Or there's the Brooklyn Farmacy, or Ample Hills or Van Leeuwen, or Blue Marble.
Even a lover of the worst ice cream — and let's be clear: there is no inherent shame in loving shitty ice cream — would be better off with Mister Softee or any of its knockoffs that drive around the city all summer (though know that patronizing these trucks only encourages them to keep playing their intolerable music).
In summation: There is no justifiable reason to go to a DQ Grill & Chill in New York. Not when the Manhattan location opens next week and not ever anytime after that. Doing so means you're supporting a massive fast-food chain owned by Warren Buffet's company instead of any of the better independent shops around New York. It also misses the entire point of living in New York in the first place.
Related: What You Need to Know About Morgenstern's Finest Ice Cream, the Thinking Man's Scoop Shop, Opening Friday