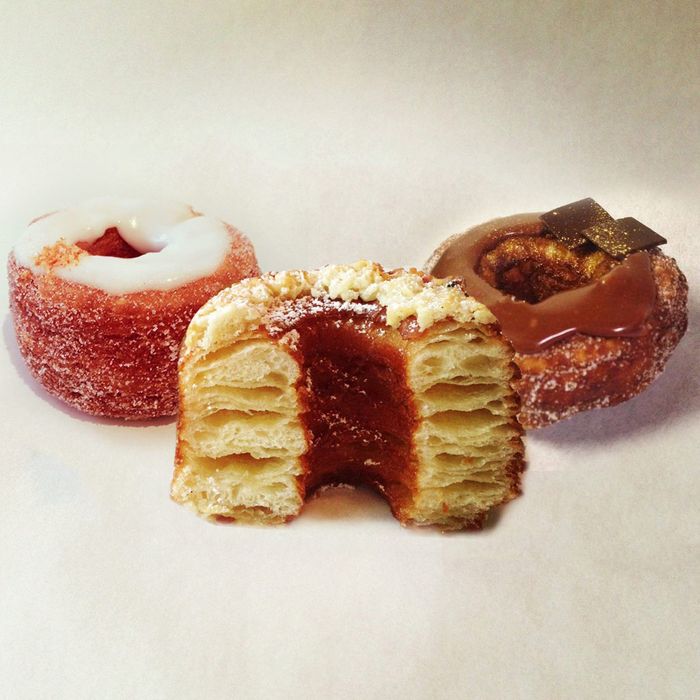 With monthly changes and one-off specials, there have been 18 Cronut flavors in the year since it debuted.
Photo: Grub Street
Frank Lloyd Wright's Guggenheim might not be the most obvious point of comparison for Dominique Ansel's Cronut, but think about it: They have similar shapes, and both are the result of uncompromising vision and technical innovation. The designers are each seen as leaders in their respective fields. And throngs of tourists queue up each day to experience them. Sure, the museum's been around a lot longer than the pastry, but today marks exactly 365 days since the Cronut was first unveiled, an eternity for a food fad. Haters and grouches may continue to protest the Cronut, but its enduring popularity is a testament to its status as a culinary hallmark.
Ansel says he has surprises planned at his Soho bakery to celebrate tomorrow, but the funny thing is, the James Beard–winning pastry chef tells Grub Street he can't remember the exact time he dreamt up this idea — there was no Eureka! moment. Ansel just says he was probably in his office when he thought of it. Instead it was more of a slow burn, starting around Valentine's Day, when he starts planning his yearly Mother's Day offerings. But as we noted last year when we first cast our eyes upon the the croissant-doughnut hybrid, the brilliance of the Cronut isn't necessarily the idea; it's the execution.
The kind of pastry that accommodates the airy, multi-layered qualities of a croissant simply falls apart when it's thrown into the hot bubbling oil that makes doughnuts so great, so it took Ansel some time to get it right. "The first batches were not the greatest," Ansel says. "We wanted light, delicate, not greasy, not too heavy." Ansel still won't reveal his secret (though the number of knockoffs suggests plenty of people have figured it out, or have at least identified some workarounds), but it took no fewer than ten different batches before Ansel got what he was looking for: a Cronut, though it wasn't called that at the time, that emerged from the hot grape-seed bath looking like the golden pastry paragon that it would soon become.
Once Ansel had the pastry down, he recruited some outside opinions. Just not too many of them. Only about ten people — friends and a few pastry chefs — taste-tested the earliest versions, while Ansel noted their reactions. Coincidentally, most of the testers lived in other states and countries, so word of the new invention didn't spread far beyond the inner circle.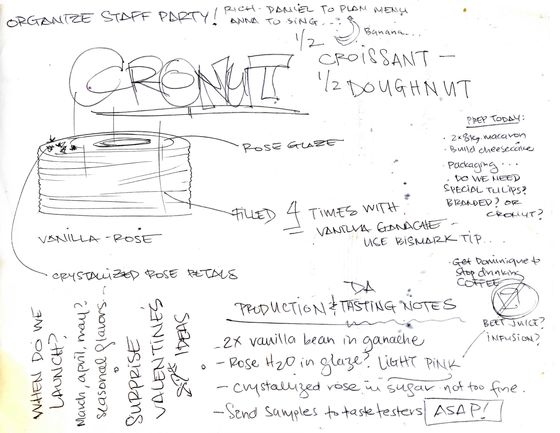 An early sketch of the Cronut, drawn up by the bakery's sous-chef, Anna McGorman.Grub Street/Courtesy Dominique Ansel Bakery

In fact, the project was so under the radar that when Ansel wrote Cronut for the first time on a prep sheet, much of his staff had no idea what he was referring to. Eventually they were all filled in, and the name stuck. (Even though cronuts.com belongs to a Croatian poker website.)
The response to the release was immediate, and it hasn't let up since. An early sketch of the Cronut includes a reminder about a staff party, which ended up never happening, once the crowds descended. The lines may let up eventually, perhaps when Ansel expands (which he reiterates he has no plans to do immediately). For the time being, his routine is more or less set: "Winter, summer, waking up early, coming in to bake things with the team, opening the bakery at 8 a.m." Now it's gotten to the point where he's beginning to recognize Cronut regulars, people who have braved the line a dozen times or more. "There are people I see every week, every month," he says. "There are a lot of guys who come for the girlfriend."