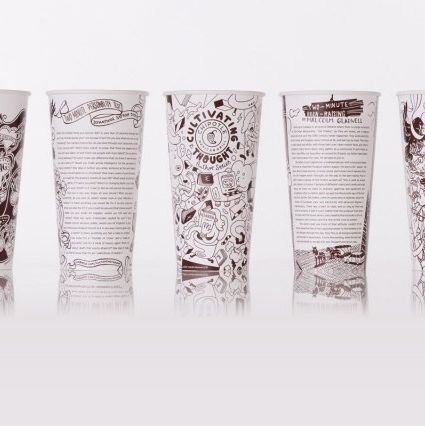 They say every burrito tells a story. Soda cups, too.
Photo: Courtesy of Chipotle
Jonathan Safran Foer, whose 350-page nonfiction book Eating Animals made a particularly effective argument for why the novelist shouldn't eat his own dog for dinner, says he "wanted to die with frustration" one day at Chipotle when he had nothing to read at lunch. With that in mind, and also considering the hundreds of thousands of Americans who "don't have access to libraries, or bookstores," Foer fired off an email to Steve Ells, the chain's CEO, with an idea to collect the bright minds of his generation, and some from not-his-generation, and now here's a project called Cultivating Thought, which brings together genius powerhouses like Toni Morrison, Steven Pinker, George Saunders, as well as writers Sherri Fink, Michael Lewis, and Foer himself in the spirit of literacy, or at least reading something while you're finishing your soda.
Celebrities like Sarah Silverman and Bill Hader round out the project, which rolls out today on the chain's brown paper bags and cups. The idea is certainly cool, but there's something off-putting about the ornate, bespoke doodles on the cups, which look as if they were derived directly from the outcome of several late-night hipster focus group sessions. Ask not for whom the taco bell tolls, they whisper. It tolls for twee.
Toni Morrison, George Saunders, and Michael Lewis Are Now Published by Chipotle [Vulture]