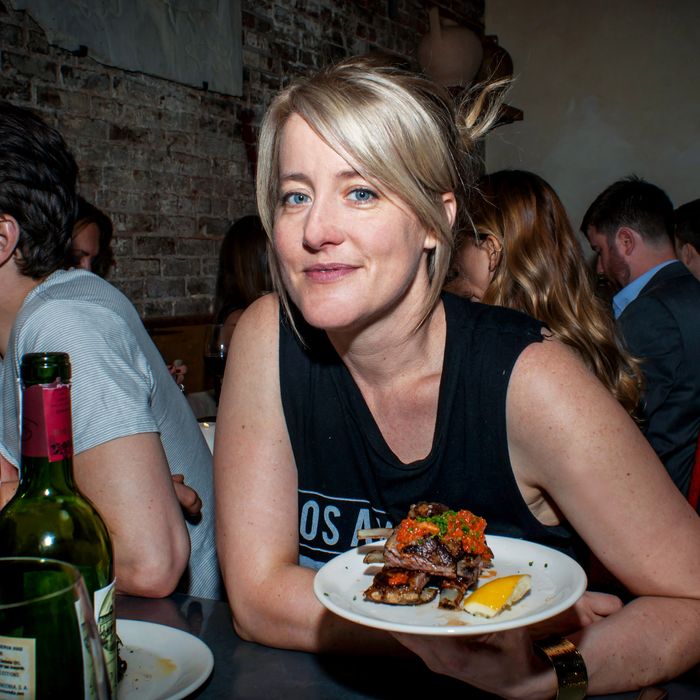 "I am decidedly not grown-up."
Photo: Paul Wagtouicz
Even before her big win for Best Chef in the Northwest at Monday's James Beard Awards, Portland-based Beast chef Naomi Pomeroy was already in celebratory mode: She started off a New York trip by going hard at the Mission Chinese pop-up, then proceeded to party at the NoMad (after which she fell asleep with her shoes on), Má Pêche, Pouring Ribbons, Il Buco Alimentari, Estela, the Spotted Pig, and more. Even getting turned away by the infamous ZZ's Clam Bar bouncer couldn't stop Pomeroy from having a good time. Read it all, straight ahead.
Thursday, May 1
I woke up full — like maybe I never needed to eat again — because I was a victim of the Mission Chinese pop-up inside Prime Meats the night before. Here's what I ate: all sorts of pickles, thrice-fried bacon, delicious rice soup with peanuts, Kung Pao pastrami, the fucking hottest chicken wings on the planet with fried tripe and loads of dried chilies, salt-cod-fried rice, and more. And I had a few Negronis and a Peroni. I saw the kitchen, and let me tell you, they were working off a super-tiny two-burner stove and killing it!
Back to Thursday: I went to bed stuffed at 1:45 a.m., and woke up at 6:30 a.m. Breakfast was one large and very strong cup of Freya's dark-roast coffee, brewed lovingly by my "when in New York" housemate, Danielle Levitt. I headed to teach a class of 40 people at Macy's De Gustibus cooking school, but the one ingredient I forgot to bring was an obscure Chinese sauce called "thickness-premium" soy.
On my way out of Sunrise Market in Soho, I saw some onigiri balls at the cash register, and they were all warm and steamy in their plastic wraps. I picked up three (tuna salad, spicy tuna, and very spicy tuna), knowing that on event days I usually never eat, and I should eat. When I arrived at the cooking school, I put the rice balls up on a shelf over our work area, but I never ate them. Purely decorative rice balls. Sometimes it's the thought that counts.
After the class, I took my volunteers to the NoMad, and I ordered a cocktail with an egg white in it. Chef sent out a huge seafood platter of pure awesome. But let's face it: We were there for the chicken. It lived up to its reputation, for sure. We also ordered the tuna, lovely hamachi with beets, a shaved snap-pea salad, foie gras, and suckling pig with apricots. And Chef sent out the dish of the night: incredible strawberries with cucumbers and fresh cheese. We ordered wine, more drinks, and then finished with a dessert called "Milk & Honey," like grown-up cereal. I am decidedly not grown-up.
Friday, May 2
Again, I woke up with the distinct feeling that I didn't need to eat ever again. I fell asleep on Danielle's couch with my shoes on. Apparently, she was kind enough to remove them.
Breakfast was one very strong cup of coffee. And for three days, Danielle has been asking me to taste a salsa she made with some hot dried peppers that she brought back from Mexico. She left on a trip, so I lounged hard at her house. I had another cup of very strong coffee, and I intentionally burned a corn tortilla over the open flame on her gas range and dug in. It was really good! Just needed a little salt.
I ate nearly nothing until the night, when I meet Jamie Feldmar, who is writing my cookbook with me, at the Cleveland around 8 p.m. We ordered chicken wings with za'atar, cavatelli pasta with lamb ragù, and then the chef sent out a spinach salad with bacon and two desserts. This is one issue with being a chef and going out to eat: We were trying to eat light, so we only ordered a couple of things … and then, boom! A full meal. I didn't finish because I knew we were also trying to double-dinner.
Next up: ZZ's Clam Bar! I tried four different connections, but couldn't get into Carbone. It was James Beard weekend, and clearly I fucked up. Our friend was eating inside ZZ's, and asked us to stop by. Jamie and I got to the front door, and a very large man in a very expensive-looking suit told us there was no way in hell we were getting in.
We stopped in at Lupa, but the music was terrible (and loud), and I decided we should just get to the Lucky Peach party. When I got to Má Pêche, I was pretty sober, so I promptly got to it: I double-fisted a glass of Champagne and a rum cocktail, and proceeded to catch up with friends and forget about eating. Before I left, I grabbed a piece of wonderfully spicy fried chicken and hailed a cab home.
When exiting the cab, I saw Artichoke Pizza and stumbled to an ATM. I got my cash out and got in line, only to realize in my haze that it would be at least 15 to 20 minutes of standing in line with people who could barely stand before I got my pie. It was 2:30 a.m. I elected to cross the street to Papaya Dog, where I saw my favorite food ever: the corn dog. It was disgusting. I took one bite, covered in ketchup and mustard, and tossed the rest in a bin on the sidewalk. Oh well, I tried.
Saturday, May 3
I didn't eat anything until I left the house around noon. My friend Giovanni Reda had recommended a spot to get an egg sandwich at the corner of Rivington and Essex — El Castillo de Jagua. It was full of Spanish-speaking peeps, and I ordered just what Reda said: one egg sandwich with extra cheese. It was great!
Today was the day my family and staff arrived for the Beard Awards weekend. Our plan was to go to one of my favorite standbys here in New York, Il Buco Alimentari. Our reservation wasn't until 8:30 p.m. though, and my 13-year-old said at 5 p.m. that she was starving. We had just checked into our hotel in midtown, and there is like nothing to eat up there, so we walked to Carnegie Deli. They ordered huge sandwiches and cream pie and matzo-ball soup. No one really ate any of it. Sometimes those old institutions just rest on their laurels.
On the way to dinner, we stopped at Lafayette for what was supposed to be just a drink. No one can resist eating oysters though, and then we got sent out a whole seafood platter … uh-oh! And fries as well. I ate the majority of the mayo that's served with the fries, and we then we headed to Il Buco.
There, we had lettuces with anchovies and radishes, hamachi crudo with peas, razor clam ceviche, roasted white asparagus with uni, lamb ribs, beef tartare, salumi della casa, bucatini cacio e pepe, pappardelle, and some desserts. But we also had too much wine to remember what they were.
Sunday, May 4
I started with coffee, and then my group went to Ivan Ramen Slurp Shop for lunch. While we were waiting for our ramen, we split a Reuben from Court Street Grocers four ways, and I drank a Negroni. I shared a bowl of ramen with my husband, with extras of everything. A $17 bowl of ramen is pretty expensive.
I had one square of a chocolate-hazelnut-salt bar in my bag, and I needed the sugar: I was living on little sleep and lots of alcohol at this point. We went to dinner at my other favorite restaurant in New York, Estela. Our group of six shared kamapchi, beef tartare, the endive with walnuts and anchovy, celery with mint and cheese, burrata, mussels on toast, quail, nettles and lardo, lamb ribs, cod — and then they sent out the pork and the beef entrées as well. Everything was amazing. I dream of the tartare on a regular basis.
For dessert, we had the parsnip cake and the panna cotta with balsamic. We ordered three incredible bottles of wine: I think that the wine list at Estela is one of the best I've seen. Later that night, I went to Chef's Night Out (an annual pre-game party the night before the Beards). I didn't eat there, but I did drink, and I went to Pouring Ribbons after.
Monday, May 5
I grabbed an egg sandwich from a cart on Park and 50th near the hotel. I ate half of it, because of nerves. I needed to get ready for the awards! I drank a second cup of coffee while getting ready, and I truly did not eat again until 10 p.m., when I had two bites of clam pasta off of one of the stations at the Beards. I was busy talking — and winning the award! After four nominations, it is an incredible feeling.
I spent the rest of the evening dancing and drinking at all of the after parties (I went to Toro, the NoMad, and the Spotted Pig). All drinking though, no food. Except I sort of half-recall having a cheese-covered tater tot — maybe at Toro? Hard to say. At 5 a.m., I finished at the Spotted Pig and headed over to Veselka, so I could actually eat. I had some pierogi, potato pancakes, some meatballs, and sauerkraut.