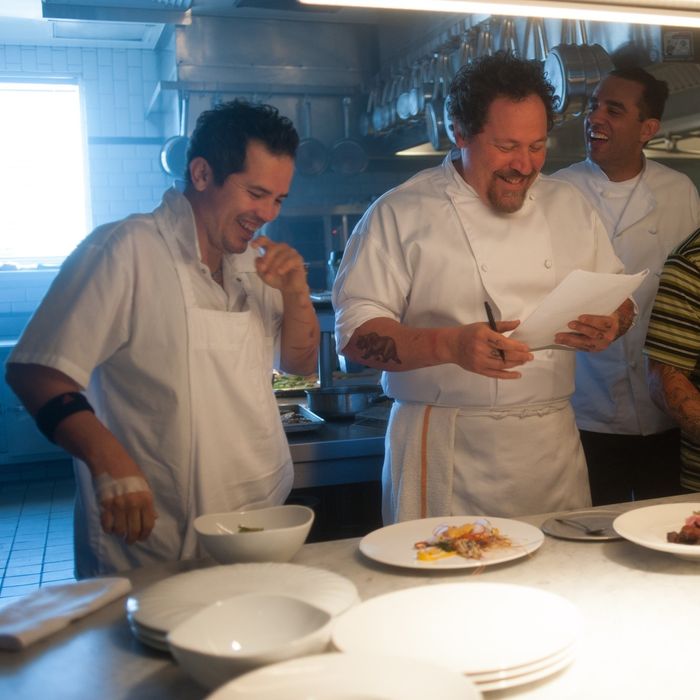 Roy Choi, hanging out with some of the film's principals.
Photo: Open Road Films
The run-up to the new movie Chef has seen star and director Jon Favreau touting his culinary skills (and many mentions of the impressive knifework that Favreau appears to display at the beginning of the film). But when we caught up with him and a few of his castmates after the film's New York premiere at the recent Tribeca Film Festival, we wondered how much the cast was actually able to glean and how much was movie trickery.
"I learned to cook everything in the movie," Favreau says. "When we were doing the sound mix up at Skywalker Sound at night, you have to cook your own dinners. They have a big commercial kitchen, and every night we'd get together and re-create the dishes from the movie, so I'm very good at them." So, in a pinch, could he hop on the line somewhere? "I could work in somebody else's kitchen and do no harm," he says.
For John Leguizamo, who plays one of the cooks under the chef Favreau plays, he actually did get on the line, researching the job with a stint as a line cook at the Lion. "I chopped, I brined the bacon for the hamburger, I chopped morels, rhubarb, I did all that stuff," he says. What was the biggest takeaway? "I learned how to cook fish … I learned how to do it perfectly." Leguizamo's not-so-secret technique: "It's got to be extremely dry, pat it down with a paper towel before you put it on the skillet. Skillet has to be mad hot. Only grape-seed oil, skin down, just for a little bit, and then you put it in the oven to finish it off."
For Bobby Cannavale, who plays another cook, the prep was a little less hands-on. He says he did more tasting than actual cooking. "Jon said to me before, 'We're going to be cooking, we have this great guy Roy Choi there, you're not going to look like an asshole. You're going to look great. But you're going to have to do more eating than cooking,'" Cannavale says. "I said, 'Bro, I will act the shit out of that.'"