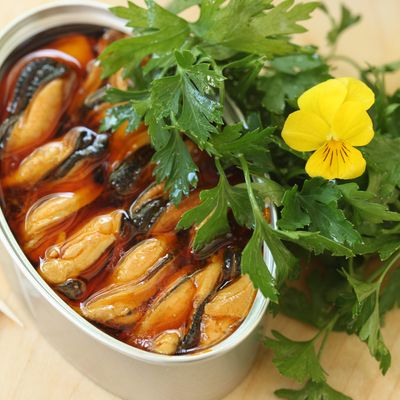 Maiden Lane's canned mussels in escabeche sauce.
Photo: Melissa Hom
Canned is all too often a dirty word here in the States, but in Spain, canned seafood is considered a delicacy. It's why the new Basque restaurant Huertas offers several conservas, tins of scallops, calms, mussels, anchovies, and sardines. In fact, canned seafood has been such a hit at one-year-old Maiden Lane that in a few weeks, the restaurant will launch an online retail store and begin delivering the cans through Caviar. But here's the most obvious bonus, especially this time of year: Tinned seafood travels well and requires literally no effort to prepare. It's why we're excited about all the excellent brands that are on the market now. Here are ten standouts to look for, providing a very easy way to take picnics to the next level.
Ortiz
What to Buy: Anchovies
You've likely seen this Spanish brand's anchovies in specialty stores — and it's favored by restaurants like Huertas. Don't overlook the bonito tinned tuna, which is also exceptional.
Conservas de Cambados
What to Buy: Razor Clams
This Spanish company offers a wide range of canned seafood products: cockles packed in brine, octopus in Galician sauce, mackerel fillets, and even tiny baby eels — a delicacy.
Don Bocarte
What to Buy: Black anchovies
The anchovies at Tertulia, El Colmado, and Huertas come from Don Bocarte, a 17-year-old company (which it makes a relative newcomer in the industry). The anchovies are harvested strictly between April and June and then salt-cured for eight months. They're packed in olive oil, but have a rich, buttery flavor.
Nonnate di Pesce
What to Buy: Fiery little fish
Michigan's famous Zingerman's sells these tins from Calabria, Italy, which include a spreadable mix of tiny silver fish and spicy red chiles.
Matiz
What to Buy: Octopus in olive oil
Matiz is another leader in the packaged-seafood game, offering sardines, anchovies, boquerones, cockles, and octopus harvested off the coast of Galicia. You can eat it as is, straight out of the box, or heat the octopus up.
Scalia
What to Buy: Anchovy fillets
If these Italian anchovies are good enough for Il Buco Alimentari, they're good enough for you.
Giraldo
What to Buy: Salt-cured bacalao
Despaña, a Soho shop that's amazing for all things Spanish, carries products produced by this old-school Basque company.
Cabo de Peñas
What to Buy: Scallops
Huertas sources its scallops and clams from this Spanish canning house, which dates back to 1898.
Les Mouettes d'Arvor
What to Buy: Sardines
This traditional factory in Concarneau, France, cures, cooks, and packs sardines by hand. You can purchase them plain, or with a lemon slice or chili.
Jose Gourmet
What to Buy: Stewed squid
For now, Maiden Lane is the only place to carry this Portuguese cannery outside of Europe, so you'll have to pay a visit to the restaurant's retail section (or sit tight for the launch of online delivery).