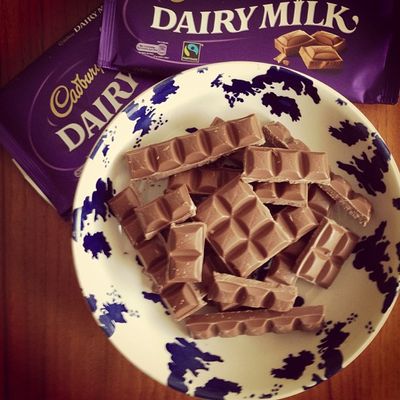 Two Cadbury products were recalled.
Photo: Cadbury/Facebook
A division of multinational candy manufacturer Cadbury has recalled shipments of its Dairy Milk Hazelnut and Dairy Milk Roast Almond in Malaysia, a country where two thirds of the population is Muslim, after the Ministry of Health reported trace amounts of pig DNA in its chocolate. The governmental branch routinely detects teeny-tiny little bits of pig — potentially down to a trillionth of a gram — in a country where the other white meat is already very controversial.

While it's unclear how pork got inside, and current speculation includes pork DNA on the outside of the packaging cross-contaminated the samples tested by the government. Regardless, by the time Cadbury took action on the allegedly tainted chocolates, the damage was mostly done: Malay groups have initiated a boycott, and one group has already filed a lawsuit against the company and Malay government. "We want to close down Cadbury if possible," that group, Jaringan Melayu Malaysia, said in a statement. "They shoved pork in our mouths, and then apologise later. Cadbury has been in Malaysia for years. Why do they still not understand the sensitivities of the Muslim community?"
Pork DNA Found in Two Chocolate Products of Cadbury Malaysia: Report [Reuters]
Malay NGO to Sue Cadbury for RM100 Million Over Pig DNA Found in Chocolates [Yahoo]