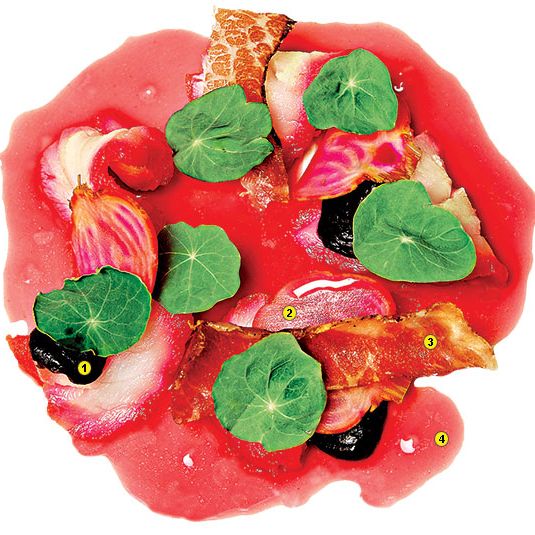 Photo: Carolyn Griffin/New York Magazine
Falling squarely under the heading of Don't Try This at Home, Betony chef Bryce Shuman's monkfish dish employs no fewer than a dozen techniques, including pickling, poaching, compressing, curing, dehydrating, baking, blitzing, boiling, and "punching." These are all executed in the service of producing a plate that's strikingly pink, thanks to the prominent presence of beets. (Who knew monkfish and beets had such an affinity for each other?) But Shuman also attains a sly surf-and-turf effect, with beef stealthily slinking into the sauce and the garnish.
1. Beet "raisins" (roasted and dehydrated beets punched with a small ring cutter) add texture.
2. To enhance its natural sweetness, Shuman brines the monkfish tail in beet juice before poaching. The juice leaves a red ring around the edges of the fish when it's cut into slices that echo the pickled Chioggia-beet garnish.
3. For a burst of umami flavor, Shuman adds well-marbled slices of dehydrated aged beef short rib the kitchen calls "beef leather."
4. "To balance the sweetness, you need some strong savory component, almost funky-salty," says Shuman. To wit: a sauce made from an eight-to-ten-hour beef-bone broth seasoned with Vietnamese fish sauce and finished with more beet juice.
On the menu at Betony, $24; 41 W. 57th St., nr. Sixth Ave.; 212-465-2400
*This article appeared in the May 5, 2014 issue of New York Magazine.