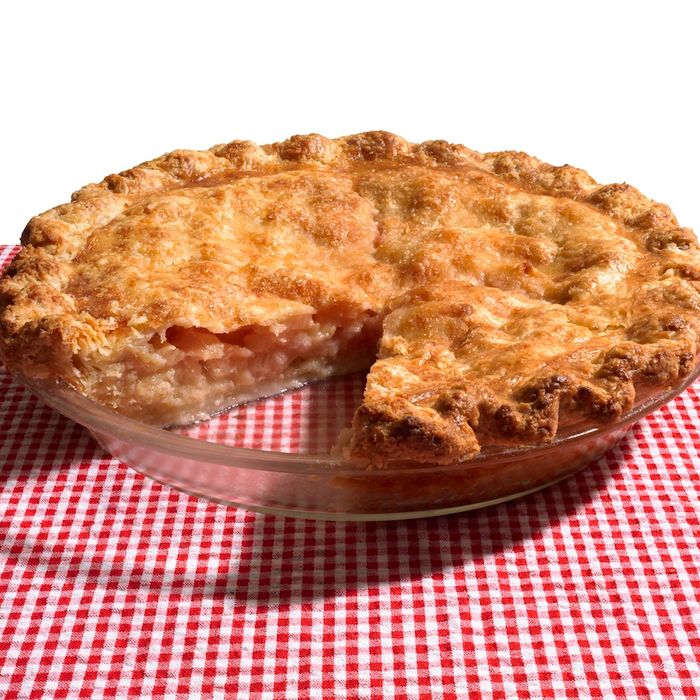 The rhubarb pie from Butter & Scotch.
Photo: Tina Rupp
With the imminent expansions of Four & Twenty Blackbirds, Butter & Scotch, and Pies 'n' Thighs, it's a good time to be eating pie in New York. (Not that it's ever been a bad time, exactly.) But right now it's even better because it's finally the season for killer fillings like rhubarb, strawberries, and — soon, so soon — blueberries. Here are ten restaurants and bakeries making the most of the juicy, ripe fruit.
The Dutch
Pastry chef Kierin Baldwin makes a mean rhubarb pie, which she serves with candied kumquats, strawberry compote, and buttermilk ice cream. Her banana-cream pie, with passion fruit, chili caramel, and guava sherbet, is also excellent.
Pies 'n' Thighs
A new Canal Street location isn't open yet, but you'll find a lemon-chess pie with a raspberry-rhubarb topping at the popular Williamsburg outpost, as well as a blackberry pie.
Butter & Scotch
At Smorgasburg this weekend, Allison Kave and Keavy Blueher — the geniuses behind negroni pie — will debut their latest masterwork: rhubarb-frangipane pie.
Market Table
While everyone gets excited about the Clam, don't forgot about Mike Price's original restaurant, where he's serving a classic strawberry-rhubarb pie with sour-cream gelato.
The Redhead
You'll find classic key-lime-pie tartlets at this East Village mainstay. And even though it's not pie, the cornbread-cake dessert, with strawberry-rhubarb compote and vanilla ice cream, is definitely worth ordering, too.
Two Little Red Hens
Even downtown folks should know it's worth a trip to the Upper East Side in order to visit this outstanding little bakery: There's a classic strawberry-rhubarb pie on the menu, and in the coming weeks, Two Little Red Hens will debut a "summer medley" pie, with a mix of fruits.
Four & Twenty Blackbirds
This Gowanus bakery, which now has a location in the Brooklyn Public Library Café, has new flavors like strawberry-balsamic, lavender-honey custard, and chocolate julep. And, don't forget: There's a massive new pie wonderland opening this summer, which will only bring more flavor options with it.
Marlow & Sons
What's the best way to end a meal of oysters and chicken-liver paté? Mini rhubarb-and-black pepper streusel pies with a brown-butter brisée crust, of course.
Baked
This beloved Red Hook bakery knows how to master strawberry-rhubarb pie. (And even though it's not strictly seasonal, don't miss the gooey chocolate-bourbon-pecan pie, too.)
Pearl Oyster Bar
Come for the city's most famous lobster roll, and stay for the warm slices of pie — in flavors like strawberry-rhubarb and blueberry.