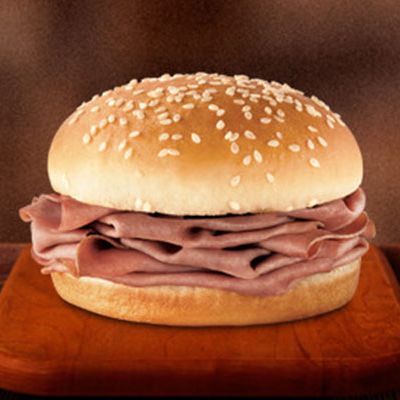 Hope you're happy.
Photo: Arby's
Over at Texas Monthly's TMBBQ, Daniel Vaughn weighs in on how on the Smokehouse Brisket Sandwich that prompted Arby's epic 13-hour ad "isn't as bad as some I've had at joints claiming to serve authentic barbecue," but he's not filing a fast-food review.
"I really wanted to know how much of the country's brisket supplies are going to Sadler's" — the 300,000-square-foot Texas facility that smokes the eponymous brisket — "then on to Arby's," he writes. The cut of beef is more popular than ever, but of course there are only two per cow, which is why price has jumped 44 percent since last year. Vaughn's estimate on the chain's impact is sobering: If you figure 281,736 pounds per week, plus a "conservative" 43.2 percent product loss, it comes to around 3,000 head of cattle every single day, a period during which only 60,000 produce brisket. So, that sandwich? It's using about 5 percent of America's entire supply, which almost certainly will affect your local barbecue establishment at a time when cattle production is unnaturally low.
The sandwich is expected to be on the Arby's menu through the summer.
#BrisketIsBack [TMBBQ via Eater]
Related: Arby's to Torture Minnesotans With 13-Hour TV Ad