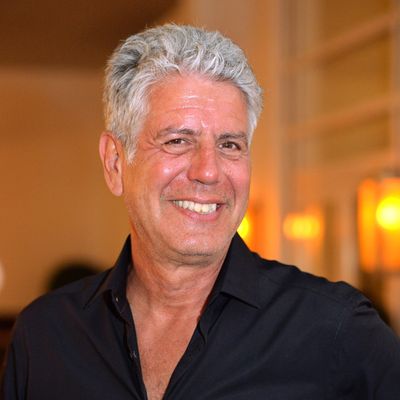 He'll stick to beer, for now.
Photo: Dylan Rives/Getty Images
Last night at the premiere of Supermensch: The Legend of Shep Gordon, Anthony Bourdain discussed working on the iconic manager's memoir, which is forthcoming from his Ecco imprint. "He's still this great, angelic, goodhearted, generous no bullshit soul. That's unheard of," Bourdain explained, just before the conversation turned to the NYPD's inevitable crackdown on Phrosties. ("I'm not really good with spirits, but if this came in a wine flavor I would probably be right there," opined vintner Kyle MacLachlan, who was nearby, on the subject of the illicit and Technicolor drinks.) "Unregulated sale of alcohol — I'm for it. Count me in as a supporter," Bourdain said, before swiftly changing tact. "I wouldn't order one. I don't like fruity drinks."
The conversation, which took place at the Wayfarer — Casa Dragones tequila was served, with nary a Phrostie in sight — then turned to the Las Vegas episode of Parts Unknown, which trained its focus on the inherent "douche-dom" of EDM.
Bourdain told Grub he was actually railing more against the absurdities of being a baller in the episode. "I don't have a problem with EDM. I have a problem with bottle service," he said. "There's something indecent about spending 10 grand for a table and 25 grand for a bottle of Champagne that you don't even drink to spray on strangers who can't hear you when there's probably somebody outside who could use a meal. I just think it's such an extreme example of douchey behavior. It's not the music that bothers me at all."
Bourdain added that he's unsure if it's the people running the clubs or the people who squander the bubbly who bother him the most. It's probably best, it turns out, if it stays that way. "It's an environment I'm uncomfortable with," he said. "It makes me want to run out in the street and disembowel someone. I don't know who yet, though."
Related: Phrosties: The Only Way to Get Phucked Up This Summer