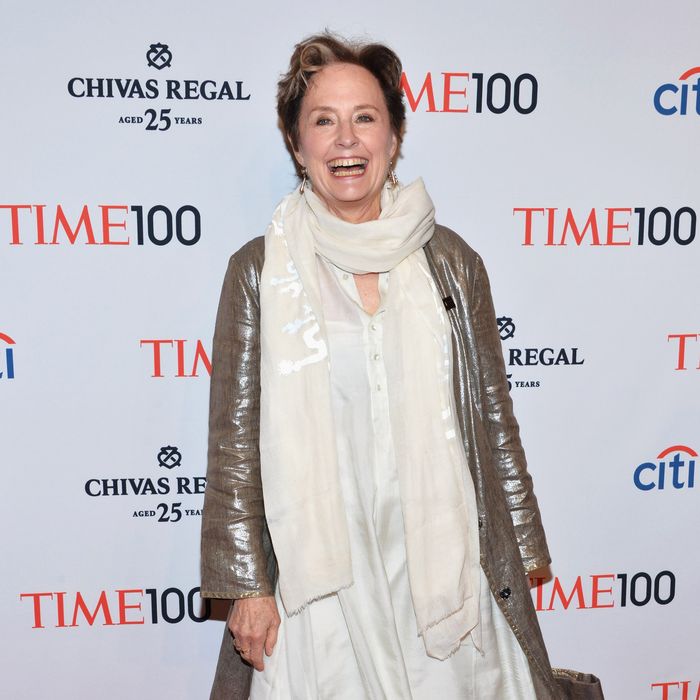 "We never actually had to take out an ad."
Photo: Ben Gabbe/Getty Images
Chez Panisse proprietor, Edible Schoolyard Project pioneer, and all-around food legend Alice Waters flew into town to attend the Time 100 Gala at Lincoln Center on Tuesday. Sadly, she did not wear her local and sustainable "garlic hat" to the party, but she did take a few minutes to talk with Grub about her influence and the organic food movement she's credited with kick-starting into high gear in the 1970s. Waters also described getting into kale 20 years ago (a little "late," she says), and disclosed that in addition to championing their greens, she has a habit of literally embracing farmers.
When you're in New York City, how do you decide on where to eat?
I'm always concerned first about the provenance of the food. I want to know where it comes from, so I go to the farmers market and see who buys there. I see what chefs are buying there, and I know by now, because I come to New York a lot. There's a group who are very serious about everything that they serve, not just the salad. So I can count on the Union Square Greenmarket, but there are a lot of young chefs that I know personally or am connected with in some way, or with the restaurant or the extended family of the restaurant.
If I don't know a chef, I ask the farmers, "What chefs buy here? What restaurants are good?" When I go to the farmers market in Brooklyn, I do know a lot of people who are running restaurants, and it's kind of a thrill to see them all there, like I do in San Francisco at the Ferry Plaza Farmers Market, and I always see someone buying a lot of produce.
It's not that you're spying on them, per se.
We're making contact. It's like building a community of people who share the same values, and it's so great to recognize them and embrace them.
So they get hugs?
I look forward to that! I go every Saturday when I'm home, and it's kind of my town square. And I feel very comfortable doing that. They do get hugs. I hug the farmers, and I hug the restaurateurs! [Laughs.] You feel very connected to them, and you want to come back, and it really feels like I'm coming home.
The Time 100 is about influence. How do you feel you've influenced New York?
I really feel it's changing very quickly, and I know that my coming into a restaurant, if there's some young person cooking, it does mean a lot to them that I came. I feel like there are a lot of people who recognize the value of farm-to-table restaurants, so it's not so critical that somebody is encouraging them. There is a whole population of people in this underground, and I like to think of it as multiplying geometrically. It's word of mouth that is taking us there. We've never had formal advertisements. The [Chez Panisse] books have been part of the philosophy, but we never actually had to take out an ad. And that's what's happening right now. People don't need that. They get it through their friends.
Different foods get their moments — kale is having one — and some people credit you with their re-discovery of certain foods. I eat Brussels sprouts because you showed me what they were actually supposed to taste like. Do you meet a lot of people who say, I eat such-and-such because of you?
I came to kale late. [Laughs.] Actually, not really late, but late in the years of Chez Panisse. Twenty years ago, I discovered that kids in school really like kale. I had no idea. I thought it would be a hard sell. I thought spinach would be first. But in fact, they fell in love immediately with it. I know that salad — I really accept salad as my contribution [to people's eating habits]. A little mesclun mix of lettuces and herbs. That's something that we had since the very beginning. And really organic, ripe bread. I think what I'm most associated with is the organic farmers and really valuing them, so I really have a farmer base, and even a little bit of a rancher base.
Do you think you've ever influenced anybody under the influence?
You mean after they've had a little bottle of wine? [Laughs.] I think I probably have. I can remember a time when I was having a bottle of wine with the ambassador of Italy, and I'd like to believe that I made an impression on him. Wine can help you with that!
Related: Chez Panisse to Reopen June 10