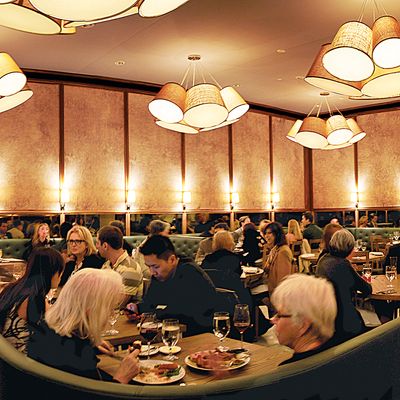 The Gander
Photo: Sarah Silberg/New York Magazine
Compared with his­ intimate, tugboat-size establishment in the West Village, Recette, Jesse ­Schenker's new restaurant, the Gander, which opened a little over a month ago in the dark canyons of the Flatiron district, feels like a slightly unwieldy tanker. The great, boxy space has been decorated in industrial tones of gray, white, and brown. The bare bones of the bar area appear to be left over from the previous doomed tenant (Alison Price Beck's Alison Eighteen), although wood banquettes have been installed along one of the walls. The dining room features non­descript wooden tables and chairs and strange bundles of lampshades hanging from the ceiling, which suffuse the proceedings in a flat, suburban glow.
Schenker is one of the city's more inventive young chefs, but the Gander is a much less nimble operation than Recette, and the comfort-accented, Greenmarket menu here has clearly been designed with a broader, more populist audience in mind. It includes palatably rich tater-tot "snacks" leavened with shreds of brisket, and strange bubblegum-size nuggets of sweetbread rolled, somewhat tragically, in a Buffalo-style Sriracha-based sauce, with celery sticks and a traditional pot of blue-cheese dressing on the side. My otherwise excellent sea-trout tartare was served with a large strip of fried fish skin ("Chef suggests you spread it with the tartare," the waiter intoned), and the wedge of ­iceberg lettuce was ­scattered with Parmesan, squares of bacon, and a gently tangy white-anchovy dressing.
Good restaurant cooking often involves gimmickry like this, of course, but too often at the Gander, the sleight of hand has a clunky, telegraphed feel to it. "There's a lot going on here, but not much is really ­happening," someone at the table muttered as we picked through the roster of pastas, which included beet tortelli (garnished, oddly, with goat yogurt and shavings of coconut), tangles of spaghetti-folded clams and guanciale (delicious), and undercooked triangles of panzotti, bombed with chanterelles, ramps, two kinds of cheese, and too much brown butter. The arctic char was my favorite seafood entrée (although it works best once you wipe the distracting mass of cocoa beans and chorizo from its top), and if you want something heavier, try the suckling pig, which is set in a glistening, slightly overrich muddle of Provençal-style artichokes mingled with salsa verde.
In accordance with what is, by now, the firmly established terroir of the neighborhood, you can accompany your uneven ­dinner with grilled cauliflower florets foraged from the Greenmarket, boutique baby carrots, and pots of stiff, buttery grits dressed with unappetizing shreds of mushrooms and rubbery bits of pork crackling. The stolid businessman's lunch includes a very good expense-account burger (a ­generous wad of dry-aged beef with melted Cheddar and pickles on a toasted potato bun), a nice selection of salads, and a classic roast-beef sandwich, dressed with spicy-mustard mayo and house-made sauerkraut, on a toasted flax roll. The desserts are pre-potted and comfort-themed, and if you choose one, make it the milky chocolate mousse, which is speckled, here and there, with crunchy cocoa nibs.
Bar Bolonat, which opened not long ago in the West Village, is another new expansion project by a talented downtown chef, although on a more modest scale than Schenker's at the Gander and with slightly more uplifting results. Einat Admony has specialized, first at the great falafel shack Taïm, then at Balaboosta in Nolita, in ­translating her own elegant brand of Israeli cooking for a wider New York audience. Her latest restaurant, which occupies an awkward corner space on Hudson Street, seems to be designed as a slightly racier alternative to the other two. The bar serves colorful mixology creations with names like Shiksa and Saz-Arak, and the bar tables are set close together on a floor covered in polished concrete. Dinner is accompanied by a thumping, clubby soundtrack, and several of the exotic small-plates dishes are served on blocks of black slate.
I liked most of the things I tasted, although the modestly sized menu tends to work better in the loud room as a series of small-plate tastes (and drinks), instead of a full-bore sit-down dinner. Get the fried olives, the excellent "teardrop" kibbeh (with a pot of preserved-lemon sauce for dipping), and anything to do with vegetables, in ­particular the grilled baby artichokes (with pistachio yogurt) and the "Everyday ­Cauliflower," served with a peanut-flavored tahini. Some of the more ambitious, entrée-style dishes (dorade with too much harissa, a decorative but overcooked baby Poussin flavored with pomegranate) don't cohere quite as well, so stick to classics like minute steak (delicately sliced, with frizzled onions) or beef-cheek tagine, and save room for the hard-topped crème brûlée, which is served with melting shreds of halvah.

The Gander
15 W. 18th St., nr. Fifth Ave.; 646-682-7949; thegandernyc.com
Hours: Dinner Monday through Thursday 5:30 to 10:30 p.m., Friday and Saturday until 11:30 p.m, Sunday until 10 p.m.
Prices: Snacks and appetizers, $8 to $22; entrées, $20 to $40.
Ideal Meal: Sea-trout tartare, spaghetti with clams, suckling pig or the lunchtime burger, chocolate mousse.
Note: Craft-beer guzzlers can choose from an impressive selection of bottles (17) and drafts (four).
Scratchpad: Two stars for ambition, minus a star for the execution and décor.

Bar Bolonat
611 Hudson St., at West 12th St.; 212-390-1545; barbolonatny.com
Hours: Dinner Monday through Thursday 5:30 to 10:30 p.m., Friday and Saturday until 11 p.m., closed Sundays.
Prices: Appetizers, $6 to $16; entrées, $23 to $31.
Ideal Meal: Kibbeh, fried olives, cauliflower and baby artichokes, minute steak or beef tagine, crème brûlée.
Note: The small but sturdy wine list includes several interesting bottles from Israel.
Scratchpad: Two stars for the best of this elevated bar cooking, minus a star for range and variety.
*This article appears in the June 2, 2014 issue of New York Magazine.