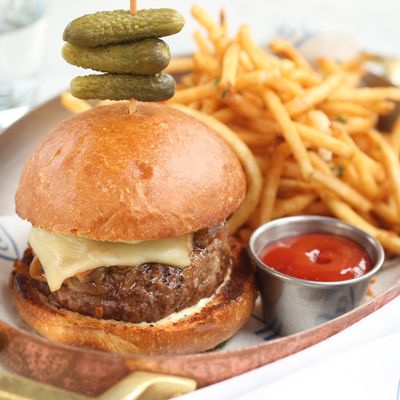 Lafayette's excellent brisket burger, not available at night.
Photo: Melissa Hom
Sure, there can be challenges to finding a properly civilized meal in this confused, post-gourmet era, and many of the common complaints about New York restaurants remain widespread because they're still true: The trendiest new restaurants in town tend to be tiny, overcrowded noise boxes designed mostly for the consumption of cocktails instead of a good dinner. You often have to stand in line to get a table, or a seat at the bar, and even if you don't, the online reservation systems can be arcane and confused. Navigating through the endless, precious tasting menus takes too much time, and the price of a decent dinner just keeps on going up and up and up. But don't despair. When it all gets to be a little overwhelming, do what your long-suffering critic does when the culinary grind gets to be too much. Pick up the telephone (preferably an ancient push-button landline), and make a reservation for lunch.
The upside to restaurants almost universally doing away with the traditional trappings of fine dining is that we are now living in the golden age of lunch. If you don't believe me, take a seat in the afternoon by one of the sunny windows at one of New York's normally riotous establishments, such as the Momofuku Ssäm Bar, or Balthazar, or Danny Bowien's Mission Cantina. At 1:30 on lazy weekday afternoon, there won't be the usual lines snaking out the door, and compared to the usual free-for-all riot at dinnertime, the sun-splashed room will be an oasis of calm. The waiter might even smile at you when he or she takes your order for a glass of Saint Emilion (instead of a bottle). You won't be pestered to order the latest mixologist concoction, or weirdly fruity house "mocktail," and your tab, when it arrives, is sure to be cheaper than the one you'd run up at dinner.
For a working restaurant critic, a leisurely meal in the middle of the day, at a good restaurant, always feels like busman's holiday, of course. But I would argue that in this comfort-obsessed, ramen-addled era, lunch — even more than dinner — is the great, hidden sweet spot. For years, now, my favorite dish at April Bloomfield's  tiny, riotous West Village gastropub, the Spotted Pig, has been the beautifully constructed sandwich Cubano ($18 with pulled pork, melted gruyère cheese, and assorted greens), served only at lunch. The great lapsed gourmet chef, Andrew Carmellini, serves wonderful lunches at his restaurants, and his latest downtown bistro, Lafayette, is no different. The grand room is a madhouse in the evenings, but if you go at lunchtime, you can enjoy non-dinner specialties like the chef's excellent brisket burger, and, unlike at dinner, it's actually possible to hear yourself think.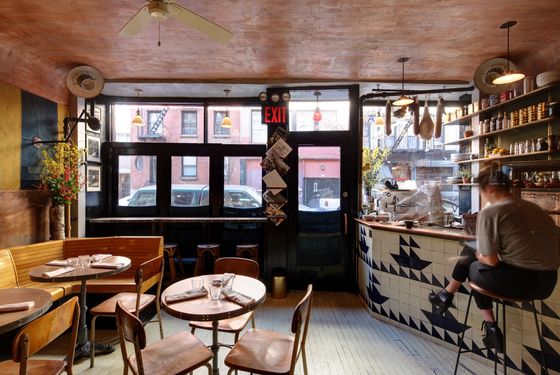 Navy, where midday is much less chaotic than prime time.Photo: Melissa Hom
Yes, there are still great restaurants in the city — Le Bernardin, Per Se, Eleven Madison Park — ­where dinner is the optimum time to experience the considerable talents of the chef and staff. And yes, not everyone has a couple of hours on their hands in the middle of the day to loiter in restaurants, inhaling large amounts of quite-expensive food. But any Brooklyn chowhound will tell you that lunch at the larger, less personable new Franny's outlet, on Flatbush Avenue, is a much more peaceful, neighborly experience than dinner, even though the menus are exactly the same. My spies in the Torrisi empire assure me that many of the things I objected to at their flagship establishment, Carbone (the excessive menu, the forced circus atmosphere), are much less objectionable on a peaceful afternoon; although they also tell me that the veal parm still costs $55 at lunchtime, and if I dare to show my face at the door, the proprietors will probably still throw me out on the street.
But that's okay. For the devout lunchtime flâneur, there are a million options, these days, in the big city. The tiny new Soho restaurant Navy resembled a kind of Stygian rave bar when I dropped in not long ago on a Friday evening. But when I visited at lunch, the kitchen wasn't as harried or as slow, and the menu included an excellent avocado-and-pulled-chicken sandwich, so tasty that I was tempted to order it twice. Whenever people complain to me about the lines at David Chang's Momofuku restaurants, or the excellent Chinese restaurant, Han Dynasty, in the East Village, I tell them to go at lunch. Midday is my favorite time to visit Gotham Bar and Grill (for the $34 greenmarket lunch menu, and a glass of iced tea), and also my favorite time to visit Keith McNally's Minetta Tavern (for the French Dip). And if I happen to overeat, it's not the end of the world. There's always time for a leisurely digestif at the bar, followed by my usual, pre-dinner, afternoon nap.