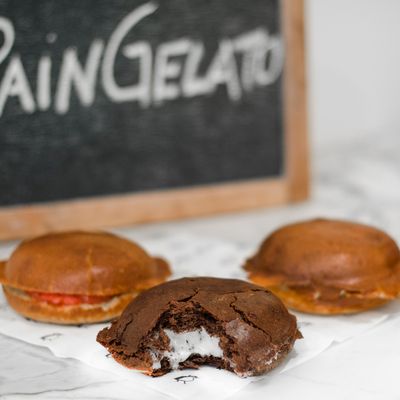 A.B. Biagi's chocolate-chocolate-nibs and orange-blossom flavors.
Photo: Courtesy of A.B. Biagi
It's no longer enough to simply shove a scoop of artisanal ice cream between two cookies and call it a day. The trend is now toward the hot ice-cream sandwich. Or make that the hot-and-cold ice-cream sandwich — the McD.L.T.-ization of the form, if you will. At Morgenstern's Finest Ice Cream, Nick Morgenstern sandwiches two scoops of raw-milk ice cream between a slice of Japanese-bakery pain de mie that's been slicked with honey, then caramelized with a blow torch. At Hay Rosie, which opens in Carroll Gardens next week, Stef Ferrari is debuting what she calls Barnburners, various ice creams and toppings heat-sealed within glazed doughnuts, cookie dough, and other malleable shells. And at A.B. Biagi gelateria, Antonio Barros Biagi is unveiling a line of customizable PainGelato sandwiches made with his gelato and Brooklyn bakery Bien Cuit's brioche buns.
Biagi came up with the idea when Bien Cuit's Zach Golper approached him about carrying A.B. Biagi gelato at his Brooklyn store. Now Golper is making three flavors of brioche for Biagi: traditional, orange-blossom, and chocolate-chocolate-nibs. You pick your brioche and your gelato (passion fruit sorbet paired with orange-blossom brioche, say, or stracciatella gelato with the chocolate-chocolate-nibs bun), Biagi splits the brioche, spackles on some gelato, closes up the bun, and heats it for approximately ten seconds in a contraption that looks like a panini-press crossed with a waffle iron. The result: a brioche that's faintly crisp around the sealed edges with a light and airy crumb, and some smooth and creamy gelato that¹s remarkably unfazed by its turn in the presser. You can get a PainGelato sandwich at A.B. Biagi starting today, and, in a few weeks, Bien Cuit will carry a limited selection.