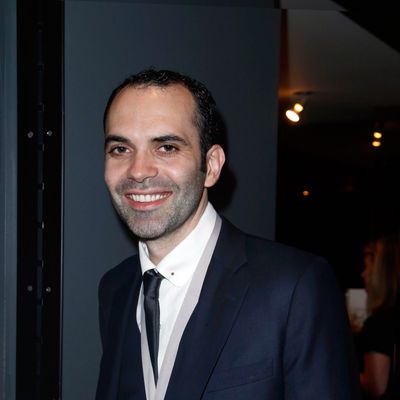 Dominique Ansel got the recognition he deserves.
Photo: Jimi Celeste/PatrickMcMullan
The James Beard Awards often get called the "Oscars of the food world" — an apt description given that the industry's biggest names get together to give each other awards before heading out to the after-parties — but it can be hard for non-food-lovers to really understand what all the fuss is about. Yet there's much to be gleaned from the way the awards play out.
1. The awards favor longeivty over hype: Even as plenty of food writers focus on new restaurants (and there is one category reserved for the country's best new restaurant), the top Beard awards require that nominees be in business for a long time. Only restaurants that have been in operation for at least ten consecutive years are eligible for Outstanding Restaurant (same goes for Outstanding Restaurateur, while Outstanding Chef requires five years of work).
2. Even with the Met Gala happening on the same night, food-loving celebrities stop by the show: Robert De Niro was there, taking selfies, and Questlove followed suit.
3. Turns out pastry chefs can make seriously awesome veggie burgers, too: Many guests deemed Del Posto's Brooks Headley's Shackburger-style veggie burger the best that they've ever tasted.
4. Chefs still care more about reviews than they do awards: Danny Bowien actually left early because he heard a critic was dining at Mission Cantina.
5. The momentum of the food world's appreciation for women chefs is only growing stronger: Barbara Lynch, Nancy Silverton, April Bloomfield, Naomi Pomeroy, Sue Zemanick, and Ashley Christensen all took home major awards. (And Post critic Steve Cuozzo managed to make himself look foolish when he tweeted that he was not impressed by "Alice" Bloomfield.)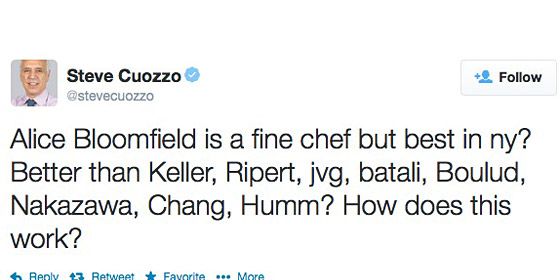 This tweet was still live, nearly 24 hours after the cermony.Photo: Twitter
6. The "Oscars" of the food world might not have the cachet of A-list celebrities, but it does have pretty outstanding after-parties. The NoMad crew threw down at the Highline Ballroom with a crazy pineapple-shaped ice luge; Momofuku and Major Food Group teamed up for an event at Acme; and the Toro team celebrated with tater tots.
7. Nobody can stop the Cronut inventor. Dominique Ansel won best pastry chef, and this definitely won't be his last award.
8. Expect to see cookbooks from Willows Inn chef Blaine Wetzel and the Purple Pig's Jimmy Bannos Jr. They shared the award for rising star chef of the year, so it's only a matter of time.
9. If you aren't familiar with Daniel Patterson, you're about to be: The celebrated San Francisco chef's restaurant Coi was added to the World's 50 Best list just last week. Last night, he won the award for best chef in the west region. All of which is guaranteed to raise his national (and international) profile even further.
10. Same goes for Poole's Diner in Raleigh, North Carolina, whose chef, Ashley Christensen, won the best chef in the southwest award. The restaurant has been huge in food circles for a while, but it's poised to blow up even more.