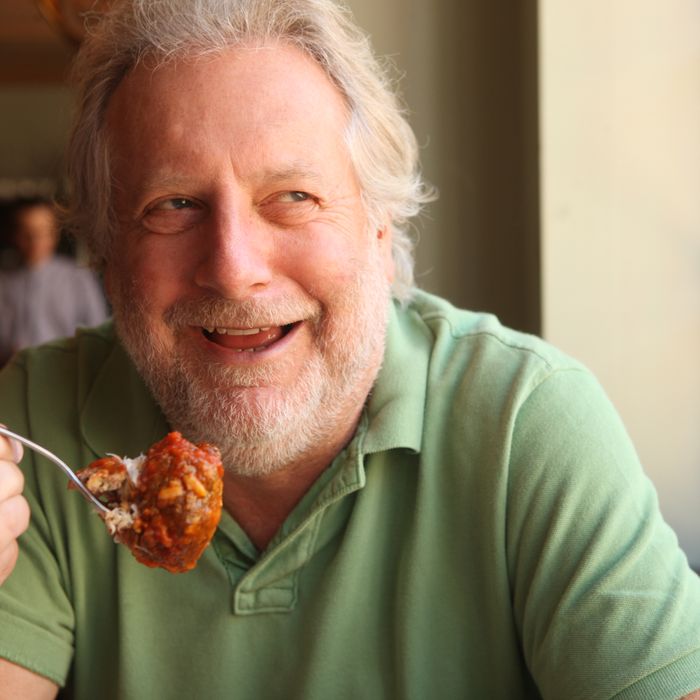 Waxman's gonna be mad he didn't pick the Miami location come January.
Photo: Melissa Hom
There aren't many details, but according to today's "Off the Menu" column, and a release from a rep, Jonathan Waxman, Seamus Mullen, and Tom Colicchio have all teamed up with a new hotel brand called 1 Hotels to open "farm to table" restaurants (their words) in the new hotels this fall. Waxman will open a restaurant in Manhattan; Mullen's restaurant will be in Brooklyn Bridge Park, and Colicchio's restaurant will open in Miami Beach. Gird yourself for some marketing speak and read the full release for more info on the locations, and the chefs' "signature culinary sensibilities."
New York, May 5, 2014 - 1 Hotels, a new hotel brand from Starwood Capital Group launching in fall 2014, will feature "farm-to-table" restaurants from critically acclaimed chefs Jonathan Waxman, Tom Colicchio and Seamus Mullen. 1 Hotels will open three distinct hotel and restaurant destinations: New York City's Central Park [1414 Avenue of the Americas, New York, NY 10019]; Miami's South Beach [2377 Collins Avenue, Miami Beach, FL 33139]; and Brooklyn Bridge Park [60 Furman Street, Brooklyn, NY 11201]. 

1 Hotels is the first luxury hotel brand to focus on sustainable living. The goal is to celebrate nature, its beauty, its perfection and purity with natural and sustainable materials. Each of the 1 Hotels will be LEED certified and every hotel will feature a farm fresh restaurant consistent with the brand's core environmental values. Services will echo the architecture and design, centered on sustainability, and will be delivered with modern technologies to provide the best-in-class customer service. "The world doesn't need just another hotel brand… it needs a better 1," said Barry Sternlicht, Chairman and CEO, Starwood Capital Group.  "The 1 Hotel is more than just a property; it is a mission and a way of life. Our brand's name reflects the important truth that this is indeed, one world, and each of our behaviors that affect the environment impacts our neighbors and future generations," he concluded.

"With decades of combined culinary experience and proven track records for creating celebrated restaurants, Jonathan, Tom and Seamus represent the very best in the farm-to-table movement," said Sternlicht. "Their shared commitment to offering a restaurant experience distinguished by responsible culinary practices and techniques is central to 1 Hotel's mission — celebrating nature and reminding us of our obligation to be socially responsible."

1 Hotels will celebrate nature in both design and food, with Jonathan Waxman, Tom Colicchio and Seamus Mullen opening the Central Park, Miami Beach, and Brooklyn Bridge Park 1 Hotels restaurants, respectively. United by a common thread of celebrating ingredients and responsible sourcing from local purveyors, each chef will showcase their signature culinary sensibilities in their individual, distinct restaurants.
Related: Jonathan Waxman Opening Restaurants in Nashville and Toronto