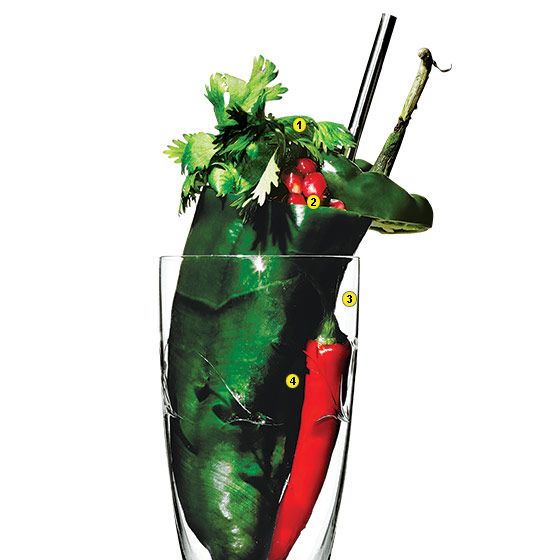 The latest from Thomas Waugh.
Photo: Bobby Doherty/New York Magazine
What you see pictured before you is not a photo editor's conceptual representation of a spicy drink, but a cocktail as it's actually served at ZZ's Clam Bar in the Village. The drink in question is the latest from Thomas Waugh, beverage director of Major Food Group, the company behind Torrisi Italian Specialties, Carbone, and ZZ's. Inside the poblano pepper is a mound of crushed ice and a mixture of muddled cucumber, grenadine, and jalapeño-infused tequila with a couple drops of a super-­concentrated essence of cilantro "made by a French guy who grows his own organic herbs," says Waugh. In concept, sipping tequila from a chile pepper is not unlike eating butternut-squash soup from a tiny, hollowed-out pumpkin or drinking a piña colada from a pineapple, but within the surrealistic den of snuggery that is ZZ's, the act is a lot more fun than that, not to mention unpredictable: "When you pour the drink into the poblano," says Waugh, "it gets a little bit spicier as you go along, depending on the pepper."
1. Since many people have a genetic aversion to cilantro, Waugh chose to telegraph its inclusion in the name of the drink rather than call the cocktail "Pepper" or "Chile."
2. Waugh wanted to make the drink spicy but not too. He infuses one bottle of blanco tequila with five chopped jalapeños. "On average it takes about 20 minutes to get the right amount of heat," he says.
3. Unlike pumpkins and pineapples, poblano peppers lack steady bases, so Waugh serves the drink in a vintage pilsner glass. "My thing is, I want to implement more than just flavor in a drink and make it more fantastical."
4. "I had something similar at a place in Guadalajara that served their tequilas neat in poblanos," says Waugh. "So I knew I wanted to try to put a drink in a poblano pepper."
On the menu at ZZ's Clam Bar, $20; 169 Thompson St., nr. Houston St.; 212-254-3000.
Related: Thomas Waugh on Dirty French, Short Shorts, and Bars That Prevent You From Getting Laid
*This article appears in the April 21, 2014 issue of New York Magazine.