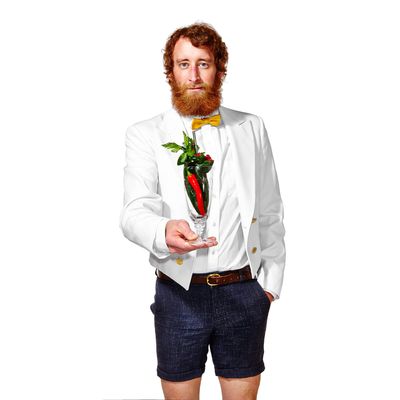 Waugh.
Photo: Bobby Doherty
Earlier today, we dissected the Cilantro, the latest cocktail to come out of ZZ's Clam Bar. It's the handiwork of Thomas Waugh, drinks czar of Major Food Group, the parent company of ZZ's, Torrisi Italian Specialties, Carbone, and Parm. Waugh did time at the Alembic Bar and Enrico's Sidewalk Café in San Francisco before he moved to New York and made a name for himself at Death & Co. and Clover Club. Perhaps you've noticed him behind the bar at ZZ's? He's the one wearing a white double-breasted military-marching-band jacket, gold bow tie, short shorts, and a terrific burst of whiskers. But we were talking about his new drink, which features chile-infused tequila and is served in an actual chile pepper. Waugh, you see, believes that while anyone can pour a cocktail into a plain old cocktail glass, it takes vision and gumption, not to mention a highly developed sense of whimsy, to serve a drink in a ceramic Buddha, coconut shell, brass pineapple, or poblano pepper, as is the custom at ZZ's. Here, he weighs in on the local cocktail scene and shares a few details about drinks currently in development.
At ZZ's, you're known for your unusual collection of glassware, and for allowing the drinking vessel to dictate the cocktail you create and put in it. Explain.
Well, I was getting kind of bored with the redundancy of all the different cocktail bars and the whole movement of the cocktail scene in New York. Everyone just uses the same stuff every time, you know? I'm getting to the point where a cocktail doesn't really impress me much any more. Oh, you figured out a great flavor combination. Good for you; you should have by now, you've been working in the industry for ten years. So, my thing is, let's make everything more fantastical. Let's implement more than just flavor in a drink. Everybody just uses the same cheap, shitty glassware. So the more things I can find that have texture — if the stem of the glass has texture, or an extra-thin-lipped glass or something that has feeling to it, or images on the glass — the better. You know that what you smell is mainly what you taste; I try to apply that same principle to things that you see, things that you touch, things that you hear.
Why are you so bored with the cocktail scene?
The cocktail world has gotten very serious. To a lot of people, it's more fun to go dancing or go to a dive bar and listen to loud rock 'n' roll. No one wants to go to a cocktail church, and have to remove their hat, you know, and not talk to girls. People in the cocktail industry are preventing people from getting laid, basically. We like to have fun here. Some people think it's like a really uptight, high-end restaurant, but it's the opposite, I think.
Is that what the uniform's about, a kind of parody of cocktail geekdom?
Yeah, well, I don't know. The uniform just came about accidentally. I was riding my bike around one day last summer and I got a text message from one of the guys, Hey the coats came in, you should try them on … I came around and they were all laughing at me and making fun of me for wearing these short shorts, but that's just what I do, so I don't care. So then I'm trying the coats on and we were all bursting out laughing: me in these short shorts and this Army surplus tuxedo coat. Then they were like: This is it, this should be the uniform.
Is that bow tie a clip-on or one you tie yourself?
It's a clip-on, but that's a secret.
Your bosses are pretty busy these days preparing for the openings of Dirty French at the Ludlow Hotel, and also the High Line restaurant project. Can you tell us anything about the cocktails you're planning for them?
Dirty French is going to be sort of modeled after a classic cocktail menu, very French, a lot of pastis and absinthe and whatnot, also with sort of a New Orleans feel to it. There's a Sazerac variation with cumin, and a sort of Manhattan variation with Japanese whiskey and coconut-infused vermouth — a lot of dried fruits, a lot of spices. And for the High Line, which is going to come a little later, we keep throwing around this term patio drinks, so think outdoors, think refreshing, a lot of soda, Champagne. There's a gin-based cocktail with long pepper infused into it, and then pomelo syrup, and then citrus juice, fresh lime juice, and like a hot-pepper jam. It's going to be like a sweet, peppery, but refreshing and citrusy gin sour of sorts.
Okay, now for the lightning round. What's your favorite cocktail?
Probably a daiquiri: a classic white rum, lime, sugar daiquiri, the trinity, the ultimate. Spirit, citrus, sugar. The simpler the better.
Least favorite?
I don't care what people drink, I don't really like being put on paper saying I hate people who drink vodka sodas, but in my opinion, you could not get any more boring than that: putting something flavorless on top of something else that's flavorless.
Most overused ingredient?
Probably two years ago it was St. Germain. I don't feel like I really have a lot of overused ingredients.
Underused?
Rhum agricole. It's too funky for most people, but I love it. If you can mix it well, people probably won't even know there's agricole in the drink. I use a really funky, vegetal agricole in small doses to add an extra dimension of weirdness.
How important is ice?
It kind of depends on what kind of drinker you are. If you're a slow drinker, ice is very important; if you're a fast drinker, maybe not so much.
Speaking of slow drinking, how long is too long for a bartender to make a drink?
As complicated as our drinks are at ZZ's, I can still bang them out in five minutes. Five is an extremely long time.