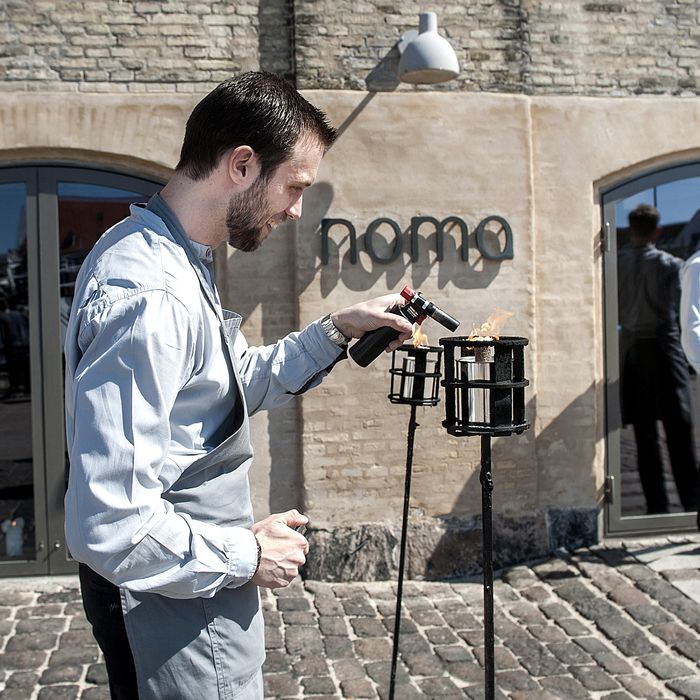 You still can't get a reservation.
Photo: Keld Navantoft/AFP/Getty Images
As they do every year, some of the world's best chefs got together in London and decided whose restaurants were the very best of the best. The profile of the so-called World's 50 Best Restaurants list has risen steadily in the past few years, thanks to an impressive ongoing marketing campaign, and inclusion on the list makes an immediate impact on business (meaning if you managed to read the headline, and this far into this paragraph, you've already probably missed your window to secure a reservation at any of the top spots for the foreseeable future). At today's ceremony, Copenhagen's Noma took the top spot (it was No. 2 last year after a string of years at No. 1). In addition to Noma, there are other notable developments for U.S. restaurants on this year's list: Daniel Patterson's Coi appears for the first time, Eleven Madison Park remains the highest-ranked American restaurant at No. 4, Per Se and Daniel both dropped compared to last year's list (No. 11 to No. 30 for Per Se, No. 29 to No. 40 for Daniel), and Alinea jumps up from No. 15 to No. 9. Rankings aside, if you're looking for somewhere special to go spend a lot of money on dinner, any of these spots should do the trick.
Here's the complete list:
1. Noma, Denmark
2. El Celler de Can Roca, Spain
3. Osteria Francescana, Italy
4. Eleven Madison Park, New York City
5. Dinner by Heston Blumenthal, U.K.
6. Mugaritz, Spain
7. D.O.M., Brazil
8. Arzak, Spain
9. Alinea, Chicago
10. The Ledbury, U.K.
11. Mirazur, France
12. Vendôme, Germany
13. Nahm, Thailand
14. Narisawa, Japan
15. Central, Peru
16. Steirereck, Austria
17. Gaggan, Thailand
18. Astrid y Gaston, Peru
19. Faviken, Sweden
20. Pujol, Mexico
21. Le Bernardin, New York City
22. Vila Joya, Portugal
23. Restaurant Frantzén, Sweden
24. Amber, Hong Kong
25. L'Arpege, France
26. Azurmendi, Spain
27. Le Chateaubriand, France
28. Aqua, Germany
29. De Librije, Netherlands
30. Per Se, New York City
31. L'Atelier Saint-Germain de Joël Robuchon, France
32. Attica, Australia
33. Nihonryori RyuGin, Japan
34. Asador Etxebarri, Spain
35. Martin Berasategui, Spain
36. Mani, Brazil
37. Restaurant Andre, Singapore
38. L'Astrance, France
39. Piazza Duomo, Italy
40. Daniel, New York City
41. Quique Dacosta, Spain
42. Geranium, Denmark
43. Schloss Schauenstein, Switzerland
44. The French Laundry, Yountville, California
45. Hof Van Cleve, Belgium
46. Le Calandre, Italy
47.The Fat Duck, U.K.
48. The Test Kitchen, South Africa
49. Coi, San Francisco
50. Waku Ghin, Singapore
And even though it's called the World's 50 Best, there are actually 100 picks. Here are the rest:
51. Combal.Zero, Italy
52. Septime, France
53. Relae, Denmark
54. Blue Hill at Stone Barns, Westchester, New York
55. St. John, U.K.
56. Le Louis XV, France
57. Tickets, Spain
58. Ultraviolet, China
59. Biko, Mexico
60. Quay, Australia
61. In De Wulf, Belgium
62. Manresa, Los Gatos, California
63. Hedone, U.K.
64. Momofuku Ssäm Bar, New York City
65. Hertog Jan, Belgium
66. Lung King Heen, China
67. Otto e Mezzo Bombana, Hong Kong
68. The NoMad, New York City
69. Saison, San Francisco, California
70. Momofuku Ko, New York City
71. White Rabbit, Russia
72. The Tasting Room at Le Quartier Français, South Africa
73. Bras, France
74. 41 Grados, Spain
75. Alain Ducasse au Plaza Athénée, France
76. Mr. & Mrs. Bund, China
77. Zuma, United Arab Emirates
78. Tim Raue, Germany
79. Maaemo, Norway
80. The Restaurant at Meadowood, St. Helena, California
81. La Petite Maison, United Arab Emirates
82. La Grenouillere, France
83. Die Schwarzwaldstube, Germany
84. Iggy's, Singapore
85. Caprice, China
86. Les Amis, Singapore
87. The Clove Club, U.K.
88. L'Epicure, France
89. Taubenkobel, Austria
90. Dal Pescatore, Italy
91. Boragó, Chile
92. Pierre Gagnaire, France
93. Marea, New York City
94. Restaurant Diverxo, Spain
95. Malabar, Peru
96. Landhaus Bacher, Austria
97. Bo Innovation, Hong Kong
98. Jean Georges, New York City
99. Ishikawa, Japan
100. Jaan, Singapore
And some other awards handed out at the ceremony:
One to Watch: Saison, San Francisco
Best Pastry Chef: Jordi Roca, El Celler de Can Roca, Spain
Sustainable Restaurant Award: Azurmendi, Spain
Best Female Chef: Helena Rizzo, Mani, Brazil
Chefs' Choice: Alex Atala, D.O.M., Brazil
Lifetime Achievement Fergus Henderson, St. John, U.K.

The World's 50 Best Restaurants [Official Site]
Related: How the 'World's 50 Best' List Changed the Way Elite Restaurants Do Business