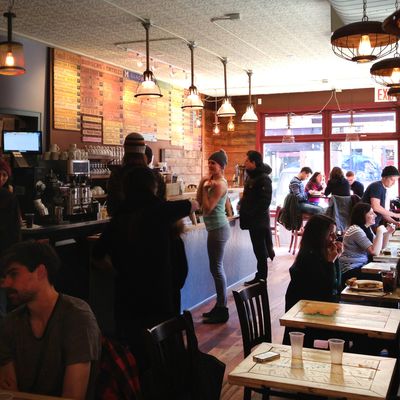 The new location at 49 Carmine.
Photo: Courtesy of the Grey Dog
Every New Yorker knows what it feels like to lose their favorite diner, bar, or hot-dog stand and watch it get turned into a bank, CVS, or — worse — another juice bar. What almost never happens afterwards is the restaurant moves back onto its original block, as fantastic as ever. The original Grey Dog opened on Carmine Street in 1996, and in 2011, owners (and brothers) Peter Adrian and David Ethan had to close the 15-year-old restaurant because of a landlord dispute. Last week, they quietly opened a new Grey Dog on the same block — a few doors down from the original, at 49 Carmine. This is great news for me, because Grey Dog is my second-home restaurant.
Half the reason to live in New York is to have a regular spot that you love this much, a neighborhood place that feels less like a restaurant and more like an extension of your living room. I first started going to Grey Dog on a regular basis at age 19, when I moved to New York for a summer internship. Now when my bank calls to check for fraud and asks me to list a recent charge, I can reliably say, without hesitation, "Grey Dog — about $11." I signed the lease on my apartment (partly) because of its proximity to the original Grey Dog on Carmine Street. When that location closed a few years ago, I went to its last night alone — a so-called "funeral" — and swayed to live jazz. There are other locations — University Place, West 16th Street, Mulberry Street — but the point of a second-home restaurant is that you don't have to cross more than one street to get there. You can show up in pajamas, or have a first date there without really trying, or use it as a meet-up spot for that high-school friend you can only handle in small doses.
There is no one element that necessarily sets Grey Dog apart: There are nods to the University of Michigan (the alma mater of Adrian), but Grey Dog could be in any sleepy college town. There's a gigantic chalkboard menu and a pastry case filled with marble brownies and granola-chocolate-chip cookies. Vague indie-folk music plays on the speakers. PBR is on tap. The 20-something-year-old servers never seem to age. They're hip and young and attractive, like a modern-day version of the Felicity cast. But you don't even have to talk to anyone, because Grey Dog has a self-service setup: You order and pay at the counter while a server saves you a table with a bandana (a little like summer camp). A check generally runs no more than $18 — and you never have to deal with splitting it with friends. Other restaurants will rush you out to turn the table as quickly as possible; a meal at Grey Dog can last 20 minutes or an hour. It's classier than a fast-food place, but quicker than a diner.
The food, as it tends to be at the best neighborhood places, is not a mind-blowing culinary experience. It's perfectly adequate, and that's why it's great. There's no farm-to-table organic produce or grass-fed meat. But there are seven kinds of bread. You can order pancakes all day. You can add a "cute salad" to any of the massive sandwiches. It's the kind of place where your go-to order can be a grilled tofu wrap with button mushrooms, sautéed spinach, and raw ginger, perhaps the least-trendy-sounding dish ever. But the appeal is that the food is simple and consistent.
Even as Grey Dog expanded over the years, the core concept stayed the same. It's a source of comfort in this city, where at least one buzzy new restaurant opens every week (or day). You go to Grey Dog, or any second-home restaurant, because it's a place that's free of demands. You know exactly how you'll feel when you walk out the door: better than you did when you walked inside.