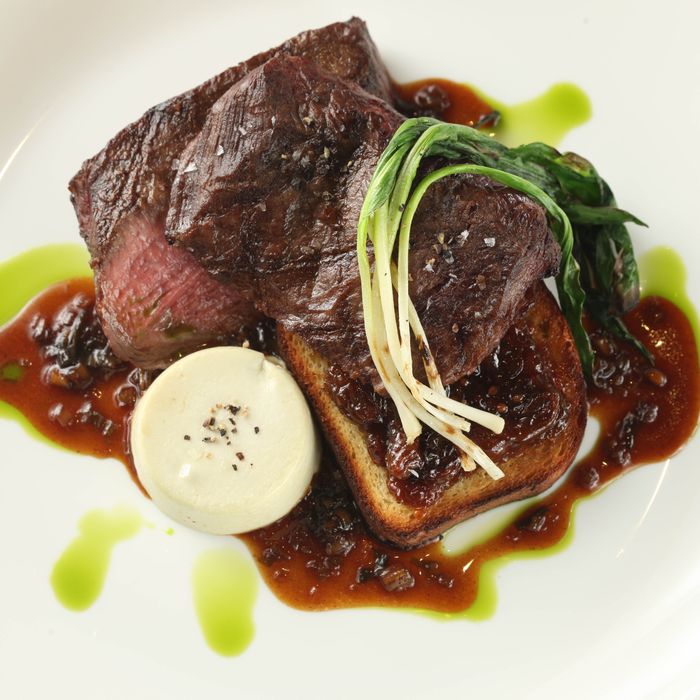 Beautique's steak arrives with bone-marrow flan, grilled ramps, and ramp jus.
Photo: Courtesy of Beautique
It's tricky to keep track of how people feel about ramps at any given moment — is there a backlash, or are we experiencing a backlash to the backlash? — but here's what really matters: The tiny wild onions are a delicious first sign of spring, and this time of year, you can expect to see them on every menu in town. Part of their appeal: They're versatile, so chefs can pickle them, grill them, stuff them into dumplings, blend them into butter — the works. To help make sense of it all, here are 22 of the most interesting ramp dishes in town this year. Love 'em or hate 'em, they won't be around for long.
Dover
The Dish: Tajarin, Fava Beans, Ramps, Peas
Cost: Part of a $95 tasting
Joe Ogrodnek and Walker Stern, recently crowned Food & Wine's Best New Chefs, have a brand-new pasta with ramps on their $95 tasting menu — and they're also adding a ramp garnish to the beloved $65 roast-chicken dish with morels and asparagus (in place of gratin and black truffles).
Pearl & Ash
The Dish: Whiskey & Ramp Butter
Cost: $4
Have you heard? Butter is back. Chef Richard Kuo has swapped his usual chicken butter for a whiskey-and-ramp butter, made with pickled ramps and a touch of honey. He's also making a $16 skirt-steak dish with broccoli, ramps, pearl onions, and beer sauce — his take on classic Chinese beef and broccoli.
Tocqueville
The Dish: Ramp Tasting
Cost: $85
The biggest ramp-heads will opt for this four-course ramp tasting menu, with ramp risotto, roasted trout with ramp emulsion, veal with charred ramps, and ramp-wrapped cheese.
Beautique
The Dish: Steak With Bone-Marrow Flan, Grilled Ramps, and Ramp Jus
Cost: $39
At this new uptown restaurant, chef Craig Hopson adds ramps to juices from the steak to form a gravy of sorts. Then he simply tops the meat with grilled ramps.
Motorino
The Dish: Ramp Pizza
Cost: $16
Look out for this seasonal special pie (with marinara sauce, Pecorino, ramps, and olive oil) — and make sure to act quickly if you see it on the menu.
Bar Bolonat
The Dish: Grilled Ramps and Asparagus
Cost: $14
Einat Admony pairs these spring vegetables with a Meyer lemon sauce and breadcrumbs mixed with baharat, a Middle Eastern spice blend made of cloves, nutmeg, cinnamon, and dried ginger.
ABC Kitchen
The Dish: Ramp Toast
Cost: $12
Dan Kluger's new dish combines crusty bread, creamy ramp spread, and Greenmarket-approved Lynnhaven goat cheese.
All'onda
The Dish: Rombi
Cost: $21
This rhombus-shaped pasta, dressed in white wine and butter, comes with sautéed ramps, grilled asparagus, Parmesan dashi, breadcrumbs, and chili flakes.
Narcissa
The Dish: Potato Gnocchi
Cost: $15/$25
John Fraser's critically acclaimed vegetable-focused restaurant is only getting better with spring's produce. For example, the chef now pairs soft gnocchi with fava beans, ramps, and Parmesan.
Cull & Pistol
The Dish: Fried Chesapeake Oysters
Cost: $13
This excellent Chelsea Market seafood restaurant makes "angels on horseback": deep-fried Virginia oysters wrapped in Serrano ham and served with a ramp crêpe, lettuce, and peanut aïoli.
Il Buco
The Dish: Tagliatelle
Cost: $24
At the Il Buco on Bond, you'll find ramps prepared with Virginia ramps, peperoncino, and Parmesan. And at Il Buco Alimentari, there's grilled young chicken rubbed with harissa and served with roasted forest mushrooms, grilled asparagus, and ramps from New Jersey.
Frankies 457 Spuntino
The Dish: Burrata With Ramps
Cost: $12
Hit up Danny Bowien's Mission Chinese pop-up in the back, and then eat burrata with ramps on toast up front.
Charlie Bird
The Dish: Grilled Ramp Toast
Cost: $11
A new addition to the growing toast selection at Charlie Bird (there's tripe toast and stracciatella cheese toast already): grilled ramp toast, topped with pancetta.
Maysville
The Dish: Charcoal-Grilled Flatbread
Cost: $18
A whole-wheat flour flatbread is topped with Hudson Valley Fresh ricotta, porchetta-style pork belly, a fried farm egg, herb sauce, and grilled ramps, of course.
All Good Things
The Dish: Ramp and Lamb Carbonara
Cost: $17
This market café in Tribeca offers ramps à la carte, while Le Restaurant's ten-course tasting menu includes a dish of rabbit with ramps, salsify, fiddlehead ferns, and spice bush.
Thistle Hill Tavern
The Dish: Pork Chop
Cost: $25
Dale Talde pairs a 16-ounce smoked Hampshire pork chop with super-seasonal rhubarb mostarda and ramp chimichurri.
Locanda Verde
The Dish: Girandole
Cost: $22
There's a new housemade pasta dish on the menu, and it comes with speck, ramps, English peas, and fiore sardo. (Andrew Carmellini thinks ramp backlash is b.s.: He's serving ramp chimichurri with lamb at the Library, and ramps as a garnish on Lafayette's potato-and-leek potage.)
General Assembly
The Dish: Skuna Bay Salmon
Cost: $26
This brand-new restaurant serves salmon cooked a la plancha with grilled baby bok choy, rhubarb chutney, and an earthy ramp aïoli.
The Little Owl
The Dish: Ramp Risotto
Cost: $29
Ask for Joey Campanaro's off-menu special: a light and creamy ramp risotto with seared black cod, topped with roasted red peppers.
Ai Fiori
The Dish: Octopus a la Plancha
Cost: $24
Michael White's midtown restaurant serves a simple, satisfying octopus dish with farro, ramps, and sunflower-seed pesto.
Toro
The Dish: Chuleta de Buey
Cost: $90
Go big and order this 40-day dry-aged bone-in rib eye, which feeds two to four and comes with charred ramps and bone-marrow kabayaki.
Kin Shop
The Dish: Ramp Dumplings
Cost: $10
Sure, you've had pasta with sautéed ramps — but how about Thai-inspired ramp-stuffed dumplings with soy reduction and pickled long chilies?