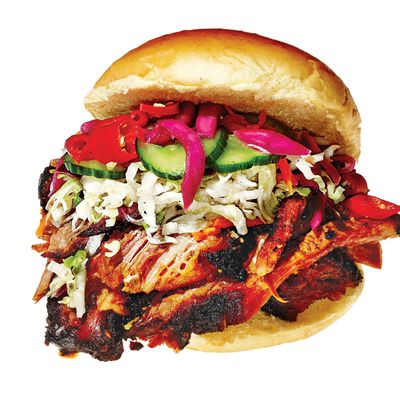 How about a sandwich from Mighty Quinn's?
Photo: Bobby Doherty/New York Magazine
Yesterday we told you about Berg'n, the Brooklyn Flea beer hall spin-off inside a 9,000-square-foot former garage that's opening soon in Crown Heights. Now here's everything on the vendors' menus, from Pizza Moto's grandma pies to Ramen Burger's late-night Bonkotsu. (And please note: Prices, where listed, are tentative and subject to change before the opening.)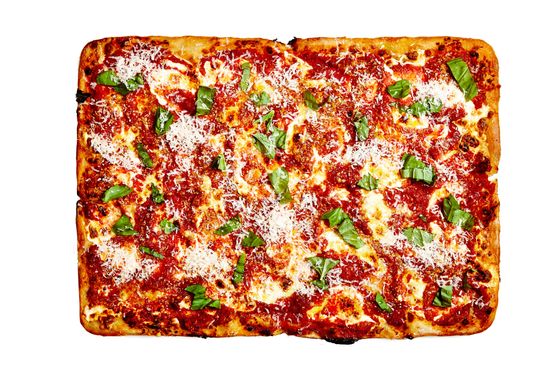 A grandma pie from Pizza Moto.Photo: Bobby Doherty/New York Magazine
PIZZA MOTO SLICE SHOP
Whole Pies - 18" Round pie or square grandma pie, rotating selection available by the slice or whole
Margherita, $22: tomato, fresh mozzarella, basil, Pecorino, olive oil
Pepperoni, $24: tomato, fresh mozzarella, basil, Pecorino, Charlito's pepperoni
Mushroom, $24: mushrooms, smoked mozzarella, fontina, roasted garlic, fresh herbs, olive oil
Truffle, $27: fontina, truffle Pecorino, fresh mozzarella, rosemary, truffle oil
Palermo, $26: tomato, charred onions, Gaeta olives, fennel salami, Pecorino, olive oil
Anchovy, $24: tomato, fresh mozzarella, anchovies, Pecorino, chili oil
"Pork Greene," $26: tomato, fresh mozzarella, Berkshire pork sausage, roasted and pickled green chilies
Calzone, $19: with long-cooked greens, ricotta, fresh mozzarella, sauce on top (seasonal)
Tomato pie, $22: - tomato conserva, roasted and fresh tomatoes, garlic, Parmesano (seasonal)
Pizza Verde, $26: tomatillo salsa verde, fresh mozzarella, roasted jalapeño, Berkshire Sausage (seasonal)
Casino, $28: cream, clams, white wine, bacon, breadcrumbs, lemon, fresh herbs (seasonal)
Toppings
$3 each: mushrooms, anchovies, Gaeta olives, roasted green chilies or jalapeños
$4 each: Berkshire pork meatball, Charlito's Cucina pepperoni
Salads
Smoked Trout Caesar, $9: romaine, breadcrumbs, Parmesan, smoked trout dressing
Pie Shop Chopped Salad, $10: chirory, chickpeas, salami, Pecorino fresco, oregano, red wine vinegar, onion, olive oil
Fennel and Celery Salad, $9: shaved fennel, celery, Parmesan, honey, lemon, olive oil
Sandwiches
Meatball Parm, $10: Berkshire pork meatballs, fresh mozzarella, tomato, Parmesan
Spicy Tuna Special, $11: oil-cured tuna, egg, greens, Gaeta olives, peperoncino
Seasonal Roasted Vegetables, $10: roasted vegetables, Agridolce, fresh mozzarella, walnut pesto $10
Bar Snacks, $4 each:
Balsamic-boiled red-skin peanuts with dried chilies; Boquerones on crostini with warm mozzarella; plate of seasonal pickles; smoked fish deviled eggs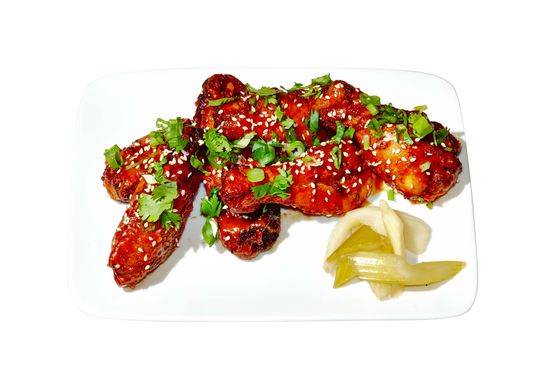 Wings from Mighty Quinn's.Photo: Bobby Doherty/New York Magazine
MIGHTY QUINN'S
Meats
Brisket: $8.85/serving, $22/lb.
Burnt ends: $8.85/serving, $22/lb.
Pulled pork: $7.75/serving, $19/lb.
Wings: $7.25/serving, $12.50/lb.
Spare ribs: $8.95/serving, $23/rack
Sides: $3 (small), $5.25 (medium), $11.25 (large)
Burnt-end baked beans; sweet-potato casserole with maple and pecans; pomme frites; slaw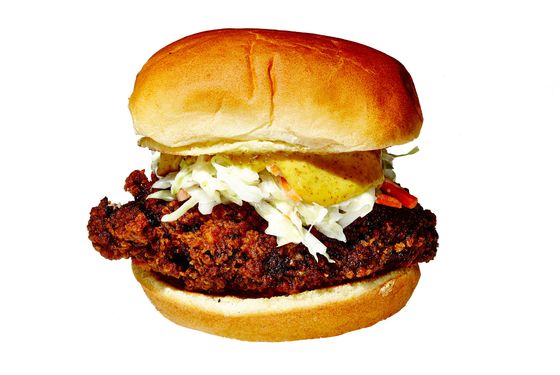 Asia Dog's fried-chicken sandwich.Photo: Bobby Doherty/New York Magazine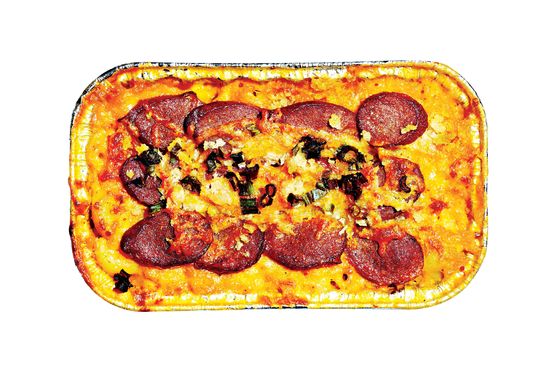 Kimchi macaroni and cheese.Photo: Bobby Doherty/New York Magazine
ASIA DOG
Hot dogs (beef, veggie, chicken, and organic)
The Mash: sweet and spicy ketchup, jalapeño mustard, and crushed chips
The Vinh: bánh mì–style hot dog
The Wang Ding: Chinese barbecue pork belly with cucumbers and scallions
The Ginny: housemade kimchi with nori flakes
The Luke: Thai basil pork and beef chili dog
The Mel and Steve: Red cabbage sesame slaw
Burgers
Bulgogi: Korean BBQ burger
Turkey burger: ginger-scallion turkey burger
Corn Dogs
Kimchi pancake corn dog with gochujang dipping sauce
Katsu crunch corn dog with katsu dipping sauce
Sandwiches
Fried-chicken sandwich topped with wasabi slaw and honey-miso mustard or pickled celery, carrot, homemade wing sauce, and blue cheese
Lobster Roll by Red Hook Lobster Pound
Salads
Mesclun greens with carrot, red onion, cucumber, tomato
Choice of sesame-tangerine dressing, spicy cilantro-lime, and yuzu vinaigrette.
Sides
Garlic-sesame kale
Wasabi potato salad
Fresh-cut fries
Mixed green salad
kimchi mac 'n' cheese
Desserts
Fried banana spring roll (served on a stick)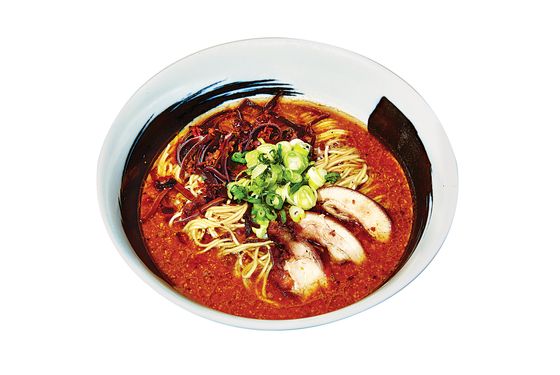 Ramen!Photo: Bobby Doherty/New York Magazine
RAMEN BURGER
Main Menu
Original Ramen Burger: single, $8; double, $10
Handmade ramen buns, certified Angus beef patty, arugula, scallions, secret shoyu sauce
Shredded Beef Ramen Burger: $10
Handmade ramen buns, shredded chuck tender, arugula, tomato, secret mayo sauce.
Veggie Ramen Burger: $10
Handmade ramen buns, tofu patty, Hijiki, spices, mixed greens, scallions, secret shoyu sauce
Breakfast Ramen Burger: $7
Handmade ramen buns, choice of {Bacon, Sausage, or Spam}, Egg, Cheese
Extras:
Cheese, $1
Egg, $1
Extra sauce, $1
Bacon, $2
Ramen (Late Night)
Bonkotsu ramen: $12
Beef-infused Tonkotsu ramen, beef chashu, kikurage (wood-ear mushroom), scallions, nori
Toppings:
Ajitama egg, $2
Shredded beef, $3
Sides
Ramen fries: $5
Ramen noodles deep-fried in a special karaage batter
Chicken Karaage: $5
Japanese fried chicken
Ramen salad: $5
Harusame glass noodles, mixed greens, ponzu dressing
JA Fries: $4
Fries seasoned with miso powder and sprinkled with nori
Dessert
Ramen Churro: $4