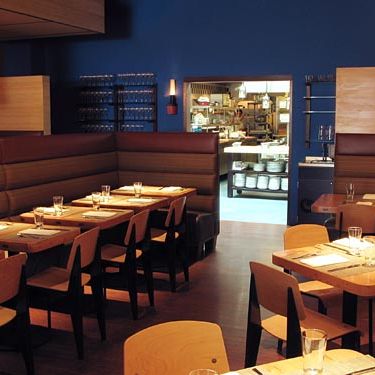 The Lower East Side restaurant turns 11 this year.
Photo: Courtesy of wd~50
Plans to convert the squat, one-story parcel of Lower East Side buildings at 50-62 Clinton Street into a mixed-use, seven-floor building are moving ahead, and the development may affect the future of Wylie Dufresne's pioneering wd~50. Architectural firm Isaac Stern recently posted renderings of the new, big brick building online, and Bowery Boogie reports that a drill arrived on-site yesterday in order to take soil samples ahead of construction.
Another sign of change is that Dufresne's neighbors are clearing out: Rothstein's Hardware is headed to Ridge Street after decades on the spot; Community 54 closed permanently in January; 1492 Food closed in 2012. While earlier plans for the new building billed the site as 52-60 Clinton Street, renderings posted last week made it clear that the parcel now includes the restaurant at No. 50. A spokesperson for the chef told the Lo-Down that Dufresne "has no plans to leave the building before his lease expires in a couple of years." But have things changed?
Dufrense celebrated wd~50's tenth anniversary last year with a blowout attended by the restaurant's alums, several of whom have gone on to successes of their own. The chef also expanded his portfolio for the first time with the opening of Alder, in the East Village, last April.
Does the arrival of a soil-sampling drill signify the project is moving ahead of schedule, and will construction commence while wd~50 is still open? And is it at all possible that wd~50 may reopen inside the completed building? We've got a line out to the chef and will update with any new information we hear back.
Will WD-50 Be Swallowed by 7-Story Clinton Street Development? [Bowery Boogie]