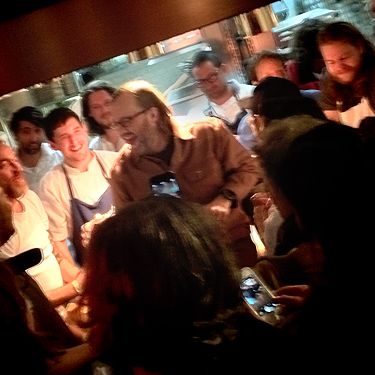 Just another night at the restaurant.
Photo: Alan Sytsma
If you were anywhere near Twitter or Instagram last night, you would have seen a lot of chefs and writers talking about Wylie Dufresne and wd~50. The occasion: the restaurant's 11th anniversary and a party featuring 30 chefs from around the world, many of whom flew in specifically for the party. In fact, there were so many names that it's amazing everyone managed to keep it under wraps — even Dufresne didn't know he'd be celebrating his restaurant's anniversary with some of the world's most famous chefs.
The first email that came in, about a month ago, was the kind of thing you'd ignore if it hadn't come from René Redzepi. "I have a special — secret — invitation," it read. "Please do not mention this to anyone! RSVP to a separate email address, then wait for a set of instructions. You will receive the address where you're heading on the day of the event." So after an email back, a confirmation came in from yet another address. This one, though, had an unusual domain name attached to it, which led to some Googling, which eventually brought up this page and this trailer:
This looked … promising.
Then yesterday, at about 5 p.m., an email came in that simply instructed people to go to 50 Clinton Street, the address of wd~50. When I arrived, the windows were papered, a few chefs were hanging out outside, and the bar was full of food writers, editors, and friends of the restaurant. Running back and forth from the kitchen was a small army of chefs: Iñaki Aizpitarte from France, Alex Atala from Brazil, René Redzepi, Magnus Nilsson, Daniel Patterson, David Chang, Daniel Humm, Ben Shewry from Australia, Daniel Boulud, Alex Stupak, Gabrielle Hamilton, Danny Bowien, Virgilio Martinez from Peru — you get the idea. If a chef's restaurant is on the World's 50 Best list, there's a good chance they were cooking at wd~50 last night. The out-of-towners had all flown in a few days earlier, crashed in Brooklyn, and prepped in kitchens around New York. (The chefs paid for their own plane tickets; San Pellegrino helped bankroll the rest of the evening.)
Eventually, word got out on the biggest surprise of the night: Dufresne didn't know anything out of the ordinary was happening at his restaurant. The meal — the entire night, actually —was designed to honor the restaurant's 11th anniversary, which happens to be today. (Even the restaurant's staff, most of whom only knew that a private party was happening, weren't given any specifics until the day before.) A little before 8, the lights went down, Dufresne arrived ("Who's here? Who are you people?" he asked in the darkness as a video began to play on one of the TVs installed for the night), and the big surprise! moment went off as planned. Then, the meal started.
Something light to start the meal (note the Wylie logo on the chicken bucket).Photo: Alan Sytsma
Dinner consisted of ten courses, all of which were designed as remixes on classic wd~50 dishes: Working in teams, the chefs put out dishes that all featured some variation on chicken, shrimp, eggs, noodles, or caviar. A course of traditional fried chicken and mini biscuits was served with a stack of Kraft Singles and an ungodly amount of caviar (that dish was from the combined efforts of Daniel Humm, Christina Tosi, Noma's Rosio Sanchez, David Chang, and the duo of Lauren Resler and Alex Stupak). Nine more courses followed that, and it soon became the type of tasting menu where it was hard to keep track of all the fireworks going on: A ravioli course arrived, each raviolo on the plate the creation of a different chef (Hamilton, Patterson, and Atala among them); Daniel Boulud and Danny Bowien offered a high-end shrimp cake alongside a bowl of broth and shrimp-mousse noodles. Boulud called it an uptown dish that went downtown and got beat up. (There is a lot more information about the actual meal here.)
As impressive as the food was, though, the most striking part of the night was everyone's unconditional reverence for Dufresne and what he's accomplished with wd~50. The restaurant is always thought of as a pioneer of modernist cooking, which is of course true. But when it opened in 2003, it also helped prove that there was a place on the world stage for a relatively small, casual, deeply personal, highly ambitious restaurant. Dufresne lived out the chef fantasy: cooking his own food, ignoring trends, and dismissing the kind of business plan that requires a chef to add a boring, profit-driving dish like steak frites to the menu.
As the night wrapped up, the party moved to Mission Cantina. Back in wd~50's kitchen, Boulud asked Dufresne if he was coming. Dufresne just looked back and smiled. "Oh, am I invited?"
Gelinaz! 2014 - The Social Story of Wylie Dufresne's Surprise [FDL]
Update: The Gelinaz! team released a fantastic video of the dinner.