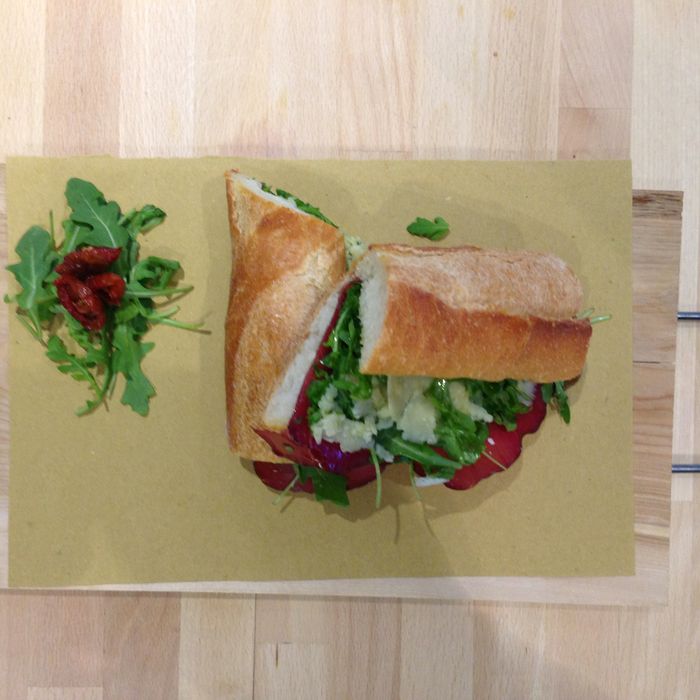 Mario Pesce's panini shop is a family business.
Photo: Courtesy of La Panineria Italiana
The Italians, as everyone knows, have proprietary feelings about their foodstuffs — especially the holy trinity of pizza, pasta, and panini. And so you might look at Greenwich Village's new La Panineria Italiana as part sandwich shop, part culinary lesson. (The shop's name leaves no doubt as to what patrons should expect.) It's one of a slew of new enterprises on West 8th Street, the up-and-coming strip that seems to be in a perpetual state of renewal. And it's the manifestation of a lifelong dream of owner Mario Pesce, a native Neapolitan who moved to New York expressly to start this business.
Opening a food establishment in New York, whether it be a white-tablecloth pleasure palace or a humble sandwich shop, is not easy and doesn't come cheap. So to pay the rent, Pesce did what any red-blooded Italian who happens to look like a young Antonio Sabàto Jr. would do: He worked as a shirtless greeter at Abercrombie & Fitch on Fifth Avenue for nine months. "Hi, my name is Mario, I'm from Italy; welcome to Abercrombie & Fitch," he'd chirp in a sing-songy accent over the course of a typical five-hour shift. It was there, at Abercrombie, that Mario met Olga Kardailskaya, a Russian tourist who worked as a financial consultant in Moscow. They hit it off romantically and soon became business partners in the sandwich shop along with Mario's father, Mimmo, (who operates a panineria of his own inside his Hotel Villa Ranieri in Naples). Olga runs the cash register and does the books, Mario's brother Giuseppe slices the prosciutto, and Mario supervises.
The family connections extend beyond that. Pesce's great-uncle is another Mimmo — Mimmo Magliulo, owner of the Chelsea Market Italian foods mecca Buon Italia, and brother of SD26's Tony May. That connection explains the high quality of La Panineria's cured meats and cheeses (all available by the pound, as well), not to mention the tasty Italian imports for sale, like Calabrian hot peppers stuffed with anchovies, and the tiny bottles of Campari-red soda in the cooler. But the groceries are secondary to Pesce's main mission: to demonstrate (with, it should be said, zero attitude) how his idea of real panini should be constructed (with only Italian ingredients in a super-minimalist fashion, on good, fresh bread that has never seen the inside of a so-called panini press). And La Panineria's panini do the tradition proud, stripped down as they are, without superfluous distractions or discordant combos that challenge the notion of good taste. The Diamante, for instance, consists of paper-thin slices of salame piccante and thickish wedges of excellent aged provolone on an Amy's baguette, and that's it. The Cortina is an inspired pairing of speck and Taleggio, while the Portofino is a comparatively lavish layering of prosciutto cotto, fig mostarda, Fontina, and a splash of olive oil. The opening special includes a choice of any panino and soda for $10, and a few single-ingredient ciabatta sandwiches go for $5. (There's also a small selection of Italian wine and beer, plus a handful of seats, to encourage civilized old-world-style lingering.)

1 W. 8th St., nr. Fifth Ave.; 917-388-3257