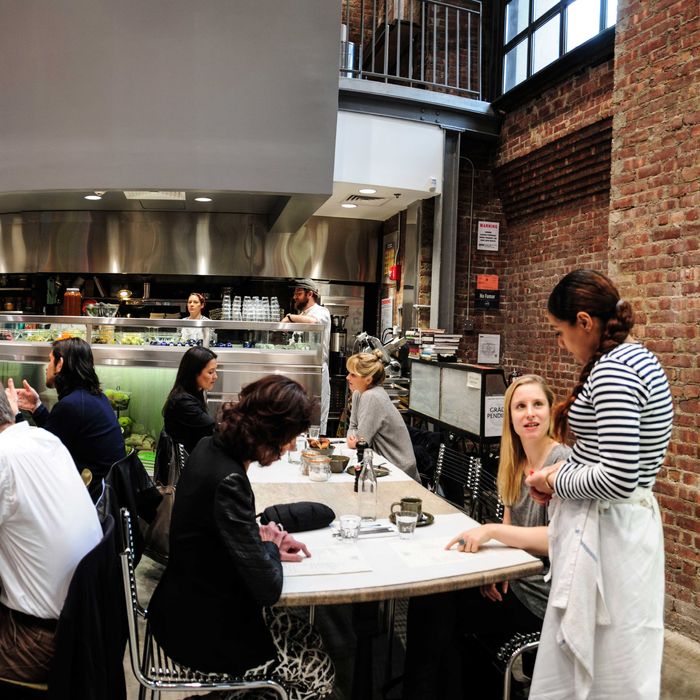 Rose Bakery
Photo: Sarah Silberg/New York Magazine
If you, like the Underground ­Gourmet, are a complete fashion illiterate, a preprandial tour of the new Dover Street Market, the seven-story multibrand designer emporium that houses a branch of Paris's Rose Bakery on its ground floor, can be a harrowing experience. Sample snippets of overheard conversation: "I've been wearing Prada since before you were born." "This [black polyurethane Comme des Garçons dress shaped like a giant piece of toast] could literally double as a garment bag." "I love it, but even Webster would need to have it [Thom Browne glen-plaid suit] let out."
Still, one must suffer for one's art, even if one's art is stuffing pastries into one's mouth, then recording the impressions on a paper napkin. And besides, the U.G. had been a vicarious fan of Rose Bakery ever since co-owner Rose Carrarini published her first cookbook, Breakfast Lunch Tea, eight years ago. Perusing the pages of this lovely tome, we imagined the self-taught pastry chef, an Englishwoman in Paris, converting skeptical Frenchies to the homely pleasures of sticky-toffee pudding, lemon-polenta tea cakes, and vegetable-centric fare, with nary a steak nor frite in sight.
Carrarini also happens to be the sister-in-law of Japanese fashion designer Rei Kawakubo, who has installed branches of the bakery in her Comme des Garçons and Dover Street Market complexes in London, Tokyo, Seoul, and now New York.
In December, the bakery began serving lunch and tea on the ground floor of this new DSM, a sort of Pee-wee's playhouse of avant-garde clothing, ensconced within a stately Curry Hill building that had operated as a design school for much of the last century. With no street signage or separate entrance, plus an uncharacteristic lack of paparazzi-like pre-opening coverage from the food press, the bakery is very much an amenity for the fashion tribe. It's a place to refortify after an afternoon spent trying on Supreme trucker hats, Craig Green tie-dye man-burkas (a terrific disguise, incidentally, for the handful of old-fashioned food critics who still visit restaurants anonymously), or the confections of any number of experimental young designers Kawakubo has assembled under one landmarked roof.
But it would be a shame if only the fashion elite were lucky enough to partake of Rose Bakery's bounty. In the realm of department-store cafés, this one is as distinctive as it is delicious, peddling a specific sort of English cuisine you might call "Brititerranean": inspired by the Mediterranean cuisines of France, Italy, and Spain, ­heavy on the veggies but still unapologetically fond of its puddings and cream teas. This style of cooking reminds us of London's River Café, of chef Annie Wayte's work at the erstwhile Nicole's and 202, and of the upstairs café at Chez Panisse. Or think of the dishes on the pleasantly brunchy menu as April Bloomfield Lite—all of the flavor, none of the pork (or at least a lot less of it).
Take, for instance, a bowl of fragrant, creamy heirloom polenta mingled with sautéed spigarello and romesco on the daily changing menu. Or a nice crisp pizzette topped with green garlic, nettles, and caramelized onion. Or just a spot-on grilled cheese (Cheddar plus Cheshire) on lavishly buttered Sullivan St Bakery bread.
The kitchen has a knack for cooking eggs: soft-boiled with toast, Moroccan style (a.k.a. shakshuka), and expertly scrambled with good British-style bacon on the side. The eggs not to miss are the ones that come in the so-called breakfast sandwich (weekends only). Its construction is unpredictable—once it came with a housemade sausage patty, avocado, Cheddar, and tomato jam on a brioche bun; more recently, a slab of Canadian bacon filled in for the sausage—but it's always terrific.
Equally good is the stunning curry-yellow basmati-rice kedgeree with smoked haddock (again, weekends only) as well as the quiche, which is cooked in a square individual-size quiche corral of sorts to increase the ratio of flaky crust to filling. Like the pizzettes, the quiches vary from day to day. The one we tried had soft pieces of roasted sweet potato and ricotta cooked into the custard, and came with a supremely fresh and perfectly dressed green salad.
Aside from the quiche, the most popular dish might be the assiette de legumes, an artful assemblage of up to five roasted vegetables or salads (an inspired kohlrabi and cabbage with dill and dried cherries, for example) that would do Michael "Eat Plants" Pollan proud. It's the dish to get if you're saving room for dessert: highly recommended and virtually unavoidable after catching a glimpse of the pastry case craftily positioned between the open kitchen and the dining area. The carrot cake is a signature, but our favorite is the toffee pudding followed by the Paris-Brest.
You can tuck into one of these sweets or a textbook-­perfect scone at teatime (4 to 6:30 p.m. weekdays), when the crowds have thinned out and there's more room at one of the usually cramped communal tables on the ground floor. But the hidden mezzanine overlooking Lexington Avenue and its great unaccessorized masses is calmer, more comfortable, and a better place to lie low if you're a fashion-phobe.




Rose Bakery

Address: 160 Lexington Ave., at 30th St.; 646-837-7754

Hours: Monday through Saturday 11 a.m. to 6:30 p.m.; Sunday noon to 5:30 p.m.

Prices: $4 to $18.

Ideal Meal: Assiette de legumes or quiche at weekday lunch, kedgeree or breakfast sandwich on weekends.

Note: No beer, wine, or booze, just juice, tea, and coffee.

Scratchpad: One star for the vegivore-forward cooking, another for the friendly, attentive service, plus one more for the sticky-toffee pudding.



*This article appears in the April 21, 2014 issue of New York Magazine.