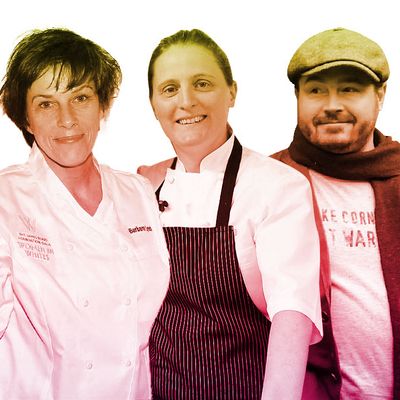 Barbara Lynch, April Bloomfield, and Sean Brock.
Photo: Rob Kim/Getty Images, Neilson Barnard/Getty Images, David Moir/Bravo
There were a lot of things to take away from The New York Times Magazine's dueling profiles of Barbara Lynch (a Boston kitchen vet who spent decades building a focused roster of outstanding restaurants) and Flynn McGarry (a 15-year-old who runs a $160-per-person pop-up out of his parents' house). These people are not exactly similar, but one thing that struck me was how clear they both were that they don't want to be traditional celebrity chefs: McGarry says that at 10 he wanted to be on Food Network, but after seeing videos of chefs like Thomas Keller and Grant Achatz, he "just fully did like a 180." His goal, he says, isn't more TV appearances; it's "to have one of the best restaurants in the world." And, per her own profile, "the only brand Lynch is interested in pushing is that of the female chef." Indeed, like Ed Hardy clothes and songs featuring Ja Rule, the conventional idea of a celebrity chef — globe-trotting, ready to appear on any and all TV shows, opening restaurants in Vegas and airport kiosks in Cleveland — feels desperately outdated. 
Here's what I think happened: The very machinery that created the prototypical celebrity chef — cooking-competition shows, an endless stream of new cookbooks, food magazines, chef memoirs — also gave the general public a clearer understanding how restaurant kitchens actually work. At first, it was easy to latch onto personalities like Emeril Lagasse or Gordon Ramsay. They had real cooking credibility, but they also had a lot of irons in the fire. Soon enough, everyone who was halfway interested in restaurants had read Heat and Kitchen Confidential, and it became clear that the chefs who were dedicating time to opening burger joints in Atlantic City, or to developing a line of frozen pizza, probably weren't also devoting the 19 hours or so per day that it takes to actually run a restaurant kitchen.
 
That's not to say empire-building chefs can't hire talented people (Mario Batali is an example of a chef who can do just that), but at some point, the line became clear: Chefs could commit to indiscreet expansion, pasta-brand sponsorship deals, and the pursuit of celebrity, or they could dedicate themselves to a small group of restaurants and embody the kitchen-slave lifestyle. The Todd Englishes, Rocco DiSpiritos, and Guy Fieris of the world went one way; the April Bloomfields, Barbara Lynches, and Andy Rickers of the world went the other.
 
Members of the latter group, which also includes names like Danny Bowien and Sean Brock, still run mini restaurant empires (a familiar celeb-chef trapping), but their public image is more celebrity cook than celebrity chef. And this model is clearly more appealing to diners — it at least gives the impression that the chefs are more connected to the food coming out of their kitchens. In the same issue of The New York Times Magazine as the McGarry and Lynch profiles, Mark Bittman has a piece, "Not Enough Cooks in the Kitchen," that describes a great meal at Camino, in Oakland, which reminds him of "a singular pleasure from the pre-celebrity-chef era: Eating extraordinary, simple food executed by the person who imagined it." (It's worth noting that all of Food and Wine's Best New Chef winners this year typify the celebrity-cook vibe.)
 
Even some members of the old guard appear to be reforming their ways to align more closely with current tastes: In the run-up to opening his new Manhattan restaurant, Bobby Flay, the quintessential celebrity chef, told both Bon Appétit and the Times variations on the same idea: He's not just some guy who's on Food Network all the time — he's a guy who loves being on the line. "I have a lot of things going on in the food world," he said recently, "but I'm a cook at heart, and here I'm having the most fun I've had in 30 years." Subtext: Cooking in the kitchen is way better than that TV stuff. (Curtis Stone offered similar quotes as he was opening Maude in Beverly Hills. He told the Los Angeles Times in January, "I've always wanted to do just a tiny little restaurant, from a kitchen where you can feel the chef's drive.")
 
This is all good. It means diners are understanding and asking more of their chefs. It means we get to celebrate chefs like Dominique Crenn or David Kinch: They have TV gigs and attend seminars and write cookbooks, but they approach these extracurricular activities with a strong investment in authenticity (or at least they appear to), and the projects don't come at the expense of their restaurants or their food.