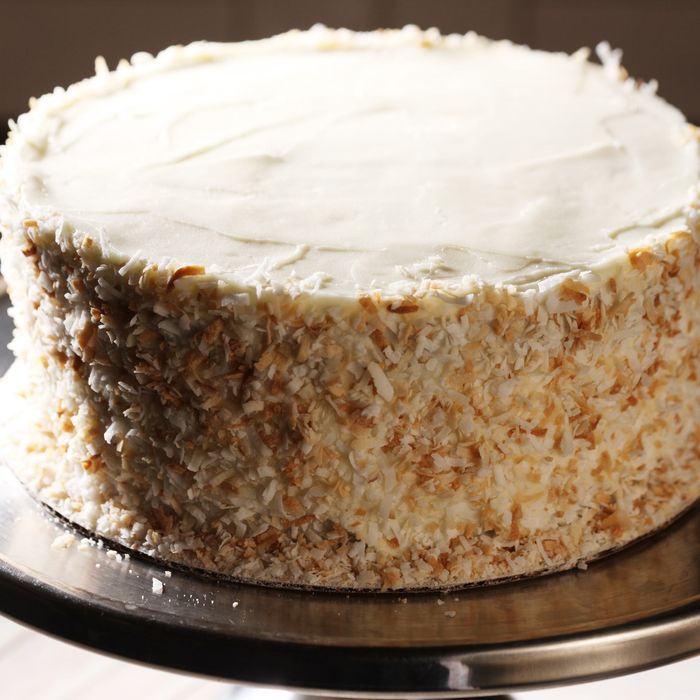 Wells did love Telepan Local pastry chef Larissa Raphael's coconut cake.
Photo: Melissa Hom
The Underground Gourmet visited Rose Bakery, which it gave three stars and praised for its "Brititerranean" cooking and light touches on dishes like eggs on toast. Pete Wells dropped a solo star on Telepan Local, Ryan Sutton loaded up on Má Pêche's new dim sum, and Stan Sagner couldn't get enough of Gato's Mediterranean dishes. All that, and more, straight ahead.
Pete Wells knocked Telepan Local for a lack of originality and an inability to properly execute all its dishes, giving it one star. While some dishes succeed (think the fluffy and flavorful coconut cake, or the sea scallops), most fail to inspire more than a passing memory. "A single taste of some plates was too much" — especially the bland fried-shrimp poppers and the imitable pigs in a blanket. Steer clear of the pear galette, a gummy mess of a dish, and only order wine if you have some knowledge about it, as the servers are less than knowledgeable.
Ryan Sutton was wowed by Momofuku Má Pêche's new dim sum service, except for the shrimp cocktail and the fact that David Chang's pork buns don't make quite the impact they used to. He gave it two stars, and called particular attention to the perfect flavor and temperature of the bass crudo. Be careful with your wallet, as dishes come out quickly without any prices, but it's worth it for items like the fiery kimchi-radish stew, the nutty broccoli with sunflower seeds, and the dry-aged beef frankfurter with "more dry-aged tang than tons of steaks in this part of the city."
Eater critic-at-large Bill Addison checked in at Los Angeles hotspots Alma and Trois Mec. The first course at Alma blew Addison away ("I immediately understand why chef Ari Taymor has received so many local and national raves"), but he then felt pangs of disappointment with ensuing dishes. At Trois Mec, Addison enjoyed courses like Dungeness crab ceviche, grilled cabbage leaf with egg yolk, milk anglaise, miso flan, and smoked peanut-butter-accented beef strips.
The New Yorker's Amelia Lester reviewed the Upper East Side's the Writing Room, which occupies the former Elaine's space. She found it disappointing in all departments. While the food at Elaine's always stunk, "that was O.K., because it was about so much else." The Writing Room, on the other hand, showcases blandly familiar New American dishes like a farmer's salad ("utterly vanquished by a green-goddess dressing") and apple-flavored barbecue ribs.
Stan Sagner filed a glowing Gato review, giving the Lafayette Street newcomer four out of five stars. Make sure to order from the snack portion of the menu: Sagner found small bites like the fried artichoke (complete with quail's egg yolk and sea urchin) and potato stuffed with cream, garlic, and sage to be extremely rewarding. Praise also goes to the stuffed octopus, blue crab risotto, and heart-stopping scrambled eggs, a must-order. Dessert can be inconsistent — a leaden bread pudding torpedoed a meal — but the dinner is still worth every penny.
Alan Richman headed north to Montreal for GQ, where he found nothing but bliss at newcomers like Maison Publique and Vin Papillon. At Publique, Richman enjoyed the Welsh rarebit with Worcestershire and Canadian cheddar, as well as the smoked rabbit on toast, complete with foie gras, rabbit kidney, and rabbit liver in tow. "Possibly the best boudin ever" dominated his brunch, packed with pork fat, oats, and blood. Meanwhile, at Papillon, he dined on "stunningly hearty" fare like leeks and potatoes with Béarnaise sauce, lamb sausage, rabbit terrine, and old-school desserts.