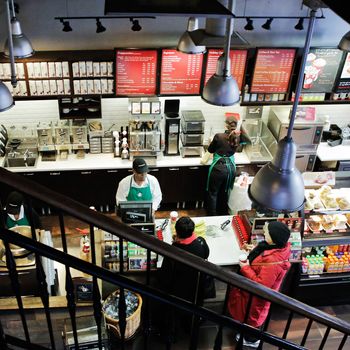 Welcome back, pumpkin loaf.
Photo: Drew Angerer/Getty Images
The coffee giant thought it had found a breakfast game-changer when it replaced pedestrian pastries with fancier La Boulange items almost a year ago — enough to justify the "biggest, largest roll-out of refrigerators in the history of the world." Turns out customers were less than jazzed about croissants and special rolls, so now they're getting their sliced lemon pound cake back, Bloomberg reports. This week, stores will again sell old staples like banana bread, and the company promises to work to create food that "more closely resembles" previous fare — to de-Boulange La Boulange, in other words.
Starbucks paid $100 million for the San Francisco-based bakery in 2012, and while it will hang on to the label, competition from the fast-food sector is getting fierce. The coffee chain is trying out a new strategy, one that doesn't involve trying to top the calorie-laden pyrotechnics of Taco Bell's fried-waffle-wrapped breakfast taco, for example. As one customer tweeted, "I just want a donut now and then."
Starbucks Retools Pastry Menu After Customers Complain [Bloomberg]
Earlier: Starbucks Rolling Out Dinnertime Beer and Wine Menus Nationwide