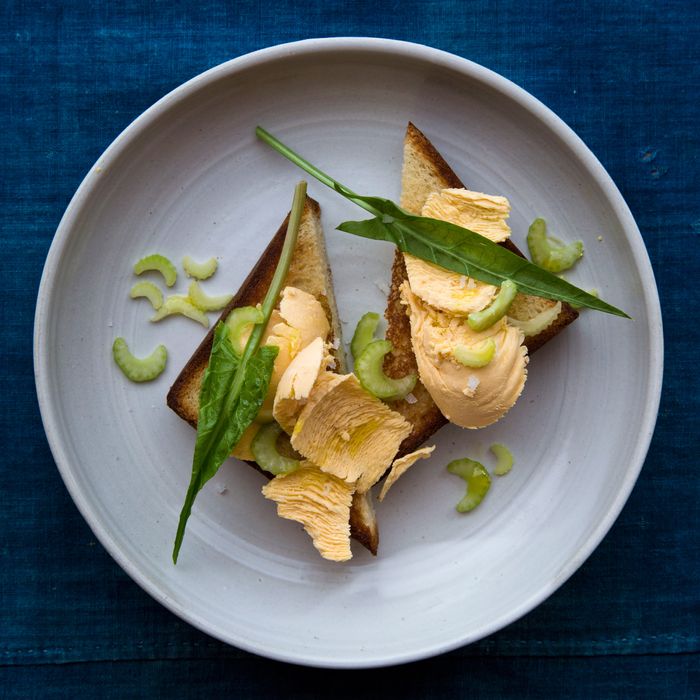 The uni-butter toast at Navy is rich and lovely.
Photo: Nicole Franzen
The best breaking food news in the last few weeks is that butter is back, and better for you than ever (or something — we're not totally convinced it's health food, only that it's delicious). It's great timing: There are plenty of New York restaurants making saturated fat worth your while, offering next-level butter made with bonito flakes, roe, lavender, seaweed, and, of course, uni. To celebrate butter's big comeback, Grub rounded up 13 rich, excellent butters around town.
Betony
The Dish: Poached Lobster With Roe Butter
Bryce Shuman likes Kriemhild Dairy Farms' meadow butter: It's produced upstate and churned slowly at a low level so there's less moisture, and a high 85-percent fat content. He uses it as the base of roe butter, which makes his lobster dish taste even richer.
Navy
The Dish: Uni-Butter Toast
This is quickly becoming a signature dish of chef Camille Becerra, who cultures cream in-house and blends it with sea urchin. The uni butter is served in thick, cold curls, with fresh sorrel and celery.
Contra
The Dish: Bonito Butter
It's well worth spending the $3 supplement for bread and butter here: In the past, Jeremiah Stone and Fabian von Hauske have offered black-truffle butter seasoned with onion salt, and right now, they're making bonito butter in house.
Butter & Scotch
The Dish: Pie! All of the Pie!
Allison Kave and Keavy Blueher use European-style high-butterfat brands like Plugrá in their bourbon-ginger-pecan and shoo-fly pies. Kave also recommends Kriemhild for straight-up eating (not as much for baking).
Atera
The Dish: House-made Bread and Butter
During his 25-course tasting menu, Matthew Lightner serves an aged butter that's made with Winnimere cheese from Jasper Hill Farm. He combines the rind from the cheese with cream from Battenkill Valley Creamery, and after two weeks, removes the rind and mixes it into a butter. The butter is then aged for at least another week before it reaches the table.
Nourish Kitchen & Table
The Dish: Radishes
Butter is sparse at this health-driven restaurant, but when Marissa Lippert does use it, she prefers Trickling Springs Creamery's cultured butter. It serves as the base to two different house-made compound butters — one with Turkish Aleppo pepper and lemon zest; the other with lavender and herbs. They both get paired with radishes.
Luksus
The Dish: Varies
Daniel Burns says that he uses and loves Sunrise Family Farms' butter, which is produced in Ithaca. Look for it in dishes like chanterelles with an egg yolk and sucrine lettuce. Or, if you're lucky, spread on Burns's killer bread course.
Extra Fancy
The Dish: Uni Butter
This Williamsburg seafood restaurant uses locally produced Ithaca Milk cream as the base for its uni butter — and in its Connecticut-style, garlic-butter-drench lobster roll, of course.
French Louie
The Dish: Smoked Sardines
This new Boerum Hill restaurant makes dulse butter in house, folding the sea vegetable sourced from Rhode Island into softened butter. It's perfect for spreading on rye toast and topping with the smoked fish.
Piora
The Dish: Monkey Bread With Seaweed Butter
To make flavor-packed seaweed butter in house, Chris Cipollone starts with 40 percent milk-fat cream. If that's not enough, the warm Parker House-like bread also comes with whipped rosemary La Quercia lardo.
The Modern
The Dish: Varies
Danny Meyer takes butter seriously: His chefs use a European-style cultured cow's milk butter from Vermont Creamery, which has a salt content significantly lower than typical salted butter (apparently, it enhances a "farm-fresh flavor"). And the king of hospitality also offers goat's milk butter from Meyenberg in California: It's gluten-free, rich, creamy, slightly "hazelnutty," and perfect for lactose-intolerant diners.
Momofuku Ko
The Dish: Radish Butter
David Chang is one of the pioneers of next-level butter: His sous chef, Josh Pinsky, makes radish butter in house, tops it with pepper and coriander, and serves it with house-made sourdough bread.
The Musket Room
The Dish: Off-Menu Bone-Marrow Butter
And perhaps the best butter of all: Besides the fresh butter with smoked salt that Matt Lambert serves with three types of house-made bread (sourdough, bacon-cheddar, and multigrain), he also makes an off-menu butter that's mixed with bone marrow, as well as duck and bacon fat. The butter itself comes from a local dairy in the Finger Lakes, Ithaca Milk.