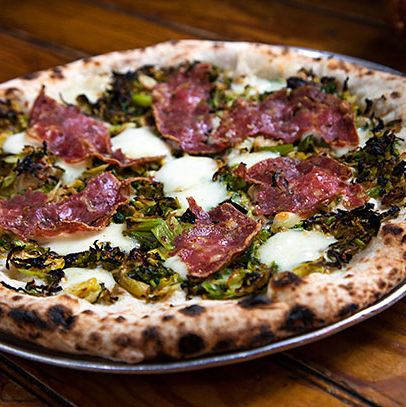 Roberta's: much more than just pizza.
Photo: Dominic Perri
This week, while Adam Platt wrote about why much in Chinatown is underwhelming, the other critics spread out across the city and beyond: Ryan Sutton sang high praises of Roberta's, Pete Wells took a road trip to Peter Chang's places in Virginia, and Michael Kaminer greatly enjoyed Bunna Cafe. All that and more, straight ahead.
Pete Wells hit the road and traveled to Virginia this week to try out Peter Chang's restaurants, aiming to hit three of the five in 24 hours. He caught Chang cooking in Short Pump, and enjoyed the chef's scallion pancakes (light and puffy), spring rolls (simple and stuffed with ginger-seasoned flounder), and woven cane, inside which Wells found fried flounder, cilantro, sweet onions, dried chiles, and cumin. By the end of the dinner, the critic had decided that Chang ranked among the country's most imaginatively skilled Chinese cooks. While some of Chang's dishes lacked focus (a less than impactful pork belly, for instance), Wells decided that "I could make a strong case that the best Peter Chang restaurant is the nearest one."
Eater's new critics filed their first reviews: Ryan Sutton visited Roberta's, giving the Bushwick restaurant three out of four stars. He reserved his highest praise for the restaurant's thinly sliced duck ham, a charcuterie that "is one of the world's great luxury goods." He also singled out Roberta's smoky pastrami sandwich and the Meyer lemon-dredged calamari, "the firm tofu of the sea." If Roberta's has tartare on the menu, order it, as Sutton thinks the diced, aged Wagyu was worth its funk. Another tip: Go at lunchtime and get the burger, because "it packs more flavor than most steaks in town."
More from Eater: Robert Sietsema, headed to Queens to check out
Mapo Korean BBQ, which he gave three out of four stars. The restaurant cooks chunks of meat over heated charcoals, and Sietsema liked dishes like the fatty marinated kalbi, a beef rib soaked in soy and Asian pear. Sides like banchan, a traditional grain, and dried squid, boiled eggs, and sweet-potato noodles made the price of the meal worth it. Traveling critic Bill Addison reviewed République in Los Angeles, "which builds on Campanile's history to largely winning effect." He's especially fond of Margarita Manzke's desserts (both plated and in the bakery), like the custard-y blood-orange tart and croissant filled with black-sesame paste.
Hannah Goldfield of the New Yorker tried out Queens hot-pot restaurant Little Lamb. She recommends ignoring the menu's poorly translated phrasing ("Supreme Lamb Shoulder is 'Under Cervical Vertebra and it taste soft'") while also taking risks on additions to the hot pot like House Fish Noodle, doughy noodles studded with fish, and Sun Volume, lamb slices thinly fanned out. Be cautious of cooking times, because the diner is in control, but overall Goldfield found the experience worth her trek.
Joshua David Stein took in New York's breakfast scene and gave it a measly one star, delivering a blistering manifesto of the city's early morning options. He enjoyed the sunny-side-up eggs at the newly opened Soho Sant Ambroeus outpost, but found that of the three daily meals, "we as a city of eaters are woefully failing one of them."
Alan Richman returned to fawn over Asiate, a restaurant at the Mandarin Oriental that he thinks remains at the top of its game 12 years in. He loved the duck served with a Chimay cherry sauce, which reminded him of Texas BBQ sauce in the best way. Richman wasn't as fond of a bland white-asparagus soup at lunch, but loved the soba noodles cut like tagliatelle and served warm in an uni dressing. Three stars.
Over at the New York Post, Steve Cuozzo found nothing of note at the new Lauderee Soho, giving it one and a half stars out of four. Avoid the roast salmon coated in raspberry jam and the gray-tasting beef tournedos. If you must eat there, navigate the menu carefully by choosing Cuozzo-approved dishes like the truffle-scented vichyssoise or the breakfast-only eggs and morels.
Michael Kaminer couldn't get enough of the Ethiopian food at Bunna Cafe. In his four-star review, he recommends splurging on the Feast platters to taste as much as possible. He loved the red lentils in Berbere sauce ("a cool spin on spicy baked beans") and the butecha selata, a dried cranberry, kale, red onion, and vegan chickpea-flour stuffing mixture. Bunna's only dessert, a baklava dish, blew Kaminer away with its sweetened brown sugar and coffee flavors.