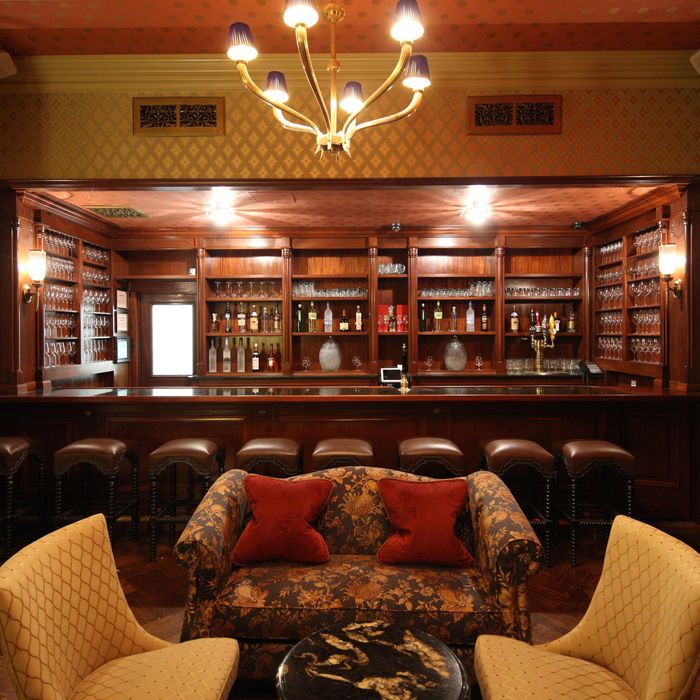 One star from Wells.
Photo: Melissa Hom
This week, the Underground Gourmet shared their affinity for the sandwiches at La Paninera Italiana and the traditional macarons at Léna — both on West 8th Street. Meanwhile, two critics took Telepan Local to task for unoriginality and execution problems, and Pete Wells went up and down the stairs between The Peacock and The Shakespeare. Read it all straight, ahead.

Pete Wells ventured to midtown's William Hotel to visit sister restaurants The Shakespeare, where he had a beer spilled on him, and The Peacock, where he didn't. Both received one star. He particularly liked the Shakespeare's Scotch egg ("good enough to eat by the dozen") and shepherd's pie. On the whole, Wells found The Shakespeare to be lacking in the "gastro" part of its gastro-pub ambitions, with clunkers like the pint of prawns (flavorless broiled shrimp on ice). He took some issue with both restaurants' décor and ambiance, but praised The Peacock for its elegant take on gammon steak (grilled pork loin topped with pineapple and an egg). He noted that dessert heaps on cream, eggs, and butter, all to good result, especially with the warm, custardy snow egg.
The New Yorker's Amelia Lester paid Telepan Local a visit and knocked Bill Telepan for tapas that she claimed barely strays far enough from chain-restaurant appetizers. She panned many of the chef's bar snacks, including arancini (which sit in a puddle of Parmigano aïoli), shrimp poppers (uninteresting), and Costco-knockoff pigs in a blanket. Lester wanted more of the advertised trout bits in her Spanish migas stir-fry, and thought the cold sunchokes needed depth and warmth. She also suggested avoiding the lamb-shot cocktail, a vodka and vermouth drink mixed with lamb consommé that "was gray and cloudy, and like cold soup."
Daniel S. Meyer also took Telepan Local to task for lacking inspiration, giving the restaurant two out of five stars. "Of the 18 tapas consumed," he bemoaned, "the number of memorable dishes was precisely one." That memorable dish was the fried watercress sprinkled with chili oil. Meyer found the octopus to be overly chewy, thought the pizzettes were as boring as a dollar slice, and wished the slices of corned tongue had even a lick of salt on them. His bottom line: Like the name says, only go if you're local.
Joshua David Stein paid an early visit to Soho newcomer Navy. He especially liked the space itself, comparing it to "a shabby portside cafe in 1940s Marseille with nods to the military industrial complex." Stein praised Camille Becerra's menu, paying special attention to the black bass crudo with apple, avocado, and lime yogurt, as well as the "sculptural" parsnip salad. The entrée to get, he claimed, is the trout en croute. Stein had concerns about the house-cured cod, and also couldn't find much to enjoy about the crispy sweet-potato with olives, walnuts, and sumac cream, but on the whole, he found Navy to be a "rejoinder to those who insist the days of neighborhood restaurants are over." Three stars.
Michael Kaminer thinks General Assembly, the new restaurant in the former Hurricane Club spot, is nothing more than a fancier TGI Friday's — "less like a restaurant than a spreadsheet with food." In his two-star review, he praised the fava-and-avocado dip for its smooth subtlety, and he also enjoyed a celery-root-and-apple salad with almond butter, "a tricked-out version of the old celery-and-peanut-butter snack." Unfortunately, Kaminer's meal went south from there: bland squid, a boring burger, and an unappetizing pink lentil-crusted skate. Spring for dessert: the éclair tray and apple-ginger sorbet "nearly redeem General Assembly."