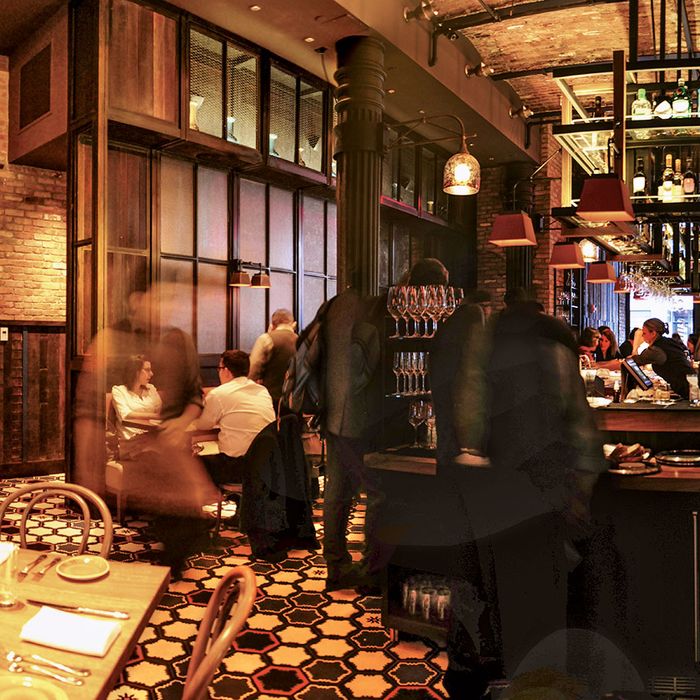 Gato
Photo: Sarah Silberg/New York Magazine
If you're a young cook with world-conquering ambitions, you could do worse than follow the canny road map to stardom laid out by Manhattan's own Bobby Flay. As a young cook coming up in the '80s, he chose his mentors wisely (Jonathan Waxman) and was quick to recognize a trend (Tex-Mex) that he could make his own. He identified his core TV audience early in the game (suburban, barbecue-­loving babes and bros) and has kept them engaged, and he's monetized his success by opening numerous Mesa Grills and Bobby's Burger Palaces in places like the Bahamas, Vegas, and Paramus, New Jersey. But in New York City, where successful chefs' reputations are still burnished or broken, he's proceeded cautiously, opening his franchise platforms one at a time.
Flay's newest big-city outpost is a crowd-pleasing, characteristically middle-of-the-road operation called Gato, which opened several weeks ago in a barn-size space on Lafayette Street. In spirit and style, this new production feels a little like a mash-up of the original Mesa Grill (which closed last year after an impressive two-decade run) and Bolo, Flay's experiment in haute-Spanish cuisine, which was shuttered several years ago when the building it occupied was torn down. The "New Mediterranean" menu is Spanish-inflected, like at Bolo, although the food has been updated from the old white-tablecloth formula to include a small armada of elegantly casual spreads and tapas-style dishes, designed to be consumed in bites at the giant, predictably mobbed bar. The back dining area is dimly lit and set with spare wood tables and bent-cane café chairs, and as dinner progresses (and the club music is turned up), the big brick-and-tile-covered space fills, inexorably, with a gently thrumming wall of sound.
Of course, an elevated noise level is one of the hallmarks of the post-gourmet restaurant experience, and if you wish to take a bit of the edge off, I recommend calling for another cherished post-gourmet hallmark, the retro cocktail. In my case, a classic rendition of the Negroni, which the barkeeps make with a potent balance of Campari, Dolin sweet vermouth, and Plymouth gin. The bar dishes we sampled were surprisingly well balanced, in particular the carefully arranged towers of mussel-and-clam salad (dusted with saffron and pickled shallots); the stacks of baked eggplant and chopped beef crudo; and the spicy chorizo crêpinette, which the kitchen wraps in a barely visible strip of caul fat and garnishes with an apricot mostarda and pickled Brussels sprouts.
Pickled Brussels sprouts aren't something you normally associate with the big-­flavored, two-fisted Flay repertoire, but he has always had a knack for reading his audience, and Gato isn't your standard Bobby Flay restaurant. We tasted silvery-white anchovies spritzed with a sour orange sauce in that first blizzard of dishes, along with chewy tubes of tortiglioni (with a richly layered tomato-and-eggplant sauce); flash-cooked rings of squid dappled with bits of bacon; and a brightly colored selection of house spreads (try the mashed chickpea with Meyer lemon). All were festively arranged on a long rectangular plate, with a stack of warm buckwheat pita. My favorite of the two pizza options was the one topped with curling bits of lamb sausage and mint, and if you have to choose a single appetizer, I suggest the scrambled eggs, which are folded with melted ribbons of Boucheron and a classic almond romesco, and served with flattened toast points spread with olive oil touched with tomato confit.
It's possible to make a decent meal out of the smaller ­dishes, but if you have the stamina, you'd be wise to save room for the entrées, several of which are executed with a surprisingly delicate touch. The squid-ink fettucine (with assorted shellfish) turns into a glutinous mass if you don't devour it in a minute or two, but the potentially disastrous block of steamed halibut (in a tangy, anchovy-laced saffron-and-tomato broth) was more or less perfectly cooked. The pork chop my friend and I enjoyed one evening was nicely charred, and instead of the usual tired chicken entrée, Flay and his cooks frizzle a duo of chicken breast and thigh to a salty crisp, plate them with crunchy potatoes and a seasonally correct tangle of dandelion greens, and drizzle everything with tarragon-­laced salsa verde. There's also a nice leg of rabbit on the menu, and if you order steak, you will receive three thick slices of tender, flash-charred New York strip, arranged with broccoli rabe and a mountain of farro, in a pool of brown butter dotted, wickedly, with soft pats of Valdeon blue cheese.
Boisterous downtown restaurants like this one have a way of going south as soon as the reviews come out and the chef departs to tend to other regions of his or her empire. Even on a weekend evening, the crush around the bar at Gato resembles something you'd encounter during rush hour on the 4 train, and the service can be spotty, depending on which quadrant of the dining hall you happen to find yourself seated in. But this isn't a Bobby Flay burger joint (of which there are now 18, and counting), or even a Bobby Flay casino operation. For now, the kitchen seems to be holding up under the stress. The desserts are comfort-oriented, and sometimes preassembled, but they have a certain tasty, professional flair. My blackberry crostata had a puffy, fresh-baked quality to it, and the elegant house cheesecake was lightened with fromage blanc. The Meyer-lemon tart works pretty well, too, if you avoid the swamp-colored pistachio cream on the side, and so does the fat, apple-laden tarte Tatin, once you remove a spoonful of the trendy salted-caramel sauce covering its top.

Gato
324 Lafayette St., nr. Houston St.; 212-334-6400; gatonyc.com
Hours: Dinner Sunday through Thursday 5:30 to 10:30 p.m., Friday and Saturday until 11 p.m.
Prices: Appetizers, $10 to $18; entrées, $27 to $35.
Ideal Meal: Bar tapas, Gato spreads and/or lamb pizza, scrambled eggs, roasted cauliflower, pork chop, charred beef or tarragon chicken, blackberry crostata.
Note: Attention, gin hounds: In addition to the Negroni, the bar serves a faithfully intoxicating version of that famous martini precursor, the Martinez.
Scratchpad: One star for the fine bar food, and, as long as the chef pokes his head into the kitchen now and then, another for the dining menu. Zero stars for the riotous Meatpacking District vibe.
*This article appears in the May 5, 2014 issue of New York Magazine.