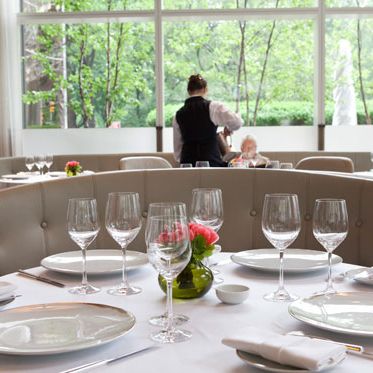 They don't make 'em like this anymore.
Photo: Nicole Franzen
Welcome to Platt Chat, a new column where New York critic Adam Platt will talk with Grub editor Alan Sytsma to discuss the dining world's most pressing issues. This week: Where have all the new four-star restaurants gone?
Alan Sytsma: As I'm sure you saw, the Times gave Jean Georges a new four-star review this week. It got me thinking about a conversation we've kind of touched on in the past: There just aren't restaurants like Jean Georges, or Per Se, or even Eleven Madison Park, opening in New York anymore.
Adam Platt: Well, first of all, Jean Georges is still a great restaurant. I think it was in need of a minor face-lift, and it got it a couple years ago. But we are living in a post-gourmet era.
Po-Go.
Po-Go. Restaurants like Jean Georges are sort of like unicorns, or the great dodo. They're a vanishing, beautiful species, and when they disappear, they'll disappear forever. In this era, most of the rstaurants we review tend to be two-star restaurants, because that's what's out there. There are more opportunities for a good meal, but fewer opportunities for what used to be defined as a great meal. We can review the current high-end places again and again, but the question is: Where are the new four-star restaurants? I can't think of any in New York, outside of the occasional unicorn like, say, Atera, which opened a couple years ago. But it's slim pickings as far as "gourmet fancy food" goes, and I don't think that's going to change.
Why would it? For the chefs and operators opening places now — many of whom have come out of the traditional four- and five-star world — they can pick the fine-dining elements they like best, strip away the frippery, and open leaner, casual operations that will probably make more money for them. After seeing all the elements and work (and money) that went into Eleven Madison Park's front of house, I think you'd be crazy to want to tackle that with a new business when there's a proven template for making money at less extravagant spots.
Right. For the new generation of chefs, the question is: Does a restaurant like Jean Georges or Daniel really pay? What is the market? Will it be full every night? How do you pay the exorbitant rent? And, by the way, who really cares about this kind of extravagantly fussed-over food anymore? These kinds of restaurants traditionally are the tentpoles for an empire; they're the restaurants around which other things spin. Jean-Georges Vongerichten is arguably the greatest chef of his generation, and I'm sure he spends a lot of time at his flagship, but most of his energy the last couple of years has gone — and rightly so — towards attempting to divine (and please) the tastes of this new Po-Go generation. He's opened a farm-to-table joint in a department store, and a taco restaurant, and his new place will be focused on, God help us, raw food. He's certainly not opening any more "four-star" establishments here in New York, and you'd have to bet that he probably never will, because those days are gone forever.
In other words, everyone is opening a restaurant with two-star ambitions. As a critic, how do you deal with that, since it presents an obvious problem with the star system?
Well, if you ask most professional critics, they'll tell you that, along with gout and assorted other maladies, assigning stars is their least favorite part of the job. Readers fixate on the stars, but for critics, it's the last thing we really want to think about. Reviewing restaurants is a very subjective job, as I've said many times. But stars exude this kind of false objectivity. Is it a category that we're talking about when we discuss stars, or is it the level of satisfaction with the meal itself? Is a slice of pizza at, say, a legendary one-star joint like DiFara really that much worse than a bite of "four-star" caviar at Jean Georges?
We could debate that question for hours, and in the end, I suppose, that's what stars are really for. The problem is that, in this new Po-Go era, as we're calling it, the ancient designations no longer really apply. If you look at the Times, or at Michelin, their lists of the "top" multi-star restaurants in town hasn't changed very much for a decade now. There aren't any new unicorns opening. What is opening is this endless cavalcade of professional, well-meaning, "two-star" establishments. They all have fancy vegetables on the menu, and maybe a good steak, and different comforting variations on the taco or the ice cream sundae or apple pie. So the question becomes, for the critic, How do you differentiate, star-wise, between these very similar kinds of places?
I just reviewed Narcissa, for example. I thought it was a fairly classic two-star restaurant. It's a very good two-star restaurant, but that's what it is. And I went to Gato, and that's probably also a two-star restaurant, although maybe a slightly less-good two-star restaurant. So how do you explain that? The answer, I would say respectfully, is that you try not to fixate so much on the stars. What you do, in the view of this humble critic, is you read the damn review, because in this new Po-Go era, the stars are becoming less and less relevant to the conversation.
Related: Platt: Narcissa Brings High-Low Cuisine to the East Village's Standard Hotel
Related: Hardcore Coddling: How Eleven Madison Park Modernized Elite, Old-School Service