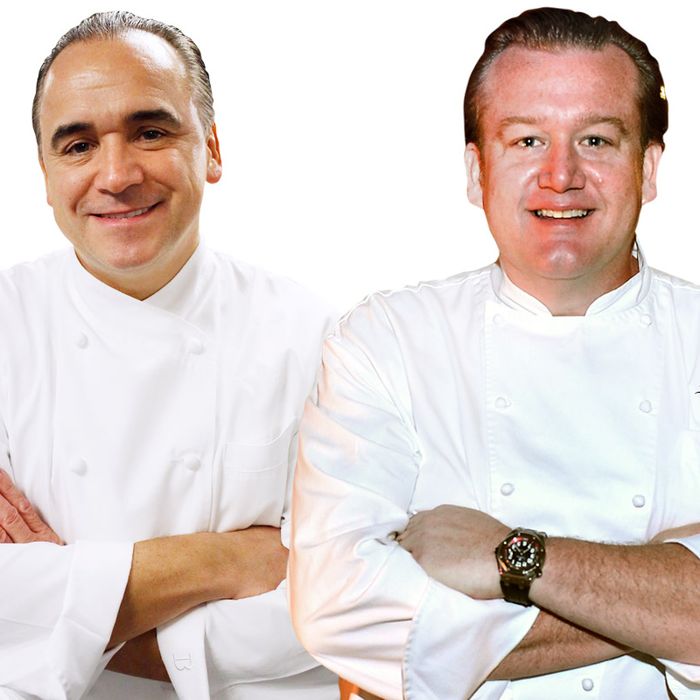 Two chefs who know a thing or two about opening new restaurants.
Photo: Randy Borges/Getty Images; Vallery Jean/Getty Images
Welcome to Platt Chat, a new column where New York critic Adam Platt will talk with Grub editor Alan Sytsma to discuss the dining world's most pressing issues. This week: the potential perils of expanding a restaurant empire too rapidly.
Alan Sytsma: So, I want to talk to you a little about restaurant expansion. I think it's fascinating that René Redzepi, for example, hasn't ever expanded beyond Noma, even though he's ventured into many other projects and of course had opportunities. Instead of opening a Noma Tokyo, which I bet would do quite well, or an entry-level kind of restaurant with a lower price point than Noma, he says he's going to close his restaurant for two months in 2015 and move his whole staff to Tokyo for a glorified pop-up.
Adam Platt: Redzepi seems to be part of this new generation of chefs where the trappings of the old restaurant world don't seem that important to them, and that includes expansion plans. It used to be fairly standard: A chef like Jean-Georges Vongerichten finds success and fame at a restaurant like JoJo, they leverage that into books, maybe TV, and definitely other restaurants. It's a low-margin business, and volume means money, so you can't blame them for that. Those A-B-C steps were straightforward — Jean-Georges has done this in a more or less textbook way. Daniel Boulud, too. But this new generation is extremely conscious of staying true to the craft, and they're more careful.
I touched on that a bit yesterday when talking about the dedicated-cook persona playing best as a public image now.
Right. Younger chefs are expanding their footprints in a very deliberate way. Their philosophy of cooking — or, in Redzepi's case, foraging — is based on a worldview, and they want to be true to that.
Whenever I talk to chefs about expansion, they always say that the biggest benefit of running more restaurants is that it helps them to keep talented staff. The best cooks are ambitious, and if you don't give them somewhere to go within your company, they'll just work for someone else.
Put one of your Capos in charge to keep them happy. Classically, it wasn't chefs, but restaurateurs who did the expanding. They're businessmen, so it's their focus. Danny Meyer's a genius at doing what you say: keeping talented people in his world by finding worthy chefs and promoting them, or putting them in situations where they will succeed and become stars in their own right, while staying with him. Danny's in charge of the restaurant, but each one becomes the chef's own. Bastianich does this too, with someone like Mark Ladner at Del Posto.
That kind of strategy manages to give each restaurant its own identity. One problem you run into with chefs opening multiple projects is that they can start to feel similar, which is especially problematic when all the projects are in the same city and the expansion is so immediately visible to diners.
The obvious big-money player in New York right now is Michael White. He and his partner Ahmass Fakahany now operate something like ten restaurants around the world, and it wasn't so long ago that they only had one. I'm on the record about White: I think he's an extremely talented chef, and I've always loved his cooking when he's in the kitchen and focused on his trademark combinations of high technique (particularly in the realm of pasta) and good old-fashioned pulchritude. Alto, I loved. Convivio, I loved. And I would argue that Marea is still a very high-level establishment, and again, I don't blame chefs for trying to grow their businesses any way they can. But I went to the Upper East Side Morini recently, and it looks more like a franchise. His new restaurants tend to be decorated with dun-colored paneling, like a not-very-exciting corporate boardroom, with a random bar area downstairs and a menu filled with the usual lavish ingredients. At the new Morini, — and this is just a first impression so take it for what it's worth — everything tasted predictably rich and "gourmet," but with the exception (strangely for me) of several desserts, nothing seemed to leap off the plate. Even if White had been in the kitchen — and he could have been, for all I know — the food didn't have any real vibrance, or a focused point of view. In the case of the stringy short rib I ordered, some of it was just poorly cooked. It was the kind of meal you'd encounter on a very expensive, well-meaning cruise ship.
The other big expanders are the Torrisi guys, the Major Food Group. And I bet I have a different perspective on them than you do, because I had different experiences at their restaurants, at least lately. I really enjoyed Carbone, and it feels completely different from Torrisi. I think these guys are savvy enough to know that you can't just open copycat versions of the same restaurant concept when you're talking about a certain price point.
I'm one of the few critics who had trouble with Carbone. My impression was that everything about the place — the theatrical service; the antic, brassy ambience; the jacked-up prices; the monster red-sauce flavors — was pitched several octaves too high. Anyway, they're talented guys, and they clearly have a plan. They've gone from having a wonderful little sandwich shop to this swaggering downtown mini-empire in record time. The dining world, especially in New York, needs its stars, and in the new post-gourmet world, they've been harder to come by. David Chang occupied the space, probably much to his own bemusement, for a while. White received the star treatment, and now the Torrisi guys are in the spotlight.
Can you think of anyone who has captured that feeling and managed to maintain it?
To varying degrees, yes. I think it tends to work best when you have one restaurant that remains at a very high quality, like Daniel. Or, of course, there's Jean-Georges, who has the ability to ride different waves and make them his own. Look at ABC Kitchen. When it opened, the farm-to-table trend had been going on for several years, but he came along, figured it out, and right off the bat, that restaurant was one of the three or so best restaurants in that mold. You can't blame the Torrisi guys. They're doing what smart businesspeople do: They're monetizing their success. The question is, are they doing it too fast? With Michael White, I think the jury is more in than out. With Torrisi, we'll see. It takes a delicate kind of alchemy to create a great restaurant, and the more restaurants you have in your portfolio, the more difficult it is to make that magic last.