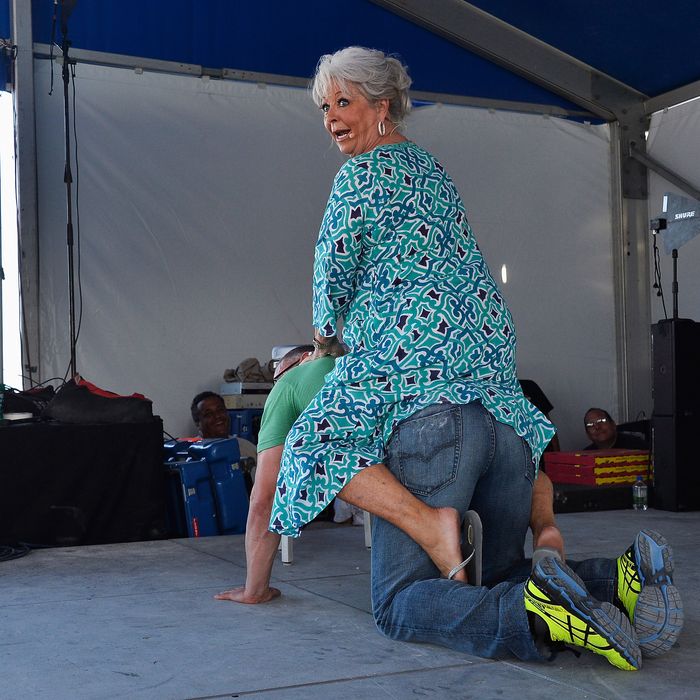 Expect more stuff like this.
Photo: Frazer Harrison / Getty Images
Short Order reports that Paula Deen is taking her live, loopy show on the road. In addition to cooking demonstrations, 90-minute Paula Deen Live! performances will include rounds of "musical chairs and the dating game" with audience members, and Deen adds that her husband Michael will be onstage as well during the events, which kick off in Tennessee in June. "When I step out onstage, it's the most amazing feeling, y'all," she says, explaining the decision to go on tour.
The celebrity chef bounced back from last year's racism scandal with some $100 million in funding as well as a restructuring to her restaurant business, which included closing Uncle Bubba's Seafood & Oyster House in Savannah and announcing plans for a new, 20,000-square-foot restaurant in Pigeon Forge, Tennessee, at a reported cost of $20 million. The celebrity chef tells Short Order that current plans and the buildout of the new restaurant, to be called Paula Deen's Family Kitchen, are keeping her "very busy," but to expect a lot more news after tickets go on sale May 1. (The blog reports that "Super-fans can purchase VIP experiences that include a reception with hors d'oeuvres, beer and wine, a meet and greet, photo opportunities, gift bags, and exclusive seating," by the way.) "This is only the beginning," Deen says.
Paula Deen Announces 2014 Summer Tour [Short Order/Miami New Times]