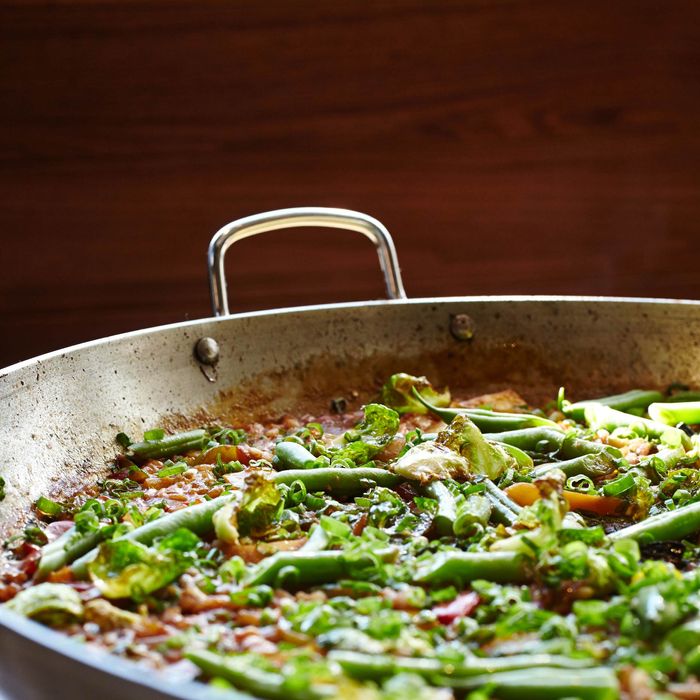 Toro's vegetable paella — $30 for half-size, $60 for full — is the most affordable one on the menu.
Photo: Melissa Hom
If you eat at Gato, you'll notice that practically every table has kale-and-wild-mushroom paella on it. Bobby Flay is smart to offer an updated version of an old favorite: Who doesn't love caramelized, crusty Bomba rice? Paella has always been popular, and Flay's hot dish reminds Grub that there are plenty of other good, unconventional ones around town: Alex Raij makes a Valencian toasted-noodle paella, and at Cata, there's a version with foie gras and duck confit. But here's the snag: Since paella is most often served family-style, it can get pricey (especially when you add foie gras to it). Many New York restaurants offer several paellas, with varying prices, so we've ranked them by price, starting with the lowest possible option.
El Quinto Pino
Cost: $15
Alex Raij serves Fideúa, a Valencian toasted-noodle paella with shrimp, squid, and aïoli. It's a steal at $15, and she also serves a similar version at La Vara for one dollar more.
Alta
Cost: $18.50
At this West Village small-plates-only restaurant, there's a squid-ink paella with shellfish, chorizo, preserved lemon, Guindilla peppers, and scallions on the menu.
Cata
Cost: $25 to $58
This Platt-approved Spanish restaurant serves three paellas, which are available in two different sizes. The most affordable paella is the one with chicken wings, chorizo, and shrimp, but it's worth splurging for the lobster paella — or the one with foie gras, duck confit, and duck butifarra.
Aldea
Cost: $27
George Mendes once won Best Paella for his Arroz de Pato, even though it isn't technically paella at all. He makes his paella-like Arroz de Pato with duck confit, chorizo, black olive, citrus puree, and duck cracklings.
Gato
Cost: $27
Bobby Flay adds a surprising ingredient to his wild-mushroom paella: kale! It actually works well, and has become one of Flay's most popular dishes. There's also crispy artichokes and a runny egg mixed into the rice.
Toro
Cost: $30 to $90
Paellas at Toro are available in half and full sizes, and you definitely want the latter. The vegetable paella with carrots, mint yogurt, and rutabagas is mighty fine, but if the restaurant's proximity to MePa makes you feel spendy, opt for the paella with lobster and black truffles.
Boqueria
Cost: $38 (for two)
This tapas restaurant, which has outposts in Flatiron and Soho, serves a classic seafood paella with Bomba rice, monkfish, sepia, squid, shrimp, clams, mussels, saffron, and salsa verde.
Barraca
Cost: $38 to $56 (for two)
Another West Village restaurant serving paella: You'll find six varieties (with nontraditional ingredients like pork ribs, chickpeas, and Brussels sprouts) that vary in price. The cheapest is the vegetarian option, which includes artichokes, string beans, mushrooms, eggplant, zucchini, and asparagus.
Tertulia
Cost: $38 to $65
Seamus Mullen offers only one paella at his West Village restaurant — Paella del Huerto with Bomba rice, pasture-raised chicken, and vegetables — but it comes in two different sizes.
Socarrat Paella Bar
Cost: $44 to $48 (for two)
There are many different paellas on the menu, of course: Standouts include Arroz Negro with shrimp, calamari, and scallops; and Carne with pork, duck, chicken, chorizo, and mushrooms.