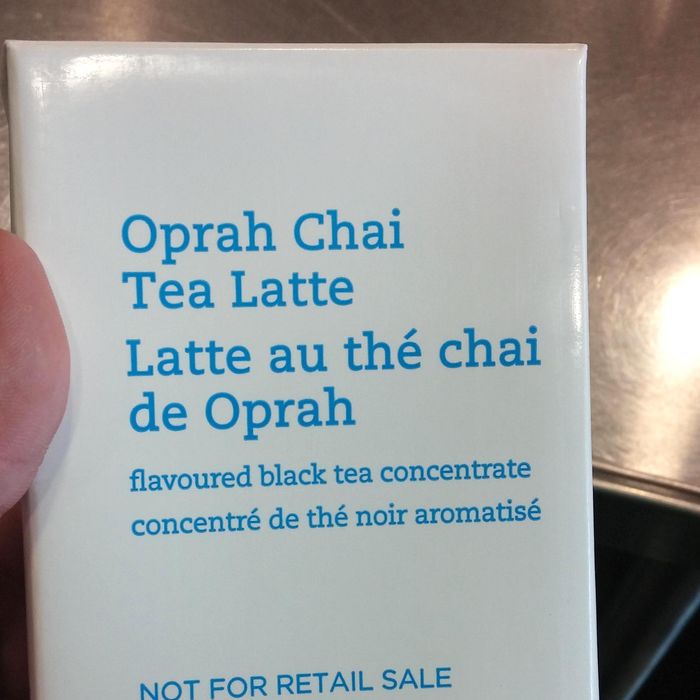 A few weeks ago, Starbucks announced that Oprah Winfrey has been hard at work on her own signature drink, to be called Oprah Chai Tea. The collaboration is described as a "bold infusion of cinnamon, ginger, cardamom and cloves, blended with loose-leaf black tea and rooibos," and the coffee giant says it will be "available in Starbucks and Teavana locations in time for Mother's Day." While it sounds delicious, the new chai is bound to confuse customers: Because it already sells a Chai Tea Latte, will people have to go out of their way to order a "Venti Oprah"? In any event, the first few shipments of the syrup-based drink are hitting Starbucks outlets, and some baristas already seemed vexed.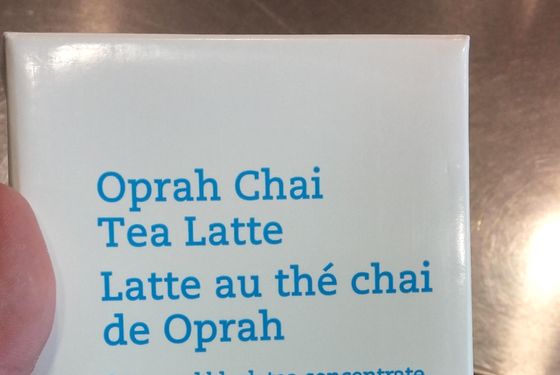 "I quit now," one worker writes on Reddit.Photo:
imgur via isaacoolbeans/Reddit

If the shot above, which was posted to a Starbucks subreddit, is any indication, some Starbucks workers are less than thrilled by having to pump a drink named after the media mogul. Here are some reactions:
• "ITS GOING TO HAVE A PUMP? Oh God. Ewewewew." (It's going to have a pump.)
• "Killll meeeeeee"
• "Maybe it's replacing the Tazo chai eventually? Like, aren't we phasing out Tazo?"
• "Noooooooo goddamn it it should've just been a teabag."
• "Sigh - anyone want to guess at a cup marking? OCH? OPCH?"
• "This can't be real."
• "Whywhywhy."
• "Welp, that's going to make it significantly more difficult to never say her name while I work, but I'm still not going to advertise for Oprah."
Some workers are even incensed, it seems, by the "condescending" tone of the instructions on the side of the Oprah chai packaging. "Remember," it advises, "you are always the magic final ingredient."
"I'm not sure if it was intentional and meant to be funny or just plain mean," the user writes.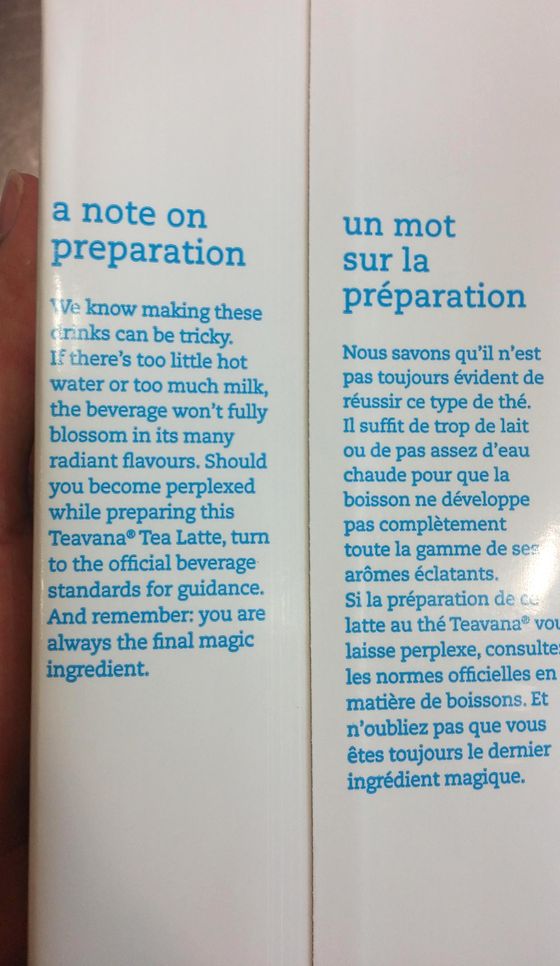 "I quit now," one worker writes on Reddit.Photo:
imgur via isaacoolbeans/Reddit

It's starting … [Reddit]
Related: Oprah Gets Her Own Starbucks Tea Blend