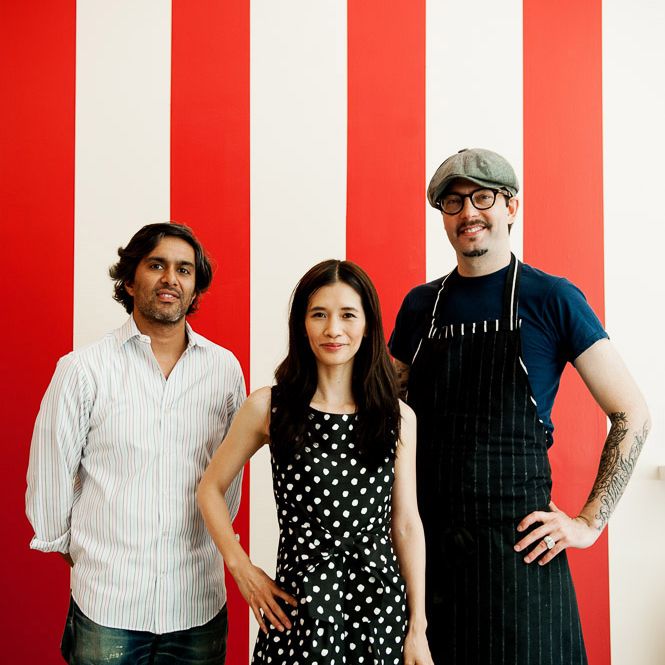 Holiday's craving for salty-flavored ice cream inspired these three friends to start the business.
Photo: Liesl Henrichsen
Former wd~50 pastry chef Sam Mason and his business partners, Mohan and Holiday Kumar, tell Grub that they're opening OddFellows 2.0 at 75 East 4th Street (between Bowery and Second Avenue) on May 1. The Williamsburg location will remain the flagship, where Mason makes all of the ice cream in-house using Battenkill milk and cream, and the East Village shop will act as a tiny outpost — with eight flavors on rotation, milkshakes, and a small counter that fits four to five people.
It's been less than a year since Oddfellows first opened (in June 2013), but Mason has already created 116 flavors. Greatest hits include Cornbread, Buttermilk Blueberry Honey, Chorizo Caramel Swirl, Burnt Marshmallow, and PB & J With Toast. "Picking a favorite is kind of tough — they're like my children," Mason says. "I tend to like the more savory flavors, like Miso Butterscotch Cherry. And Lemon Meringue Pie." Even with adventurous creations like Tobacco Leaf Smoked Chili Huckleberry, Beet Pistachio Honey Goat Cheese, and Celery, Mason hasn't had too many flops — and the only flavor he's decided to veto is Coconut Curry. Right now, he's playing around with the concept of German chocolate cake.
Mason also says that once he has some free time, he'll work on developing vegan ice cream. "I don't want to do the obvious coconut thing," he says. "I'm trying to move more toward nut milks. I haven't been willing to take that same loss in texture. And I don't want to offer anything that I don't love. But I'd send that to market before I send anything."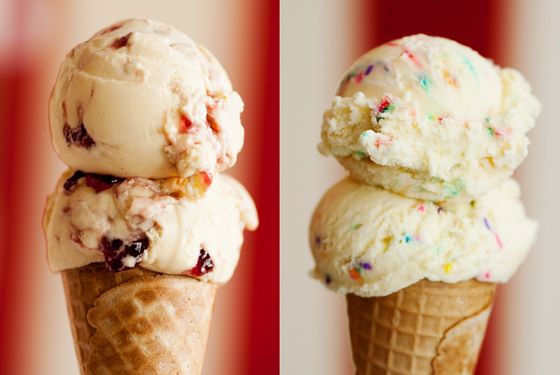 PB&J; With Toast and Sprinkles in house-made waffle cones.Photo: Liesl Henrichsen
That's right, the Oddfellows founders are thinking big: Small retail locations (Park Slope and the Upper West Side could be next) are just phase one. "We're holding off to see what the summer will be like, but wholesale packaging is already being established, label-wise," Mason says. "There will be another commissary kitchen, too." It might not be long until Oddfellows goes the way of Van Leeuwen and sells pints in grocery stores around the country.
But for now, the focus is on the East Village — an ice-cream-dense neighborhood packed with Davey's, Van Leeuwen, Sundaes and Cones, and Big Gay Ice Cream. "The dynamics of the neighborhood are ice-cream friendly," Mason says. "And I think it's a strategic place for our first outpost, as far as moving ice cream from point A to B. Not to say that Park Slope won't be in the cards as well. The Upper West Side might be a bit of a stretch. This is a baby step: right across the water." It's the first step of many, it seems.