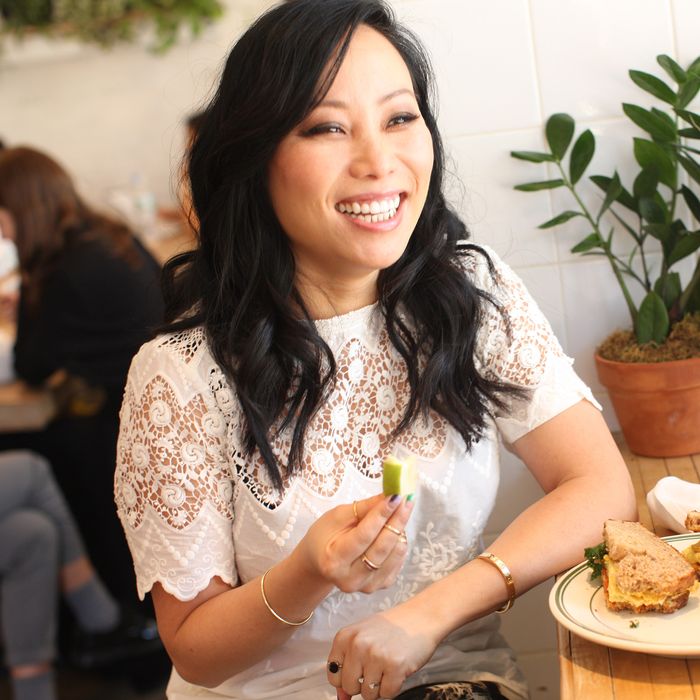 "Most of you think hip-hop is all Dom Pérignon, Mr. Chow, and fur coats. Nope."
Photo: Melissa Hom
It's been a busy week for Minya Oh — or Miss Info, as she's known to Hot 97 listeners. Oh, who worked for BET, Vibe, and MTV, has a brand-new gig now: She's part of VH1's This Is Hot 97, a TV show that takes a look behind the scenes at the radio station. "I guess you can call it a reality series, but we're not flipping over tables and pulling out pregnancy tests," Oh says. "It's just The Office in a hip-hop radio station." This week, between filming scenes, making the promotional rounds, and holding down her normal day job, Oh found time to pick up Korean food from her favorite "closet-size" restaurant, eat "overpriced" tacos at ABC Cocina, and cook late-night ramen with a poached egg. Read it all, straight ahead.
Friday, March 28
I'm up at 8 a.m., and the first thing I do every morning is search for my first caffeine fix. I burr-grind some Illy beans and use a Hario pour-over funnel with a Melitta filter. So easy. So much better than that muddy crap you get out of a French press.
I head to the station to record my daily entertainment-news segments and to shoot a few scenes for the final episode. By the time I'm done shooting, around noon, I realize I haven't eaten any food, save for a few struggle snacks from the station's vending machine. If Wheaties is the breakfast of champions, then Cool Ranch Doritos are my brunch of shame.
I head over to my bi-monthly nail-art appointment, which is right across the street from both a Juice Press and a Birdbath Bakery. I make my next move, my best move, and opt for a Doctor Green juice instead of a huge chocolate-chip cookie.
I jump on the subway and head to Chelsea to meet my graphic designer for a long-overdue redesign of my website. I inhale a stale red-velvet cookie he has laying around the office. I'm a stress eater.
By the time I leave, it's time for a special end-of-the-week treat: a double-date dinner at the new Sushi Seki on 23rd Street. The real sushi-heads know that this downtown outpost of the Upper East Side original is a dream come true. We sit at the sushi bar and order omakase. The next two hours are a blur of torched sea bream, chu-toro tuna, and a hand roll called the "uni cigar." Cue the praying-hands emoji.
I drink half a Sapporo because it clears any fish aftertaste, but in general, I'm a lightweight when it comes to liquor. And therefore a discredit to my Korean heritage.
Saturday, March 29
I sleep in and make my batch of coffee with a splash of almond milk. For breakfast, I have some tofu-scallion cream cheese on my bagel at Bergen Bagels.
One of the best reasons to own a car in New York City is so you can eat and explore in the outer boroughs. To drive to Flushing for Korean barbecue, or Bensonhurst for a slice at L&B; Spumoni Gardens, is so worth the hassle. Tonight, we head out to Astoria for my favorite Greek food at Taverna Kyclades. We plow through tangy tzatziki dip, lima beans in tomato sauce, peasant salad, lemon potatoes, roasted beets, and a whole grilled branzino. But the one thing I'm looking forward to most is the complimentary dessert: Kyclades serves galaktoboureko, which I can only describe as a hunk of cinnamon-flavored baklava with custard crammed between the sheets of phyllo pastry. This might be in my top five desserts of life.
Sunday, March 30
I'm wallowing in regret from eating so much, so I go to a Zumba class. I love Zumba because where else can you pretend to dance like Shakira without being clowned or outed on the web? Also, it doesn't feel like real exercise.
After the gym, I pick up groceries. Della Pietra's butcher shop has incredible Kurobuta pork sausages and bacon, and there's an amazing fish store on Court Street called Fish Tales. It's a gem because it's tiny, but everything's super fresh. I pick up some organic salmon.
For brunch, I make some very simple breakfast tacos with the pork sausage, scrambled eggs, avocados, non-dairy cheese, toasted corn tortillas, and "Cowboy Caviar" salsa from Trader Joe's.
Tomorrow is a crazy-busy day, so I take it easy. My sister Julia comes over for dinner. I've already marinated the salmon in a mix of miso paste, sake, mirin, sugar, and sesame oil, and we eat the broiled fish with kale salad and brown rice. Then we watch The Good Wife, where they kill off a major character. We are both outraged. But I have to get up at 4 a.m., so all I can manage is a "WTF" tweet before it's lights out.
Monday, March 31
I wake up at 4 a.m., completely miserable until I have my coffee. The ungodly wake-up time is because I'm headed to the WPIX 11 Morning News show to promote tonight's This Is Hot 97 premiere with my co-workers, Peter Rosenberg and Cipha Sounds. We eat terrible Zaro's bagels in the green room.
At around 9 a.m., we shuffle over to VH1 to hang out with Nick Lachey on Big Morning Buzz Live. To keep me from keeling over into Nick's lap, our publicist Kelly Anderson gets me an açai-and-hemp granola bowl from Juice Generation … and another coffee. Works like a charm, because I am definitely buzzing as Nick serenades us with "Ain't No Mountain High Enough." That really happened.
By the time I'm done with press at noon, I'm delirious with fatigue and hunger. On the way back to Brooklyn, I stop by K-Town (32nd Street) and pick up a roll of Korean "kim-bap" from a tiny closet-size takeout spot called E-Mo (which translates into auntie). It's like a sliced sushi hand-roll made with rice, dried seaweed, veggies, and meat. I choose the spicy tuna kim-bap and eat it in the car home.
As soon as I get home, I jump in bed with full drag-queen hair and makeup intact and take a long nap. Then it's time to get back to work. I switch to PG Tips tea instead of more coffee, smear my makeup back in place, and head back to the city. I grab an early dinner with friends at Sant Ambroeus in Soho. It's a bit sceney, but they have an incredible mushroom pappardelle. Then it's off to Hot 97, where the whole staff is gearing up to watch the show together. There are stale doughnuts, Domino's pizza, and bottles of free tequila on deck. And most of you think hip-hop is all Dom Pérignon, Mr. Chow, and fur coats. Nope.
At 11 p.m., I head over to the video studio, where I host a live-streamed recap. By this time, we're all punch-drunk or just plain drunk-drunk. I finally get home around 12:30, and I may or may not cook myself a bowl of ramen with a poached egg … and I may or may not eat it out of the pot it was cooked in.
Tuesday, April 1
I wake up at 8 a.m., make coffee, and work on both my Hot 97 news segments and my website. I'm thoroughly disgusted by my late-night meal, so I stick to homemade kale-Caesar salad and lots of water to flush out the salt and MSG that has left my fingers feeling a little swollen and my skin looking blotchy.
Around 3 p.m., I grab a green smoothie with pear over at Farsk juice bar on Smith Street. I head to Hot 97 for my nightly "Celebrity Drama Report" on the Funkmaster Flex show. My stomach is growling, and I wonder if the listeners can hear it …
Before I go back to Brooklyn, I head over to Red Bull Music Studios, where Kendrick Lamar's new artist, SZA, is previewing her debut album, Z. I quickly chat with SZA and her TDE label-heads before going to nearby ABC Cocina for a late dinner. I'm a big fan of ABC Kitchen, but Cocina is a bit of a disappointment. Overpriced, heavy tacos in a dark room that feels like a Grey Gardens nightclub. It's time for bed.
Wednesday, April 2
Wake up, and it's pour-over coffee time. The Illy beans have run out, but I have some fancy Intelligensia beans and some unfussy Trader Joe's beans. I actually prefer mild diner coffee to some exotic citrus-and-floral-note hipster coffee, so I grind up the Trader Joe's. Then, it's off to the station to shoot a scene for the TV show where I start experimenting on Tinder.
I rush out to lunch with my friend Heather at Lafayette. She describes the Andrew Carmellini bistro as a convenient-but-less-delicious Balthazar. That sounds about right. We eat salads: Hers is a frisée, mine is Niçoise. Both are forgettable.
I'm rushing back to Hot 97 to join the staff for a 4 p.m. on-air announcement of this year's Summer Jam lineup. There are celebratory cupcakes with the station's logo on them, Wingstop chicken wings (Rick Ross is a Wingstop franchise owner), and some booze, but I dodge all three, prep my nightly entertainment segments, and head home.
I order some takeout from a local favorite called the Yemen Café. The place has the ambience of eating at a hardware store, but Yemeni food is delicious, different, and cheap. I always order the haneez, which is a roasted lamb shank that is falling off the bone. It comes with rice, salad, soup, hot sauce, and this enormous naanlike bread. I carb-load like I'm running a marathon.