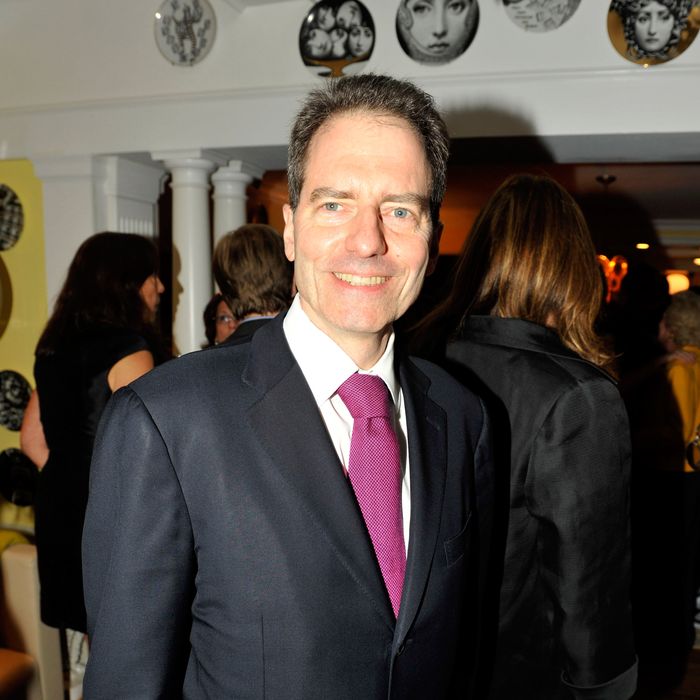 Charles Masson.
Photo: Leandro Justen/PatrickMcMullan.com
Last week, we learned that longtime La Grenouille manager Charles Masson had abruptly left the restaurant, and that his brother, Philippe Masson, had flown in from Brittany to take over. Soon after, Charles spoke with us and indicated that his departure had been expedited by Philippe and his mother, Gisele Masson, who now resides in France. Since then, things have been quiet, but now 68-year-old Karl Maier, a former ad executive and longtime customer of the restaurant, is trying to spearhead a movement and a Kickstarter fund to return Charles to his dining room and to send Philippe Masson back to France. (Kickstarter rejected the plan once, but Maier says he'll keep trying.) Grub Street managed to get Maier on the phone — from his home in Pasadena, California — to learn more about his goal of returning La Grenouille to the person who is, in his estimation, its rightful foreman.
First off, what caused you to start all this?
Do you go to the restaurant at all?
I've been twice, maybe three times.
I was planning to have lunch there next month, but that now seems unlikely. You should go more often. Maybe not now, but you know, as Charles was quoted in the New York Times last week when Florence Fabricant said to him, "Do you think you'll ever come back again?" He said, "Well, you know, miracles can happen." I'm just trying to be on the side of the angels on this one.
It's a complicated story. There are lots of twists and turns to this, but the Charles-and-Philippe thing has been going on forever. Charles has been running such a wonderful restaurant for so long and putting his whole soul into it.
So you created this website and tried to initiate this Kickstarter campaign to remedy the turn of events.
The way I described it to Kickstarter was: "Friends of La Grenouille, a French restaurant in New York, would like to all chip in to buy the general manager, Philippe Masson, a trip back to France to visit his mother."
Hilarious. That's a very diplomatic way to put it.
[Laughs] It would have to be a one-way trip.
But Kickstarter said no.
Alas, Kickstarter will not facilitate the financing of a one-way trip to France for Philippe Masson. We are looking for other crowdsourcing options.
Have you actually met up or spoken to other longtime customers in planning this?
I believe others will pile on. Most of the customers — well, there are probably some East Siders who know each other really well. I lived in New York for 60 years, and when I was there and had an expense account, I'd go there fairly often and I would see people and talk to people but you know, when Henry Kissinger's sitting at the next table, you don't say, "Mr. Secretary! How are things today?" When John Fairchild is there — John Fairchild occupied the corner table of the front room for I don't know, God knows how many years, every weekday, as far as I know — one doesn't go up and say, "Mr. Fairchild, nice to see you again."
People describe a kind of kinship among regular dinner customers.
The front room of Grenouille is an interesting mix of formality and informality. I mean, the last time I was there, which was a few months ago, there was a woman and her daughter. And the daughter was obviously celebrating her birthday. I was with one of my sons, who seemed like an appropriate age to the daughter, so I sent over a glass of Champagne just to say, "Oh, it appears to me that this is your daughter's birthday, I just wanted to send a celebratory glass of Champagne." Do I know who the woman is? No! But that's the way that room works. I know the staff there better than I know the customers.
You've been a regular for 38 years, which accounts for the entire time Charles has been there.
Actually, I was there for the first time on my 30th birthday, which was in September of 1975. Charles Maison Sr. had just died, which I of course did not realize. Charles's mother Giselle was this beautiful woman who had a very commanding presence in the restaurant.
After that, there was a period when Charles and Philippe were going back and forth. It was like, it's Philippe's turn, it's Charles's turn. Philippe would have the menu all in French and then Charles would have subtitles, or I don't remember, but Charles has more than kept the restaurant alive. Lutèce is gone, Caravelle is gone, but Grenouille is not. That's because Charles has moved with the times. He created the upstairs room, which used to be strictly a private room for large dinners, which became a place where you could eat more formally. You can now actually eat at the bar; there's a bar menu. Not too many people do that, but some do. If you would like to order from the formal menu at the bar, this is no problem! Charles is an extraordinarily gracious host. He's really good. He is a demanding taskmaster, because I know a number of his past and present employees, but he has run just a wonderful restaurant, and for the last 15 years, he's been the soul of it.
So ideally, you want customers to band together and save this wonderful restaurant.
It's not only a wonderful restaurant, it's a fucking goldmine. Why do you want to screw it up? And why do you want to screw [up] Charles's life?
So, how much is it going to cost to get Philippe to go back to France?
Well I think what it's gonna cost to get Philippe to go back to France is a groundswell of public opinion, which is what I'm trying to do. And, I hope not, but a falloff in revenue. It's very sad to me. That is a word I would use more than any other: sad. And I hope that Madame and Philippe both come to their senses, and I hope they do it quickly.
When you were in advertising, Grenouille was the place you would take clients?
Absolutely. Girlfriends, clients, absolutely.
Do people ask you all the time if you watch Mad Men?
Yeah, they do, and you know what I say? No, I don't, because I lived that. I had the Smirnoff account for a couple years. I had a bar in my office! I would tell people at this one agency where I worked in the early and mid-'80s, I said if you'd put everyone's name who worked on that agency in those years on a whiteboard and put a little box around it, and then put black lines between everyone who had had sex with each other — and I'm not just talking about necking at the office Christmas party, I'm talking about real sex — there would be so many lines on the board that the little boxes with the names would be obscured! I don't need to watch Mad Men! And a reminder now, I'm not saying that in a derogatory way. It was a fun place to work.
That's pretty crazy. So "Au Revoir Philippe" is your new campaign.
My sole objective is to get Madame and Philippe to realize that they've made a mistake. As I say, one objective: Keep the place going, get Charles back. Philippe may be well-intentioned, but he should not be running La Grenouille in the year 2014.
Au Revoir Philippe [Official Site]
Earlier: La Grenouille's Charles Masson on His Resignation: It Became 'Impossible' to Run the Restaurant