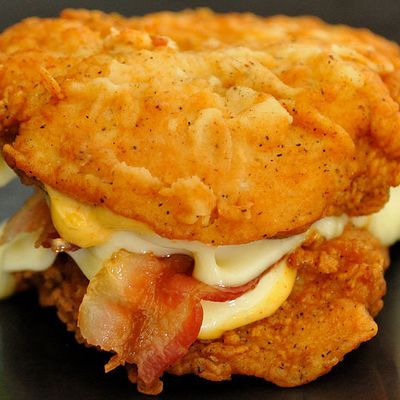 Talk about chicken little.
Photo: Michael Saechang/Wikimedia
In honor of today's vaguely Paleo-approved mash-up rerelease, Kentucky Fried Chicken has done precisely as feared and accompanied the roll-out with something called the Double Down Dare. Essentially, Twitter and Instagram users can expect an onslaught of photo and Vine-jackassery involving the fried chicken menu item all week.
Challenge 1 is centered on the "most creative" Double Down selfie, hashtagged #SelfieDare. Challenge 2 is the best Double Down dance move, but you didn't hear that from us, because it's officially "locked" until 2 p.m. tomorrow. Each round, three winners get a whole $100. The lucky "super fan" who dominates everyone else, however, will receive $500 and a party for 50 friends at the local KFC, where kcals will be poppin', for sure. Other exceptional entries may merit "Bread is dead" T-shirts, so there's that.
Double Down Dare official contest [KFC]
Related: KFC's Double Down Returns April 21